I'm a huge fan of trying to make my desktop computer as silent as possible, mostly so that it doesn't disturb me in a silent room or disrupt whatever media I may be enjoying. Naturally, I was excited to hear of a case from Corsair that claimed to be made specifically for silent PCs; it's known as the Corsair Obsidian 550D and it's what I'll be taking a look at today.
On initial inspection, the case is not just made to be silent, it also allows for performance and solid cooling where necessary, thanks to several removable panels placed around the body. If you work things just right, you could have quietness where needed but also high airflow cooling when you are pushing the boundaries of your system.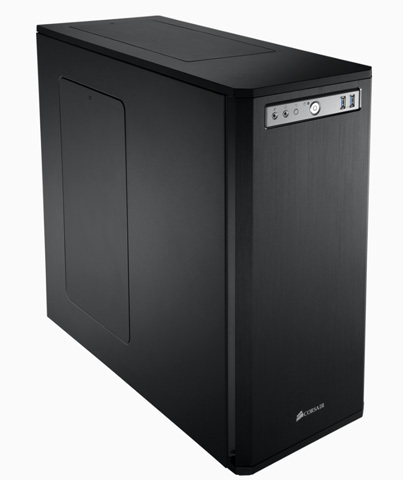 To make the case silent, Corsair has lined some of the case walls with sound-dampening material, as well as including vibration-absorbing silicone fan and drive mounts, plus angled front intakes that supposedly quieten the sound. When you are not using all the fan mounts, the aforementioned removable panels also help keep the sound from escaping out the case.
On the performance side there are also a nice number of features: ten 120mm fan mounting points, six of which also support 140mm fans and a spot for a 240mm radiator for liquid cooling; eight rear expansions slots along with liquid cooling tube holes; two USB 3.0 ports on the front panel; six internal 3.5"/2.5" drive bays and four external 5.25" bays.
Reviewer's Note: This is my first PC case review, so bare with me while I get used to a new type of product review. I hope you enjoy it anyway!
Specifications
Brush up on the full technical specifications of the Obsidian 550D before I dive into the review.
 
Corsair Obsidian 550D
Form Factor
Mid-tower
Motherboard Support
ATX, mATX
PSU Support
ATX bottom mounted (not included)
Materials
Steel structure (black)
Brushed aluminum front panel (black)
Sound-dampening foam
Some plastic paneling 
Rear Expansion Slots
8
Drive Bays
4x 5.25-inch external-access tool-free
6x 3.5-inch (with 2.5-inch support) internal tool-free removable
Fan Mounts
10x total
2x 120mm front
2x 120mm drive bay
2x 120/140mm top (or 1x 240mm radiator)
2x 120/140mm side
1x 120/140mm rear
1x 120/140mm bottom
Included Fans
2x Corsair 120mm front intake
1x Corsair 120mm rear exhaust
Liquid Cooling Ready
Yes
Front I/O
2x USB 3.0 ports
1x 3.5mm headphone port
1x 3.5mm microphone port
Power button
Reset button
Dimensions
20.9" x 8.7" x 19.5"
530 x 220 x 495 mm
Price
US$159.99 RRP
Now that the specifications are listed, it's time to move on to the design.
Design
There are many things to love and few things to hate about the design of the Obsidian 550D. It's sitting right here next to me as I write this review and I still can't get over how damn attractive the sleek minimalist paneling is. For so long I've been using a case that has mesh grating on the front panel and fan mounts, but this time around I see a solid black unit that looks fantastic.
The front I/O area sits at the top of the front panel, with a prominent power button in the center that lights up white when the PC is turned on, with a small HDD light just to the top left. To the left is the small and quite pushable reset button along with two 3.5mm audio jacks for headphones and microphone; to the right are the two USB 3.0 ports. Don't worry if your PC motherboard doesn't support USB 3.0 because there is an adapter included in the package.
Silver for the I/O ports contrasts well with the diamond-cut polished aluminum front panel, which compared to the rest of the solid black steel unit has a slight textured appearance that looks great. At the base of the front panel is the Corsair logo, which looks seldom out of place.
The entire front panel is actually one large door that swings either to the left or right (and can even be completely removed) to reveal the four 5.25-inch drive bays. Here you'll find that the paneling is plastic, but as it's hidden normally behind the attractive, minimalist aluminum front panel this isn't a major downside. Underneath the drive bays is the first of three removable panels; simply press in the top and it pops out to reveal the intake area for the front two fans. 
Note here that the front fans can intake air with the cover in place thanks to grills to the side and bottom of the small intake cavity.
The other two removable panels are on the top and left-hand side of the case, both hiding spots for two 120mm or 140mm fans behind removable magnetic dust filters, which are always a nice touch. The covers themselves are the same push-in-to-remove style which is simple enough to use, and they are covered on the internal side with sound-dampening foam-like material that also lines the side walls and other parts of the case.
Moving towards the back and towards the top you'll notice the large hole for your motherboard's I/O shield and the spot for the included 120mm fan. Obviously back here looks are not particularly important, but the black finish to the entirety of the steel looks great.
Further down there are the eight vented expansion port covers and to the right of those are four silicone holes for your liquid-cooling tubing. Right at the bottom is the power supply hole.
The underside of this case is also somewhat of interest as it has two vents for your PSU fan (should you mount it that way) and for a 120/140mm fan, covered with a slide-out removable dust filter. Be careful mounting fans here if you are resting your case on soft carpet as the case can sink in a bit and block air access to these vents.
Opening either of the side panels on the case is done by this strange push button method; conveniently screw-less and very easy to operate: simply push the button and pull outwards on the side panel. The panels themselves are made of steel and are covered by the familiar sound-dampening foam material.
Internally the case is again, very black and solidly constructed thanks to the steel frame. Actually, overall I really have to praise the solid construction of the case which uses fantastic materials that not only look good but also ensure that everything is protected and stays in the right spots. 
There is a dug-out area for the motherboard surrounded by rubberized cable holes that route to the back area for cable management. Unfortunately there is no removable motherboard tray here for easy motherboard installation, but as you'll see in the installation section I didn't find this to be a huge killer.
Both sections of the drive bays use screw-less mounting: for the 3.5-inch drives there is an easy pull-out silicone dampened section to slot your hard drive or solid state drive in to; for the 5.25-inch drives there is a plastic clip that latches in place when you insert the drive. The front area of the 3.5-inch drive bays have mounting points for a further two 120mm fans, and the top 3.5" bay area is removable to support graphics cards up to 452mm long.
Generally I'm very happy as to the design of the Corsair Obsidian 550D. I've already mentioned that externally the case is beautiful, and internally there is enough space to please most PC builders. I wouldn't say there is a huge amount of space, but it's not a full-sized tower and that keeps the size of the case down. There are heaps of fan mounting points, which is a great sign, and when they are not in use they are covered with easy-to-remove panels to keep the sound low.
Installation
Time to put all my PC components inside the Obsidian 550D. Note that I don't have a particularly new PC - I'm still rocking an Intel Core 2 Quad on an LGA 775 motherboard and AMD Radeon HD 4850 - but that shouldn't matter when testing putting everything in the case. 
Included in one of the Obsidian's drive bays in the box was a bunch of screws, cable management ties and loops, plus a USB 3.0 to USB 2.0 adapter in case your motherboard doesn't support the newer USB standard. Most of the screws here are used for the fan mounts as the drive bays all have screw-less mounts.
Inserting the motherboard into the Obsidian 550D was relatively pain-free despite the lack of a removable motherboard tray. Getting the I/O shield in place from my old case was somewhat difficult, but everything lined up properly afterwards and the copper motherboard stand-offs where already in place for my ATX-sized board. If you have an mATX board, simply add in and remove a couple of the stand-offs and you'll be good to go.
Adding expansion cards is no problem, and in case you want to change their position in the future there are replaceable, vented expansion port covers that utilize thumbscrews.
Putting your hard drives or solid state drives in the case is a two step process: first, place the drive in the rubberized surround...
...then put the insert into the drive bay, and it should click in place for you. The whole process of adding and removing drives is very easy and you have to praise Corsair for this hassle-free and surprisingly secure method. The rubber surrounds should also help dampen noisy HDD vibrations.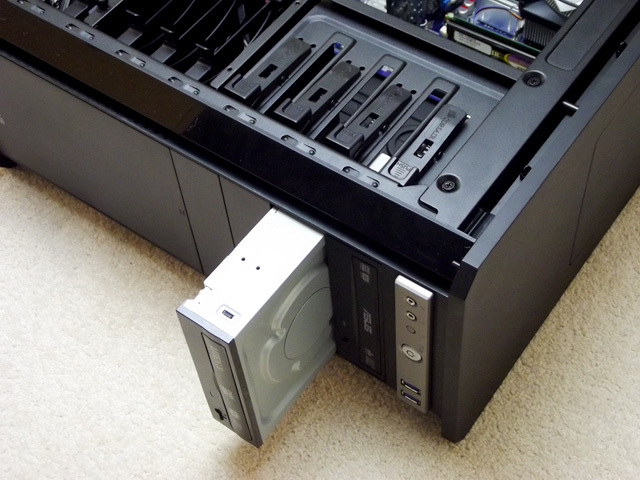 Adding in an optical disc drive into the case requires you to remove the aluminum front panel, push out the plastic drive cover (not too hard to do) and then insert the drive from the front. Drives snap into place when you push them in, and the plastic holder only needs to be pressed and pushed to remove the drives. For some reason one of my two DVD drives wasn't lining up properly with the front of the case and took a lot of time, patience and force to get just right.
Sliding my PSU into place was harder than I was expecting because the front was often catching on the small foam holders that help dampen the sound, and considerable force was required to keep the unit in place while I was screwing it in. I'm not sure that this is a fault of the case though, as it seemed to be kept perfectly in place after I was finished.
Pretty much everything was in place at this point and it was time to move on to cable management. Thanks to the silicone cable holes placed around the motherboard this was easy to do but also time consuming. It started with pushing all the necessary cables through to the back section...
...and then I ended up with a huge mess on the back side. Luckily with the case shut you don't see this, it doesn't affect air flow and everything was fine.
On the other side things were looking much nicer, and as all the cables were out of the way it not only looks nice but also provides for good airflow from the two front intake fans to the important motherboard components. While I decided not to, you could even go further and cable tie and mount the cables to the sides of the case thanks to the included parts.
Again this case isn't a giant, but after adequate cable management there is still a decent amount of space on the inside for air to flow around and cool your components. 
That said, it's larger than my previous case: an Antec Three Hundred. It also looks far nicer; I'm still loving the fact that there's no mesh on this elegant case.
Performance
Everything is in place and it's time to test the claims that this PC case is supposed to be one of the quietest going around. Certainly looking at all the sound-absorbing foam, silicone mounts and covered vents one would imagine that this case would keep the noise to a minimum, but it's time to test those claims.
Keep in mind that this is my first case review, so I can really only benchmark it against my current case which is an Antec Three Hundred. I also don't own a proper sound level meter, so to measure decibel levels I decided to use my Motorola Droid Razr with Smart Tools installed; I'm not sure how accurate this application is but I have used it for every sound measurement in this test so it should be fine to measure differences.
Test Setup
I tested the Corsair Obsidian 550D against my Antec Three Hundred in a variety of configurations, however both cases were placed in the same position for sound and heat measurement. Sound levels were recorded at three different positions away from the case: directly on the front of the case, 50cm (1.6') away from the front and 100cm (3.3') away from the front; ambient noise was also recorded. Heat levels were measured using SpeedFan on major components.
Two separate case set-ups were used for each system. The first is a "stock" reading that uses the stock fans provided with the case at default speeds, which indicates the volumes experienced out of the box:
Corsair Obsidian 550D (stock): 1x 120mm rear Corsair exhaust fan + 2x 120mm front Corsair intake fans + components
Antec Three Hundred (stock): 1x 120mm rear Antec Tri-Cool exhaust (set to low) + 1x 140mm top Antec Tri-Cool exhaust (set to low) + components
The second set-up is a "silent mode" that uses optimal components for the quietest possible results, while still ensuring that there is airflow in the case and the components don't run too hot. For both silent set-ups, the same set of fans were used so this can be used as a direct comparison of case sound suppression:
Corsair Obsidian 550D (silent): 1x 120mm rear Antec Tri-Cool exhaust (set to low) + components
Antec Three Hundred (silent): 1x 120mm rear Antec Tri-Cool exhaust (set to low) + components
These are the components in the test set-up that contributed to noise (as mentioned in my silence your PC for under $45 article):
120mm PSU fan; effectively silent at all times
Arctic Cooling Alpine 11 Pro Rev. 2. CPU cooler; effectively inaudible idling at 500 RPM, audible but not loud under load at 2,200 RPM
Arctic Cooling Accelero L2 Pro GPU cooler; set to 5V and effectively inaudible
2x HDDs; virtually silent
Noise Results
Note: I also measured an idling Xbox 360 (original "fat" model, no disc spinning) here which I think is a reasonably audible system
Note: Music at a comfortable listening volume (not overly loud or quiet) was added to this chart
With both cases in their stock configurations, the Obsidian 550D is considerably more quiet, both when idling and under load. Even though the first idling chart doesn't show it as being all that much quieter, to my ear the Three Hundred was noticeably loud while the Obsidian 550D was barely audible. The 550D's stock fans were louder than my system components, but really if you are making any sort of noise in the room you won't be able to hear your machine.
Under load (where my CPU fan jumps up from 500RPM to 2,200 RPM) the Obsidian 550D performs surprisingly well, only managing a recorded level of 40 dB on the case itself which is still reasonably quiet. Listening to music at a comfortable volume (which I have added in the chart) completely drowns out the sound of the 550D while the Three Hundred is somewhat audible, but not by enough to be distracting.
In silent mode the cases are running with exactly the same fan configuration
Initially I was very happy with the noise levels out of my Antec Three Hundred in my configuration that made the case as silent as possible, and I didn't really think it could be improved on by much. I was wrong, because the Obsidian 550D manages to cut down on the sound level of the system fans to a point where I have to wonder whether the system is actually on when I'm as close as 50cm to the case. 
Again, the numbers don't fully tell the story because the difference here between the systems is more like "well I think my computer is running" (with the Antec Three Hundred) and "is that my case or is that the sound of my breathing?" (with the Obsidian 550D). 
Overall I would have to conclude that the Obsidian 550D really does manage to cut down on sound output and the claims of it producing a "quiet PC" are completely valid. Even where you think your case may be silent, the 550D may just be able to knock it down to an even quieter level if you use just the right configuration. 
Part of the success of the case in noise reduction has got to be the padded paneling. See above for the difference between the case running in a stock configuration with the extra fan mounting vents covered and opened. 
Cooling Results
On the day I was doing the temperature testing of the case it was rather warm, with the ambient temperature of my "office" reaching around 28C due to poor cooling and the sun streaming in for most of the afternoon. Luckily this provided an excellent test situation for testing the airflow and specifically intake of the Corsair Obsidian 550D.
First up I'll mention my current case, the Antec Three Hundred. It's isn't entirely mesh, but a great deal of the front panel is, plus the two fan spots on the side and top are always uncovered which provides for generally pretty good airflow. When my office reached 28C inside, my case happily pushed through air with a single rear exhaust fan (the Antec Tri-Cool, so I'm using my "silent mode") and kept my processor idling at around 42C (load was mid-50s).
The intake fans do a good job of cooling the hard drive bays
Switch to the Obsidian 550D, and with a stock configuration and all the vents shut, my CPU was idling around 45C, a small but noticeable increase. Note here that the Obsidian was actually running with more fans (3 vs 1) that push more air in and out of the case, which indicates that not only do the foam inserts and covers prevent sound from escaping, but also insulate and keep some of the heat in. Feeling the exhaust air, it seemed rather warm in comparison to the Three Hundred.
One of the great things about the 550D is that if your component temperatures are worrying you, removing panels seems to reduce them at the sacrifice of higher sound output. You really then have two options: silent for non-intensive tasks and maximum airflow (and slightly louder) for performance intensive tasks like gaming on an overclocked machine.
Vent covers: silent with them on, cooler with them off
Opening the top panel reduced my CPU idle temperature back in the 550D to the same levels as in the Three Hundred and kept the exhaust air heat quite cool. Taking away all the panels reduced the system temperatures even further, and obviously if you decide to add more fans in the vent spots you can cool your system much more efficiently.
Perhaps one of the greatest things you could do with the Obsidian 550D is run a fan controller and extra fans: turn off unnecessary fans when you prefer your PC to be silent (such as while watching a movie or web browsing) and leave the covering panels on; when you are about to do performance intensive tasks such as gaming or video rendering you can take off the panels and turn on all your fans. In this way, the 550D provides extreme flexibility to have both great cooling performance and superior quietness where needed.
Conclusion
There is truly a lot to love about the Corsair Obsidian 550D. The minimalist design looks absolutely beautiful in conjunction with the diamond-cut aluminum front panel, and the entirely black steel frame contributes to both great looks as well as great strength and solidness. Internally there are loads of fan mounts, and if you aren't using them you can cover them for superior noise reduction; also the easy-to-use drive bay mounts and great cable management options enhance the overall functionality of the case.
It's not enormous and as such doesn't have tons of internal space, but the included amount is perfectly adequate for most situations and is even suitable for a liquid-cooling solution. Combining this functional design with beautiful looks and Corsair has hit the nail on the head here.
The Obsidian 550D also claims to be a "quiet PC case" and that is exactly what it delivers. In my testing I found it to be far quieter than my Antec Three Hundred with stock configurations, and after seeing how quiet it can go I was amazed it was quieter than my already-very-quiet set-up. That's a lot of "quiets" in that sentence, but it speaks the truth as to how good the case is at noise suppression.
One slight downside of the case is that the quietness comes at the cost of airflow, as you'll need to leave the extra fan vents covered to achieve maximum silentness. However, the modular design allows you to run a set-up that can be switched to be either quiet or cool depending on what you're using your system for, and in that respect the flexibility must be given high praise.
The greatness of the case does come at a price though, with Corsair setting the RRP at US$160, although you can probably find it cheaper at most hardware retailers. While the case is well made and does reduce noise thanks to the many dampening techniques, I can't help but feel that it would be even more awesome if it weren't so pricey.
Still, it's a great buy for a system builder wanting a quiet PC case with the option of being flexible.
→ Corsair Obsidian 550D website
→ Ask questions about PC building in our forums