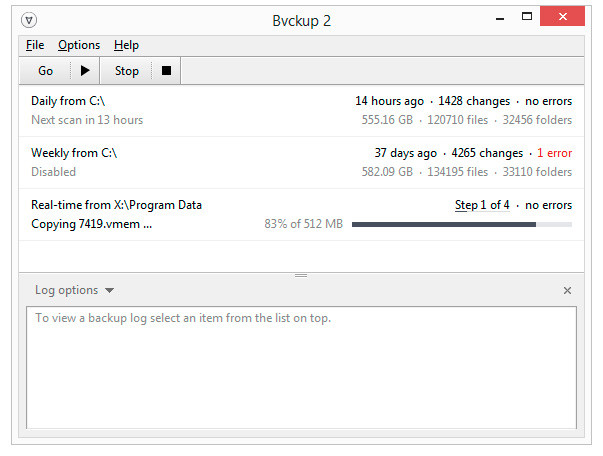 Bvckup 2 is a mirroring data backup software notable for its use of delta copying, speed of operation, small resource footprint and a "beautifully functional" user interface. The software replicates files from one location to another in their original format and purposefully does not include options for compressing or encrypting them. It does however include a comprehensive list of supporting features including periodic and real-time backup scheduling, removable device tracking and shadow copying support. Ideal for making local backups, backups going to external and removable drives as well as to NAS devices.
Bvckup 2 features:
Real-time, scheduled and manual backups
Very fast, delta file copying
Excellent user interface
Backup of locked files with shadow copying
Removable device tracking
Move/rename detection
Windows XP and newer
Full 64-bit support
Run-as-a-service mode
Symlink and junction support
Ownership, group and DACL copying
Fully asynchronous I/O
Multi-core processing where required
Optimized throughout for no run-time bloat
Software update notifications
Bvckup 2 Release 80.3 changelog:
Switched to using new code signing certificate - due to changing the name of the company from Pipemetrics to IO Bureau.
Do note that because of this change all existing installations except for 80.2 will receive an update packaged in a special way. This is because versions 80.1 and older expect the update package to carry a signature of "Pipemetrics SA", so we use some acrobatics to ensure that's the case (even though we no longer can sign new releases with that certificate). I'll post more details in the blog shortly as it's an interesting topic if a bit technical.
Resolved an issue with auto-launching the UI in service mode - with older installations that were switched to the service mode a while ago (as in "several years"), R80.2 will erroneously assume that it needs to run in a desktop mode IF it is set to auto-start on Windows logon.
The backup service would still run and execute all the backups, but the UI wouldn't want to connect to it, insisting on running as a full app => it will show up unlicensed and with an empty list of jobs.
The problem is benign and restarting the UI would re-attached it to the service, but the symptoms were scary.
Resolved a logging issue with trial expiring at the exact same moment one of the jobs starts a scheduled run.
Download: Bvckup 2 Release 80.3 | 2.4 MB (Free trial, $19.95)
View: Bvckup 2 Home Page | Discounts | Release Notes
Get alerted to all of our Software updates on Twitter at @NeowinSoftware