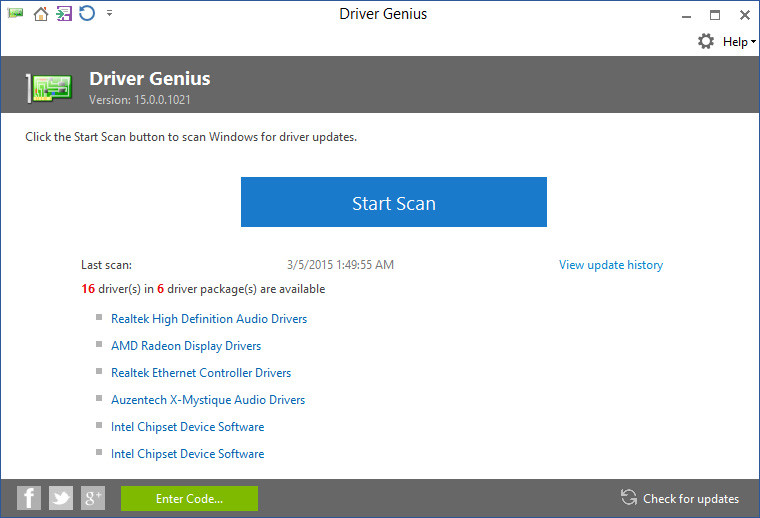 Driver Genius is a professional driver management tool features both driver management and hardware diagnostics. Driver Genius provides such practical functions as driver backup, restoration, update and removal for computer users. If you often reinstall your operating system, you may not forget such painful experiences of searching all around for all kinds of drivers. If unfortunately you have lost your driver CD, the search will be more troublesome and time-consuming.
Driver Genius can automatically find driver for a device that the system can't find a driver for it. It can recognize the name and vendor's information of the device, and directly provide download URL for the required driver.
Driver Genius also supports online updates for drivers of existing hardware devices. There are more than 30,000 most recent drivers for such hardware devices as motherboards, video cards, sound cards, network cards, modems, monitors, mouse, keyboards, digital cameras, video capture cards, etc. on Driver Genius web site.
Driver Genius customers can obtain information for latest drivers by Driver Genius's LiveUpdate program, which can synchronize to the database on Driver Genius site.
New features in version Driver Genius 15.0.x.x:
Quickly backup all drivers in your computer. Free to backup all drivers now!
Package all drivers to an executable auto installer. One click to restore all drivers.
Remove invalid or useless drivers, improve system performance and stability.
New system information tool. Detailed hardware inventory.
Hardware temperature monitor. Protect your CPU, GPU and HDD.
First fully support for Windows 10. Upgrade/degrade your windows system easily.
Driver Genius 15.0.0.1025 changelog:
Improvement: Added Polish language support.
Bug Fixed: Fixed installed driver updates still appear in the update list.
Download: Driver Genius 15.0.0.1025 | 9.8 MB (Shareware)
View: Driver Genius Home Page