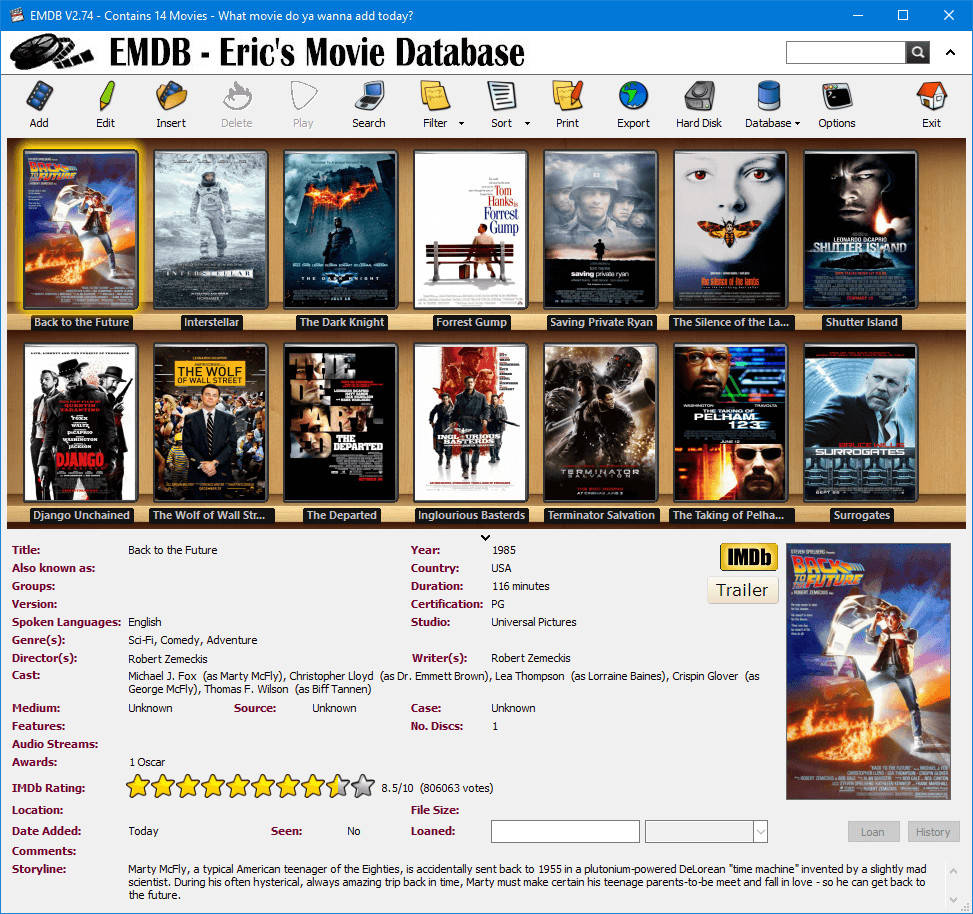 EMDB is an application to keep track of your movie and TV Series collection. Both physical discs and media files are fully supported. With an automatic import from the database of IMDB, export to csv, text or HTML, thumbnail cover preview, a loan tracker, advances search and filter functions and multi-language user interface. EMDB doesn't need a .NET framework or any other external libraries and is therefore fully portable. And best of all... it's free!.
EMDB 5.13 changelog:
Rename files: Added support for TheTVDb Id (%M) in Rename media files.
Defaults: Added default Service (when default Source is set to Streaming).
Edit Directors Dialog: fixed rare crash when scrolling through the list of directors.
Database: 'Seen' is replaced by 'Last seen' + 'Play count'.
HTML Export: Added Collections.
HTML Export: Fixed letter in the breadcrumbs of the individual movie pages.
IMDb import: Use IMDb's global search instead of the advanced title search to support including the year specifying foreign titles.
Translations: Added a Korean translation.
Translations: Updated the French, German, Russian, Traditional Chinese and Dutch translations.
EMDB 5.14
Rotten tomatoes score import: Rotten Tomatoes recently blocked the api search for unregistered users. I officially requested access for EMDB. No response so far. For now I'm guessing the individual movie page urls which seems to work fine for most movies / tv series.
TV Mode: Added icon for 1:2.39 aspect ratio.
Database: fixed saving last seen and play count.
TV Series: fixed setting seen series didn't set the play count which resulted in the series not marked as seen.
IMDb import: fixed searching for actors and importing name and photo.
Translations: Updated the Arabic, Simplified Chinese, Czech, French, German and Dutch translations.
Download: EMDB 5.14 | 5.7 MB (Freeware)
Link: EMDB Home Page
Get alerted to all of our Software updates on Twitter at @NeowinSoftware