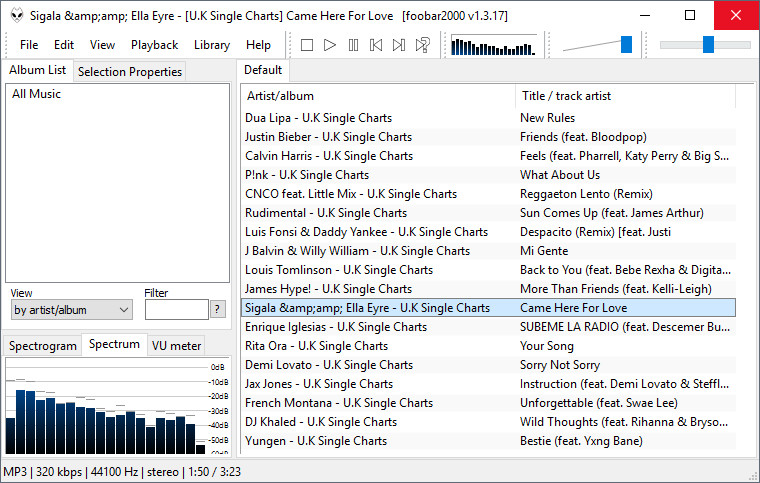 foobar2000 is an advanced freeware audio player for the Windows platform. It features the simplest, most minimalistic interface you'll ever see in this kind of program. Other features include full unicode support, ReplayGain support and native support for several popular audio formats.
foobar2000 features:
Supported audio formats: MP3, MP4, AAC, CD Audio, WMA, Vorbis, FLAC, WavPack, WAV, AIFF, Musepack, Speex, AU, SND... and more with additional components.
Gapless playback.
Full unicode support.
Easily customizable user interface layout.
Advanced tagging capabilities.
Support for ripping Audio CDs as well as transcoding all supported audio formats using the Converter component.
Full ReplayGain support.
Customizable keyboard shortcuts.
Open component architecture allowing third-party developers to extend functionality of the player
foobar2000 1.6.12 changelog:
Added support for playing Opus audio in MP4 container.
Fixed obscure UI glitches (list controls, Default UI splitter).
Suppressed repeating library scan error messages.
More consistent behavior of Properties dialog/element vs channel mask info on multi-selection.
Made possible to autoupdate components larger than 16MB.
FTP protocol bug fixes.
Improved media library compatibility with some read-only network shares.
Removed annoying 'legacy page' prompt for preferences pages not implementing apply/cancel logic.
Download: foobar2000 1.6.12 | 4.5 MB (Freeware)
Links: Home Page | foobar2000 for Mac | Windows Store | Android
Get alerted to all of our Software updates on Twitter at @NeowinSoftware