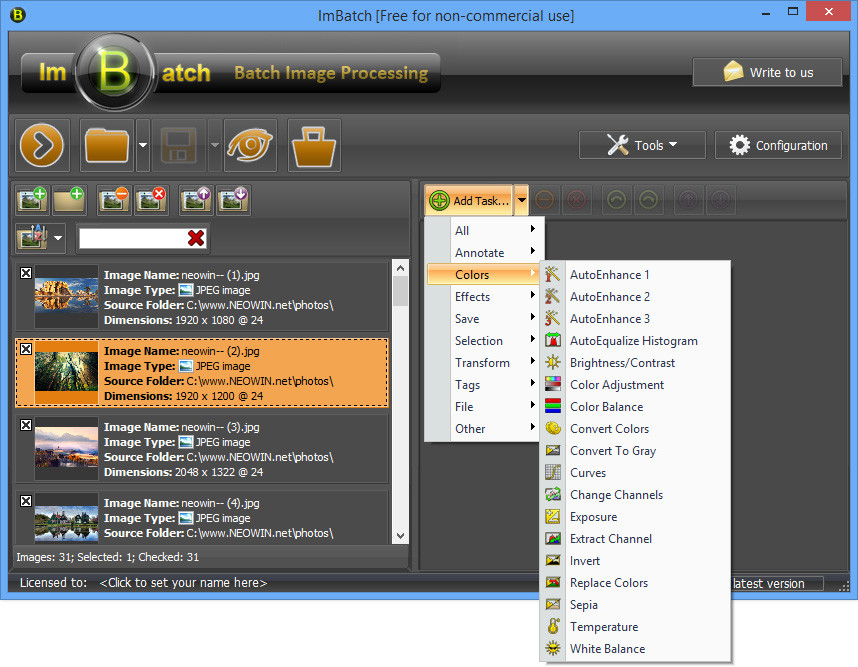 ImBatch is a free image processing tool for your Windows PC. With the help of ImBatch, users can perform a variety of complex image editing tasks; applying those changes to hundreds of images at once. Whether you're looking to crop, resize, rotate, add/remove tags or convert image format, ImBatch provides users with dozens of editing tools.
ImBatch key features:
Batch Resize Image
Batch Image Rotate
Batch Image Soft Shadow
Batch Image Flip task
Batch Image Round Corners
Batch Image Convert Colors
Batch Image Convert To Gray
Batch Image Set EXIF Tag
Batch Remove EXIF Tag
Batch Image Shift Tim
Batch Add To PDF task
Batch Watermark Image
Batch Resize Canvas
Batch Color Adjustment
Batch Gaussian Blur
Batch Inner Shadow
Batch Publish on Facebook
Batch Inner Shadow
Batch Reset To Original
Batch Watermark Text
Batch Frame task
Batch Crop Image
Batch Color Balance
Batch Brightness and Contrast
and much, much more....
What's new in ImBatch 5.1.0:
Added "Save In CMYK As" task.
Added "Save To Animated GIF" task.
"Save As" task: added extended configuration options for TIFF and DICOM formats.
"Set Tag" task: added support of image and file attributes for the text tags.
"Watermark Text" task: added the ability to wrap text.
Added the ability to set templates for date/time tags.
Selecting color from the screen: fixed work with multiple monitors.
Selecting color from the screen: added the ability to cancel the color picking.
Fixed a rare error that happening while simultaneously updating the preview and loading image for hint.
"AutoCrop" task: fixed processing the preview.
"Save As" task: spaces in the name are replaced by underscores.
"Save As" task: fixed error when saving in multi-threaded processing.
Image Monitor: fixed error on loading of the non existent folders on start.
Download: ImBatch 5.1.0 | 14.5 MB (Freeware)
View: ImBatch Home Page