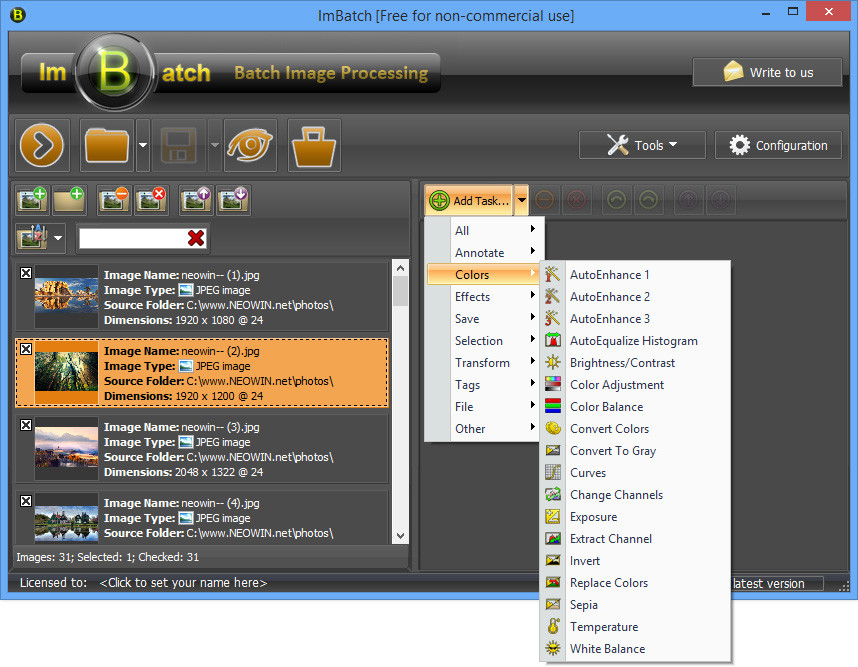 ImBatch is a free image processing tool for your Windows PC. With the help of ImBatch, users can perform a variety of complex image editing tasks; applying those changes to hundreds of images at once. Whether you're looking to crop, resize, rotate, add/remove tags or convert image format, ImBatch provides users with dozens of editing tools.
ImBatch key features:
Batch Resize Image
Batch Image Rotate
Batch Image Soft Shadow
Batch Image Flip task
Batch Image Round Corners
Batch Image Convert Colors
Batch Image Convert To Gray
Batch Image Set EXIF Tag
Batch Remove EXIF Tag
Batch Image Shift Tim
Batch Add To PDF task
Batch Watermark Image
Batch Resize Canvas
Batch Color Adjustment
Batch Gaussian Blur
Batch Inner Shadow
Batch Publish on Facebook
Batch Inner Shadow
Batch Reset To Original
Batch Watermark Text
Batch Frame task
Batch Crop Image
Batch Color Balance
Batch Brightness and Contrast
and much, much more....
What's new in ImBatch 5.3.0:
Added Reflection task.
Added German translation.
'Resize Canvas' task: added the ability to specify the size via the width and height.
'Fill Color' task: added the ability to set the transparency for the filling.
Added command line options (/? and -?) to display help about ImBatch command line parameters.
'Gradient Paint' task: fixed gradient reset.
'Watermark' task: added localization of some controls.
'Watermark' task: fixed the size of watermark border in the preview window.
'Save As' task: fixed saving to ICO format.
'Stroke' task: added the ability to create a border for images without transparency channel.
'Fill Color' task: fixed fill of images with semi-transparency.
Replaced some non-Unicode function calls to Unicode versions of the functions.
Fixed displaying of the "Add pages" form.
ImageMonitor: fixed subdirectory scanning, if the mask is not *
Fixed writing to the log.
Download: ImBatch 5.3.0 | 14.6 MB (Freeware)
View: ImBatch Home Page