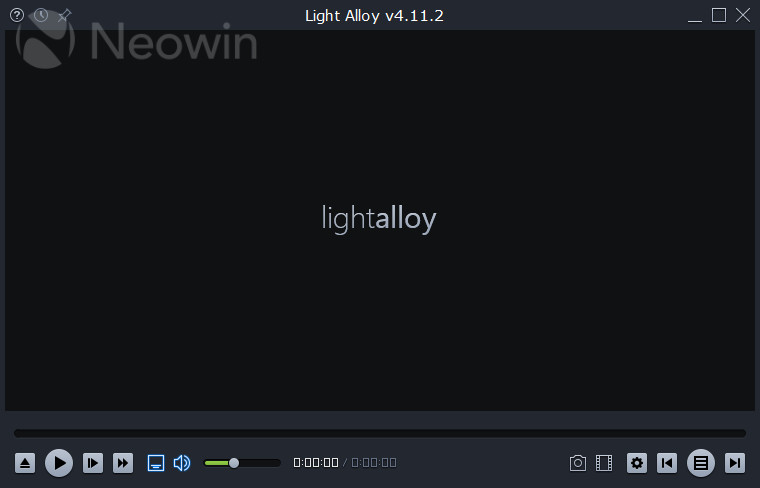 Light Alloy - is a completely free, compact multimedia player. It supports all popular multimedia formats. The main feature - it is very easy in use but at the same time has lots of configuration settings. Like fast video rewind, load subtitles, make bookmarks in the list or on the timeline, preview window on timeline, select audio tracks and subtitles in multilingual films, minimize to tray, infrared remote control (WinLIRC), make screenshots. The brightness/contrast/saturation of the image van be adjust, it supports multimedia keyboards and has full support for DVD/Blu-ray and MKV/OGM/MP4 features.
Light Alloy features:
Built-in video/audio codecs (but still can be configured to use system codecs), as well as custom codecs for the selected video formats, has full support for subtitles (with the ability to specify the time shift if the subtitles are behind or ahead); has minimal start time;
Full support for DVD/Blu-ray and MKV/OGM/MP4 features.
Support for WinLIRC to control the player remotely..
Configurable playback speed from 0.1x slow to 32x fast, frame by frame playback, adjustable rewind.
Volume control, timeline display on the control panel.
Additional audio features: sound amplification, normalization, audio shift.
Unrestricted display size with or w/o aspect ratio alignment.
Audio and video filters configuration.
Supports playlists with the possibility of placing bookmarks in the playlist or on timeline; can be configured to display or hide the duration, can generate a table from the playlist (for movie collectors), save/load a playlist, get screenshots from the video (including the DVD).
Drag-n-drop support; saving playing position on player close (to resume later).
Show detailed info about playing file, copy to clipboard any fields of data or all the info at once.
Rich reconfigurable mouse keys and keyboard, functional pop-up menu.
Easy to use media-oriented "add files" dialogue.
Video settings can be saved per file (brightness, contrast, saturation, sound volume level, the currently loaded subtitle, the currently selected audio track) that are reapplied next time the file is opened.
Ability to specify a folder to save screenshots, for creating thumbnails and full-size screenshots from the movie.
Timeline preview function, like on YouTube, with possibility to change preview window size.
Light Alloy 4.11.2 changelog:
Fixed OSD text unlinked from video (information about rewind, pause, technical information). Those. now this text is independent of the video format and quality.
Fixed display of information on GPU loading in the technical OSD text.
Fixed setting the maximum texture size for subtitles.
Fixed freeze when turning on the second subtitles when the video is paused.
Fixed changing subtitle options (did not work)
Fixed video rotation (turned over to the other side, ie not as indicated on the buttons).
Fixed video distortion when turning.
Fixed crash when switching from EVR CA to EVR.
Fixed dialogs of filter properties (names of properties were not displayed in dialogs).
Fixed playback of not downloaded files.
Fixed a bug where vertical video could be displayed as horizontal
Fixed adding lists from * .m3u files.
Fixed loading of the catalog of radio stations (IceCast).
Fixed drag n drop adding files to the list.
Fixed problem with saving and transferring player settings.
Fixed player can now be installed in the standard Program Files folder.
Added new translations of Bulgarian and French and updated skins.
Download: Light Alloy 4.11.2 | 16.8 MB (Freeware)
Download: Portable Light Alloy 4.11.2 | 23.2 MB
View: Light Alloy Website
Get alerted to all of our Software updates on Twitter at @NeowinSoftware