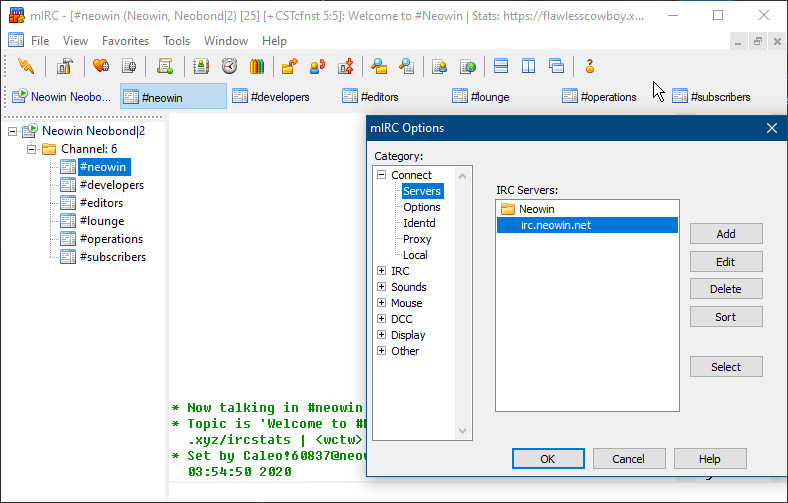 mIRC is a full featured Internet Relay Chat client for Windows that can be used to communicate, share, play or work with others on IRC networks around the world, either in multi-user group conferences or in one-to-one private discussions.
It has a clean, practical interface that is highly configurable and supports features such as buddy lists, file transfers, multi-server connections, SSL encryption, proxy support, UTF-8 display, customizable sounds, spoken messages, tray notifications, message logging, and more.
mIRC also has a powerful scripting language that can be used both to automate mIRC and to create applications that perform a wide range of functions from network communications to playing games. mIRC has been in development for over a decade and is constantly being improved and updated with new technologies.
mIRC 7.64.6628 Beta changelog:
Added flash option to ignore dialog options.
Reverted change to nick idle time so that it is updated per second once again.
Updated some of the winsock error messages in resources to use more up-to-date descriptions.
Fixed regex global matching bug with UTF-8 characters.
The styles dialog has been removed. The channel nicklist sizing bar now uses a standard width. The editbox and nicklist borders now use standard Windows colors. Windows no longer use an internal frame.
Fixed tray tips Control+O display bug.
Updated OpenSSL library to v1.1.1k.
Updated TagLib library to v1.12.
Added Windows 10 Aero theme support to MDI windows.
Changed the aliases list menu to use shorter, combined a-z menus, with separators, and any left over items in a ? submenu.
Fixed URLs List SendTo menu item being disabled.
Fixed MDI tile feature not fitting the right/bottom-most windows to the edge of the MDI area.
Changed scripts editor alias and popup menubars to use an "Index" menu name to list aliases/popups.
Added scripts editor "Index" menu to remote menu bar that lists all of the items defined in a script. It also includes partial lines for some items to give context.
Added home/end/page up/down key support to popup menus to allow for faster scrolling in long menus. These keys normally do nothing in menus, however they will now scroll multiple lines per key press and will stop once they reach the top/bottom of the menu.
Updated CA root certificates cacert.pem file.
Extended tab completion to allow using just a channel mode prefix to begin cycling through all matching users with that mode.
Extended tab completion to support %halfops. If an existing %var name is used, it is evaluated as in past versions, if you are not currently cycling through %halfops.
Changed Window menu to not show windows hidden with /window -h unless shift key is pressed when viewing menu.
Changed /window -h to not hide Status Windows in treebar, switchbar, and window menu, as these are root windows for all other windows on that connection.
Fixed bind to adapter/IP address bug that caused it to use wrong adapter if adapter has two identically named IPv4 and IPv6 entries.
Fixed bind to adapter/IP address bug that caused it to block connections in some contexts.
Fixed DCC get sometimes reporting that the transfer completed when there was insufficient disk space.
Download: mIRC 7.64.6628 Beta | 2.6 MB (Shareware)
View: mIRC Home Page
Get alerted to all of our Software updates on Twitter at @NeowinSoftware