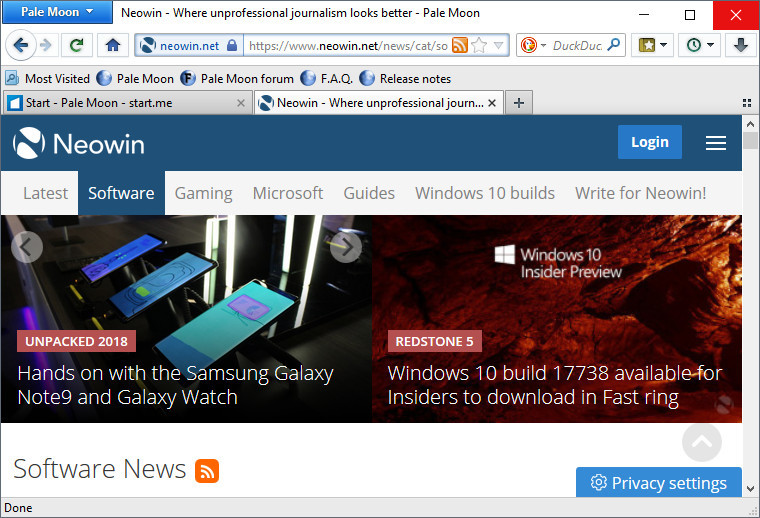 Pale Moon is an Open Source, Goanna-based web browser available for Microsoft Windows, Linux and Android, focusing on efficiency and ease of use. Make sure to get the most out of your browser!
Pale Moon offers you a browsing experience in a browser completely built from its own, independently developed source that has been forked off from Firefox/Mozilla code, with carefully selected features and optimizations to improve the browsers speed, resource use, stability and user experience, while offering full customization and a growing collection of extensions and themes to make the browser truly your own.
Features:
Optimized for modern processors
Based on proprietary optimized layout engine (Goanna)
Safe: forked from mature Mozilla code and regularly updated
Secure: Additional security features and security-aware development
Supported by our user community, and fully non-profit
Familiar, efficient, fully customizable interface
Support for full themes: total freedom over any elements design
Support for easily-created lightweight themes (skins)
Smooth and speedy page drawing and script processing
Increased stability: experience fewer browser crashes
Support for many Firefox extensions
Support for a growing number of Pale Moon exclusive extensions
Extensive and growing support for HTML5 and CSS3
Many customization and configuration options
Pale Moon 32.0 release notes:
This is a new milestone release.
Primary focus for this milestone is web compatibility, in particular Regular Expression extensions, standards compliance issues and further JPEG-XL support.
This milestone now offers full coverage of the ECMAScript 2016-2020 JavaScript specifications, with the exception of BigInt primitives.
Special thanks to Martok, Job Bautista and FranklinDM without whom this milestone would not have been possible, and to dbsoft for putting in the effort to work on Mac and FreeBSD builds.

Most important changes
Implemented Regular Expression named capture groups.
Implemented Regular Expression unicode property escapes.
Re-implemented Regular Expression lookaround/lookbehind (without crashing this time ;) ).
Implemented progressive decoding for JPEG-XL.
Implemented animation for JPEG-XL.
Renamed CSS offset-* properties to inset-* to align with the latest spec and the web.
Fixed CSS inheritance and padding issues in some cases.
Aligned parsing of incorrectly duplicated HSTS headers with expected behavior (discard all but the first one).
Implemented a method to avoid memory exhaustion in case of (very) large resolution animated images.
Updated the JPEG-XL and Highway libraries to a recent, stable version.
Cleaned up some unused CSS prefixing code.
Improved the ability to link on *nix operating systems with other linkers than gcc's default.
Stability improvements (potential crash fixes).
Security issues addressed: CVE-2023-23598, CVE-2023-23599 and several others that do not have a CVE number.
UXP Mozilla security patch summary: 4 fixed, 2 DiD, 19 not applicable.
Platform support
We're working on finalizing official builds for Mac OS and FreeBSD. These are currently in beta and can be downloaded from the Contributed Builds page. Please note that you may run into some system compatibility issues with these builds. If you do, please go to the forum and report it in the appropriate board!
Download: Pale Moon (64-bit) | Portable 64-bit | ~40.0 MB (Freeware)
Download: Pale Moon (32-bit) | Portable 32-bit
Links: Pale Moon Homepage | Add-ons | Themes | Extensions
Get alerted to all of our Software updates on Twitter at @NeowinSoftware