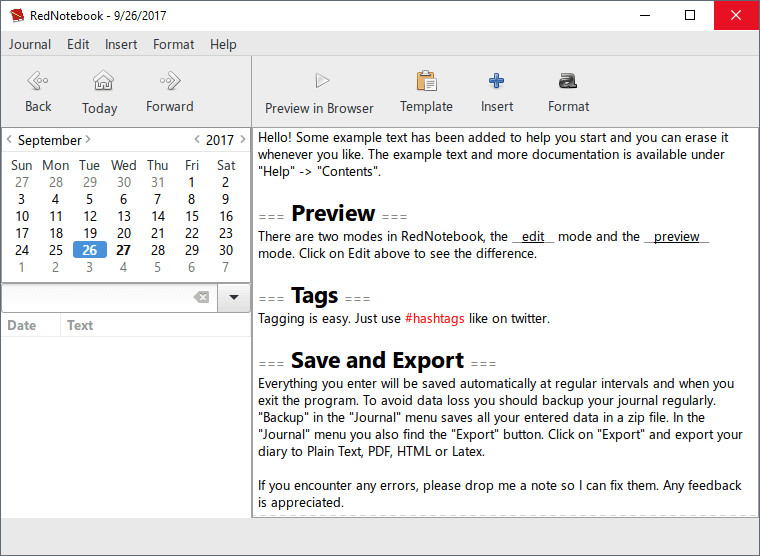 RedNotebook is a modern desktop journal. It lets you format, tag and search your entries. You can also add pictures, links and customizable templates, spell check your notes, and export to plain text, HTML, Latex or PDF. RedNotebook is Free Software under the GPL.
RedNotebook main fatures:
#Hashtags
Format your text bold, italic or underlined
Insert Images, files and links to websites
Links and mail addresses are recognized automatically
Spell Check
Live-Search
Automatic saving
Backup to zip archive
Word Clouds with most often used words and tags
Templates
Export the journal to plain text, HTML, Latex or PDF
The data is stored in plain text files, no database is needed
Translated into more than 30 languages
RedNotebook 2.23 changelog:
Check that a newly written month file is valid before deleting the old month file.

Rename "autostart" file. Please reenable autostart option in preferences if you want RedNotebook to run on system startup.

Fix Python crash on program start (#583, Max Krummenacher).

Prevent save failures on network and cloud drives (#593, Robert Little).

Add script for importing entries (#571, Cary Gravel).

Revamp packaging for Debian (#599, #600, Phil Wyett).

Fix continuous integration tests.
Download: RedNotebook 2.23 | 77.5 MB (Open Source)
Links: RedNotebook Website | Other Operating Systems
Get alerted to all of our Software updates on Twitter at @NeowinSoftware