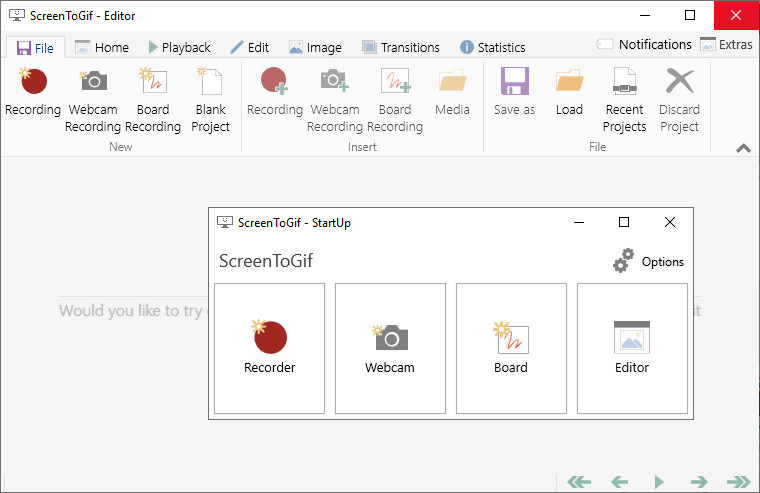 ScreenToGif is an open source program that lets you to record a selected area of your screen, live feed from your webcam or live drawings from a sketchboard. Afterwards, you can edit and save the animation as a GIF or video. Also there's the Webcam Recorder and the Board Recorder.
Features:
Record your screen and save directly to a gif looped animation or a video.
Pause and continue to record or start over by discard the recording.
Move the window around to record what you want, it stays on top.
You can add Text, Subtitles, Title Frames, Borders, Watermarks, Drawings, etc.
Crop and Resize.
Remove frames that you don't want.
Select a folder to save the file automatically or select one before encoding.
Add the system cursor to your recording.
Very small sized and portable executable.
What's new in ScreenToGif 2.24:
Added the option to run the FFmpeg encoding with two-pass.
[Installer] Added the option to install the shortcut to all users.
[Installer] When installing, the UAC prompt will only appear if necessary (for example, when installing the shortcut to all users).
Added the option to force the update to run with elevated privileges.
Updated the default parameters for exporting with FFmpeg (click on the reset button to load the new ones).
Bug fixes
When trying to insert an image with a different DPI than the project, it would import it with the incorrect size.
Added a warning when trying to import multiple images with different DPIs
The app could crash when rendering a character which had a broken glyph (while using the caption feature).
The app was crashing when applying the 'Reduce Frame Count' while selecting the last frames.
It was not allowed to add a preset with a name already in use in a preset from another video type.
(Experimental) Added a workaround for the 'Not enough quota...' crash. It can be disabled on Options > Application.
Download: ScreenToGif 2.24 | Portable ScreenToGif | ~3.0 MB (Open Source)
View: ScreenToGif Home Page | User Guide
Get alerted to all of our Software updates on Twitter at @NeowinSoftware