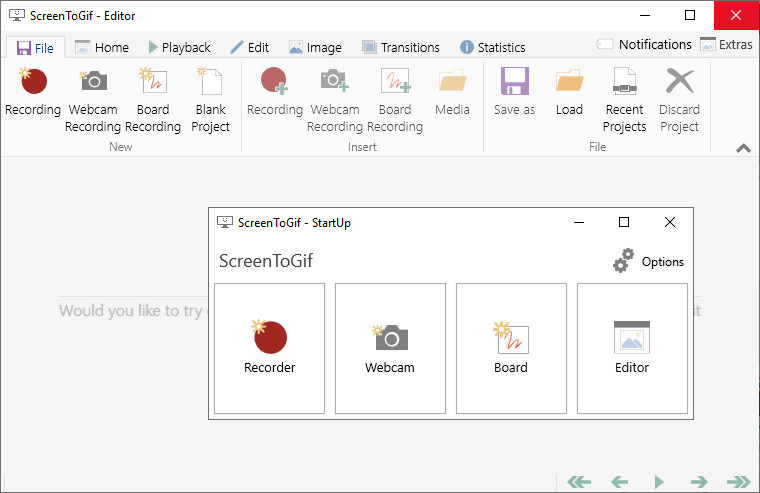 ScreenToGif is an open source program that lets you to record a selected area of your screen, live feed from your webcam or live drawings from a sketchboard. Afterwards, you can edit and save the animation as a GIF or video. Also there's the Webcam Recorder and the Board Recorder.
Features:
Record your screen and save directly to a gif looped animation or a video.
Pause and continue to record or start over by discard the recording.
Move the window around to record what you want, it stays on top.
You can add Text, Subtitles, Title Frames, Borders, Watermarks, Drawings, etc.
Crop and Resize.
Remove frames that you don't want.
Select a folder to save the file automatically or select one before encoding.
Add the system cursor to your recording.
Very small sized and portable executable.
What's new in ScreenToGif 2.32:
Memory usage improvements with the frame list inside the editor (thanks for @mabakay for finding it out).
You can now open the app and start recording by using command line arguments (read the wiki for more details).
Added option to set the background of the editor to follow the OS color theme (thanks to @pawlos).
Added option to resize the frames by using percentages.
Bug fixes:
The selection adorner could appear in the recording if the region were previously left close to the right corner of the screen.
The new recorder UI command panel was getting in the way of the capture when positioned to the left of the capture region.
The insert window was reporting wrong sizing information about the images and canvas.
The new recorder UI was width and height text boxes were not displaying the correct scaled size based on the screen DPI.
When exporting and not selecting a file path, the filename of the temporary file was not using the extension (thanks to @pawlos).
Download: ScreenToGif 2.32 | Portable ScreenToGif | ~3.0 MB (Open Source)
View: ScreenToGif Home Page | User Guide
Get alerted to all of our Software updates on Twitter at @NeowinSoftware