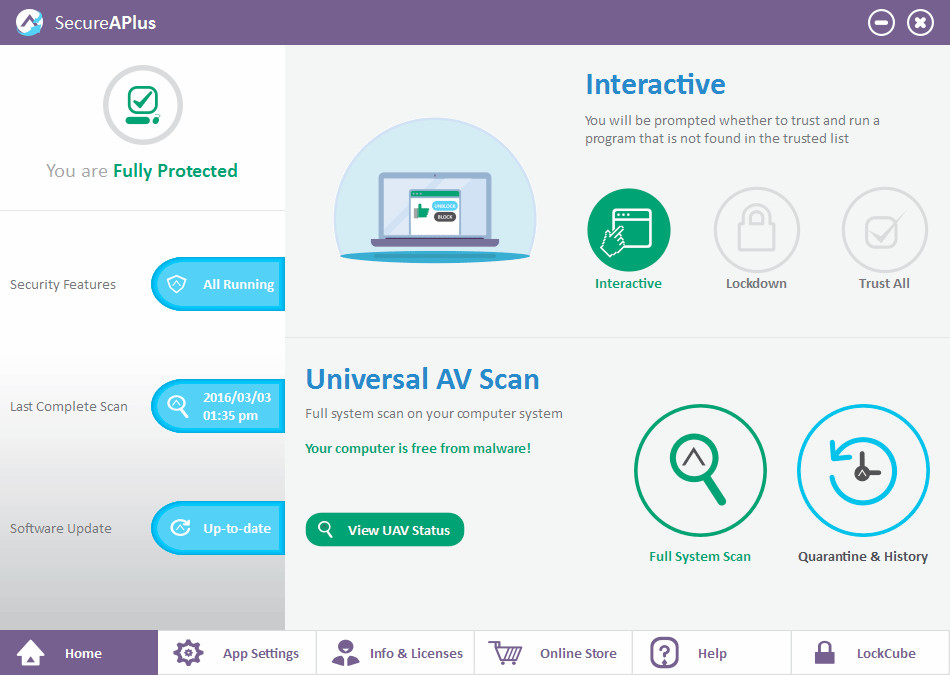 SecureAge SecureAPlus combines application whitelisting and antivirus components to protect your computer from known and unknown malware more effectively. It does what other conventional antivirus cannot do – it can block any new and advanced malware regardless of how they try to evade detection. It even alerts you when risky programs are attempting to run to prevent any accidental installation that potentially can harm your computer. Hence, SecureAge SecureAPlus is the next generation antivirus that truly protects your computer without taking any chance.
The 12 engines that the SecureAPlus Universal AV uses are Emsisoft, Avira, Sophos, McAfee, Microsoft Security Essential, ESET, Bitdefender, AVG, Norman, Quick Heal, Total Defense and Clamwin.
SecureAPlus Freemium comes with a ONE-YEAR FREE LICENSE but users can also join the Referral Program to extend the license and to even earn a free perpetual user license. For more information, please visit the "Referral Program" webpage.
What's New in SecureAPlus 4.8.1:
Users can click to view the list of number of unknown and uploaded files in the manual scanner.
Bugs Fixed:
When asking for permission to upload files, Yes and No buttons are not translated to foreign language.

If ClamAV engine failed to run, turning "Off" and then turning "On" Offline Antivirus settings does not restart the engine.
Modifications:
Change edit box context menu color, for selected text, the text color is changed from white to black, and the background Is set to blue.

When the computer is just rebooted, stop updating Security Center if SecureAPlus detects that it has been registered in the Security Center.

Do not prompt "Would you like to refresh the engines now?" when SecureAPlus detected there is any changes on the list of Universal AV engines at the server.

When one of the checked item is unckecked, the select/unselect all checkbox will also be unchecked.

The number of the total engine is shown based on the number of the total active engines used at the server.

This number will automatically change if the server change the number of active engines.

When SecureAPlus server is redirected to SMS, the download file for software update will follow the port that was set. In the previous version only the standard https port is supported.
Download: SecureAPlus 4.8.1 | 153.0 MB (Freemium)
View: SecureAPlus Home Page
Get alerted to all of our Software updates on Twitter at @NeowinSoftware