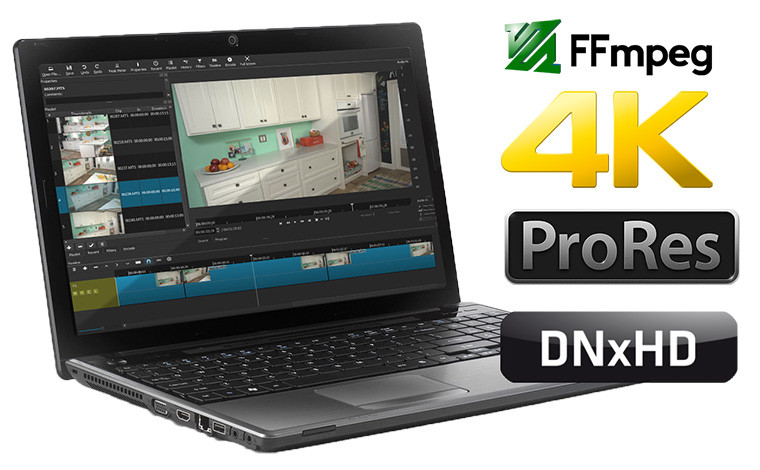 Shotcut is a free, open source, cross-platform video editor for Windows, Mac and Linux. Major features include support for a wide range of formats; no import required meaning native timeline editing; Blackmagic Design support for input and preview monitoring; and resolution support to 4k.
Editing Features
Trimming on source clip player or timeline with ripple option
Append, insert, overwrite, lift, and ripple delete editing on the timeline
3-point editing
Hide, mute, and lock track controls
Multitrack timeline with thumbnails and waveforms
Unlimited undo and redo for playlist edits including a history view
Create, play, edit, save, load, encode, and stream MLT XML projects (with auto-save)
Save and load trimmed clip as MLT XML file
Load and play complex MLT XML file as a clip
Drag-n-drop files from file manager
Scrubbing and transport control
Video Effects
Video compositing across video tracks
HTML5 (sans audio and video) as video source and filters
3-way (shadows, mids, highlights) color wheels for color correction and grading
Eye dropper tool to pick neutral color for white balancing
Deinterlacing
Auto-rotate
Fade in/out audio and fade video from and to black with easy-to-use fader controls on timeline
Video wipe transitions:
bar, barn door, box, clock (radial), diagonal, iris, matrix, and custom gradient image
Track compositing/blending modes:
Over, Add, Saturate, Multiply, Screen, Overlay, Darken, Dodge, Burn, Hard Light, Soft Light, Difference, Exclusion, HSL Hue, HSL Saturation, HSL Color, HSL Luminosity.
Video Filters:
Alpha Channel: Adjust, Alpha Channel: View, Blur, Brightness, Chroma Key: Advanced, Chroma Key: Simple, Contrast, Color Grading, Crop, Diffusion, Glow, Invert Colors, Key Spill: Advanced, Key Spill: Simple, Mirror, Old Film: Dust, Old Film: Grain, Old Film: Projector, Old Film: Scratches, Old Film: Technocolor, Opacity, Rotate, Rutt-Etra-Izer, Saturation, Sepia Tone, Sharpen, Size and Position, Stabilize, Text, Vignette, Wave, White Balance
Speed effect for audio/video clips
Hardware Support
Blackmagic Design SDI and HDMI for input and preview monitoring
Leap Motion for jog/shuttle control
Webcam capture
Audio capture to system audio card
Capture (record) SDI, HDMI, webcam (V4L2), JACK audio, PulseAudio, IP stream, X11 screen, and Windows DirectShow devices
Multi-core parallel image processing (when not using GPU and frame-dropping is disabled)
DeckLink SDI keyer output
OpenGL GPU-based image processing with 16-bit floating point linear per color component
Shotcut 22.01.30 changelog:
3 New Equalizers!
Added an Equalizer: 15-band (graphic) audio filter.
Added an Equalizer: 3-Band (Bass & Treble) audio filter.
(Removed the old Bass & Treble audio filter.)
Added an Equalizer: Parametric audio filter.
More New Stuff
Added Segments parameter to the following video filters:
Audio Level Visualization
Audio Spectrum Visualization
Audio Waveform Visualization
Added Settings > Job Priority to the main menu with a Normal option to improve performance on Intel 12th generation CPUs with E-cores. Low priority is the default as it has always been and is generally recommended.
Added Wayland compatibility to Flatpak for Linux.
Changes
Reduced audio distortion in Properties > Reverse for the best/MKV option.
Removed Use Higher Performance Waveforms (default is on but still in configuration).
Added a warning dialog when trying to use simple keyframes when advanced keyframes are being used.
Changed to remove full keyframes when switching to simple keyframes.
Added a warning dialog when trying to use advanced keyframes when simple keyframes are being used.
Changed to convert simple keyframes to advanced keyframes.
Changed tooltips on the Timeline and Keyframes toolbar to simplify and remove shortcuts from translated strings.
Improved compatibility of VA-API hardware encoding on Linux, particularly on Wayland.
Updated AV1, VP8, and VP9 encoders to latest releases.
Updated Rubberband (audio pitch library) to latest release.
Fixes
Fixed the appearance of Shotcut's description in Windows Task Manager (broke in v21.12).
Fixed filters when Export > From is Source or Each Playlist Item (broke in v21.05).
Fixed File > Export > Markers as Chapters if project contains transitions.
Fixed a possible crash moving clip inside blank on same track.
Fixed a crash when dropping a .mlt MLX XML file from a file manager to Playlist and then Timeline.
Fixed a crash on undo insert/overwrite after undo add transition.
Fixed Hold undo in Noise Gate audio filter.
Fixed audio mutes after setting an in or out point when playing not 1x forward in Source.
Fixed the Segment Gap goes to zero when reloading an Audio Spectrum Visualization filter.
Fixed Mask: Simple Shape > Rotate not working in presets.
Fixed page up/down incorrect when Current position (timecode) spin box has focus.
Fixed extra blanks being removed when drag moving a clip right with Ripple turned on.
Fixed paths to additional files used by some filters not saved as relative on Windows.
Fixed tiny clips created when trimming on the Timeline with Ripple All Tracks turned on.
Fixed removing simple keyframes.
Fixed the Text: Rich video filter shows the editor when playhead is not over selected clip.
Fixed Properties > Menu > Measure Video Quality (VMAF) not working on Windows.
Fixed a possible crash in Glitch video filter.
Fixed a crash changing Properties > Video > Rotation when the clip has a transition.
Fixed the Mask: From File video filter's Reverse option not working as intended.
Fixed broadcast standard non-integer frame rates (e.g. 30000/1001) for Matrosk and WebM files.
Fixed a bad job percentage complete when making a proxy or running a convert job on a GoPro video file.
Download: Shotcut 22.01.30 (64-bit) | Portable | ~100.0 MB (Open Source)
View: Shotcut Home Page | Other Operating Systems
Get alerted to all of our Software updates on Twitter at @NeowinSoftware