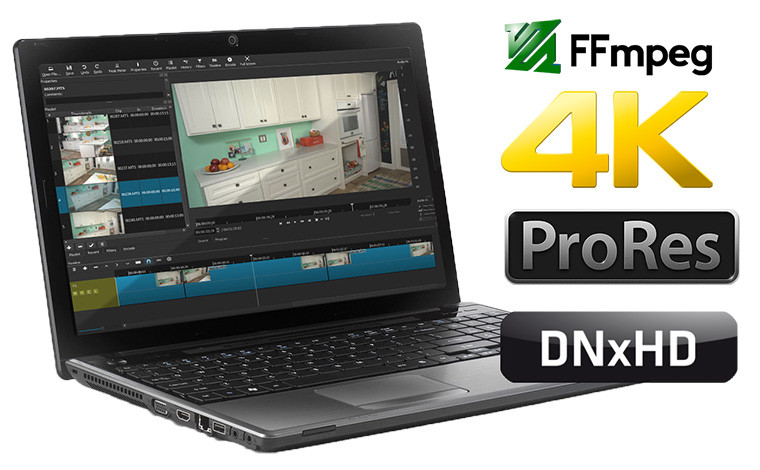 Shotcut is a free, open source, cross-platform video editor for Windows, Mac and Linux. Major features include support for a wide range of formats; no import required meaning native timeline editing; Blackmagic Design support for input and preview monitoring; and resolution support to 4k.
Editing Features
Trimming on source clip player or timeline with ripple option
Append, insert, overwrite, lift, and ripple delete editing on the timeline
3-point editing
Hide, mute, and lock track controls
Multitrack timeline with thumbnails and waveforms
Unlimited undo and redo for playlist edits including a history view
Create, play, edit, save, load, encode, and stream MLT XML projects (with auto-save)
Save and load trimmed clip as MLT XML file
Load and play complex MLT XML file as a clip
Drag-n-drop files from file manager
Scrubbing and transport control
Video Effects
Video compositing across video tracks
HTML5 (sans audio and video) as video source and filters
3-way (shadows, mids, highlights) color wheels for color correction and grading
Eye dropper tool to pick neutral color for white balancing
Deinterlacing
Auto-rotate
Fade in/out audio and fade video from and to black with easy-to-use fader controls on timeline
Video wipe transitions:
bar, barn door, box, clock (radial), diagonal, iris, matrix, and custom gradient image
Track compositing/blending modes:
Over, Add, Saturate, Multiply, Screen, Overlay, Darken, Dodge, Burn, Hard Light, Soft Light, Difference, Exclusion, HSL Hue, HSL Saturation, HSL Color, HSL Luminosity.
Video Filters:
Alpha Channel: Adjust, Alpha Channel: View, Blur, Brightness, Chroma Key: Advanced, Chroma Key: Simple, Contrast, Color Grading, Crop, Diffusion, Glow, Invert Colors, Key Spill: Advanced, Key Spill: Simple, Mirror, Old Film: Dust, Old Film: Grain, Old Film: Projector, Old Film: Scratches, Old Film: Technocolor, Opacity, Rotate, Rutt-Etra-Izer, Saturation, Sepia Tone, Sharpen, Size and Position, Stabilize, Text, Vignette, Wave, White Balance
Speed effect for audio/video clips
Hardware Support
Blackmagic Design SDI and HDMI for input and preview monitoring
Leap Motion for jog/shuttle control
Webcam capture
Audio capture to system audio card
Capture (record) SDI, HDMI, webcam (V4L2), JACK audio, PulseAudio, IP stream, X11 screen, and Windows DirectShow devices
Multi-core parallel image processing (when not using GPU and frame-dropping is disabled)
DeckLink SDI keyer output
OpenGL GPU-based image processing with 16-bit floating point linear per color component
Shotcut 22.11.25 changelog:
Fixed including sub-project with Open MLT XML as Clip breaks the project (broke in v22.10).
Fixed custom transition preview in Properties degrades quality and accuracy of the transition preview in the player (bug in v22.09).
Fixed memory leak in the transition Properties and Slideshow Generator previews (bug in v22.09).
Fixed crash when using the --appdata command line option (broke in v22.09).
Fixed dragging multiple selection in Timeline does not show all selected clips (broke in v22.09).
Fixed huge memory consumption when using certain filters before keyframes on the Size, Position & Rotate filter: Corner Pin, Mask: Simple Shape.
Fixed Alt (option on macOS) not suspending snapping in filter rectangle controls.
Fixed updating the filter UI value when deleting a keyframe.
Improved sound quality of Pitch compensation and Pitch audio filter.
Added Reset on discontinuity option to the Normalize: One Pass audio filter.
Download: Shotcut 22.11.25 (64-bit) | Portable | ~100.0 MB (Open Source)
View: Shotcut Home Page | Other Operating Systems
Get alerted to all of our Software updates on Twitter at @NeowinSoftware