See which trends Gartner predicts will lead the digital transformation in 2019. Claim your free report on "Top 10 Strategic Technology Trends for 2019" today before the offer expires!
What's it all about?
"The way we perceive and interact with technology is undergoing a radical transformation."* Artificial intelligence, the Internet of Things, conversational platforms, augmented reality, and digital twins are dramatically shifting the way we collect, use, and find value from data. As a technology innovation leader, you need to be ready to experiment with technological advancements, foster continuous innovation, and build a culture that embraces change to ensure your organization stays competitive.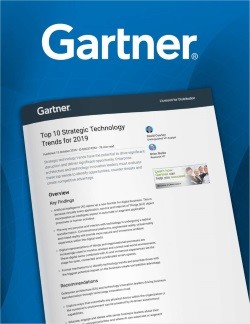 To help you stay agile in this constantly evolving landscape, Gartner Research identified the ten strategic technology trends that have the potential to drive significant disruption and deliver significant opportunity in 2019. Among the focus areas, you'll find digital ethics and privacy as a broad trend that spans all of the core themes. According to Gartner, "Best practice means focusing not only on what you have to do but on what you should do ethically with regard to issues such as specific applications of AI or the creation of digital twins of people for marketing purposes."
Read the full Gartner report to see where you can identify opportunities, counter threats, create competitive advantage, and prepare for the year to come.
How to get it
Please ensure you read the terms and conditions to download this free report. Complete and verifiable information is required in order to receive this free offer. If you have previously made use of these free offers, you will not need to re-register.
>> Free report: Top 10 Strategic Technology Trends for 2019
Offered for free by Collibra. This is a time limited offer.
---
Not for you?
That's OK, there are other free eBooks on offer you can check out here, but be aware that these are all time-limited offers. If you are uncomfortable sharing your details with a third-party sponsor, we understand. Or via our preferred partner:
How can I disable these posts? Click here.
---
Disclosure: A valid email address is required to fulfill your request. Complete and verifiable information is required in order to receive this offer. By submitting a request, your information is subject to TradePub.coms Privacy Policy.