Smartwatches can be an excellent gift because not everyone has one. If they do have one, it might be a few years old, as it's not something that we refresh as often as a smartphone. If you're looking to get a tech gift for someone that seems to have everything else, a smartwatch might be the way to go.
Here are some of our favorite smartwatches:
Huawei Watch Fit
Huawei's Watch Fit was one of my personal favorite smartwatches of the year. It's also the most inexpensive one that I reviewed at $129.99, but what's cool about this little device is that it has guided workouts. It's a great way to stay in shape when we can't go out. Of course, it will track your regular workouts, deliver notifications, and more. It also gets up to 10 days of battery life.
You can check out out review here, or find the product here. It works with iOS and Android.
Huawei Watch GT 2
It probably looks weird to have two Huawei products back-to-back, but it wouldn't make sense to come back around to this, as the Watch GT 2 series is so similar to the Watch Fit. The Watch GT 2 Pro is definitely the most stylish watch that I reviewed this year, and it has everything the Fit has except the guided workouts, and then some. For example, this watch can playback music during your workouts. It also gets up to two weeks of battery life, something that's unheard of in a smartwatch.
Coming in at under $200 for the non-Pro, it comes in a 46mm size and a smaller 42mm size for those with smaller wrists. You can check out our review here and check it out here. It works with iOS and Android.
Mobvoi TicWatch Pro 3
The TicWatch Pro 3 is the first smartwatch to use Qualcomm's Snapdragon Wear 4100 chipset, the first to use Cortex-A53 and the first major advancement to the chipset since Android Wear was introduced in 2014. For that reason, the TicWatch Pro 3 is actually the only Wear OS smartwatch that I'd recommend right now.
It also has a unique dual-screen technology, which puts an LCD display on top of the OLED screen, so it's not using much power when it's idling. You can check out the review here, and check out the product here for $299.99. Wear OS works with both iOS and Android, although using it with iOS can be a bit limited.
Samsung Galaxy Watch3
Samsung's smartwatches run its Tizen OS, and they're actually pretty good. The newest one is called the Galaxy Watch3, and it has new features like blood pressure, ECG, and blood oxygen monitoring.
The 41mm model normally starts at $399.99, but you can get it for $339 right now. The 45mm variant is normally $429.99 and is on sale for $369. Both LTE variants are $60.99 off as well, with the 41mm one coming in at $389 and the 45mm one coming in at $419.
If you're looking for something that's more inexpensive along the same lines, check out the Galaxy Watch Active2, which is $70 off at $179.99 and $199.99 for the 40mm and 44mm models, respectively.
Samsung's watches work with all Android devices that have access to the Google Play Store, but it has much better integration with Samsung phones.
Apple Watch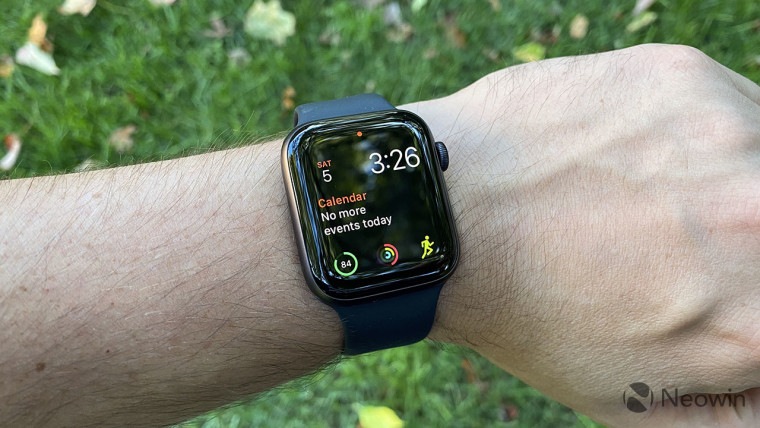 It wouldn't be a smartwatch gift guide without the Apple Watch, a device that many consider to be the best on the market. It only works with iPhones, of course, and the newest update adds features like sleep tracking, third-party watch face support, and more.
Apple still sells the Apple Watch Series 3, and it's currently $20 off at $179. You can also grab the Apple Watch SE $20 off for $289, or the Apple Watch Series 6 starting at $379. Apple offers a bunch of different configurations, and the prices go up from there.
As an Amazon Associate, Neowin may earn commission from qualifying purchases.