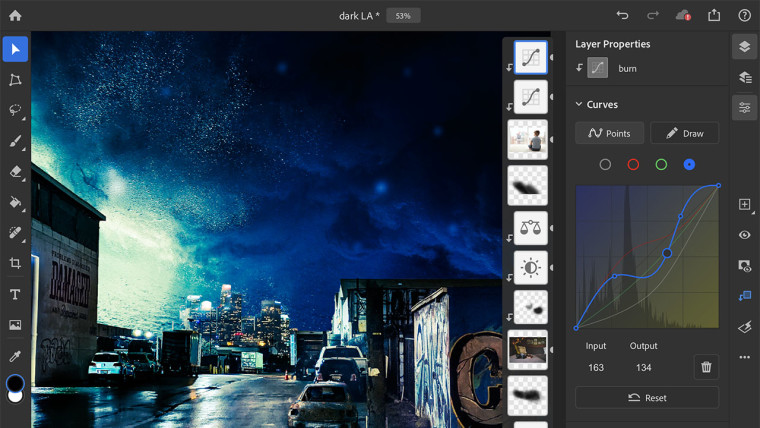 Adobe is announcing some big improvements coming to its Photoshop app for Apple's iPad, along with new features for its Fresco drawing app. Obviously, the aim for Photoshop is feature parity with the desktop version, so there won't be anything unfamiliar here.
First up is Curves, which is which is meant to allow you to adjust images in a non-destructive way. Apparently, this was a highly requested feature. You can adjust things like contrast, exposure, saturation, highlights, and more. One thing that you can't do just yet is choose a numerical input for precise adjustments, although that's coming soon, along with the eyedropper tool.
Another big new feature is pressure sensitivity improvements. You'll now be able to adjust the pressure sensitivity for your Apple Pencil. If you've got a heavy hand and you're always pressing too hard, this is the solution.
Now, on to Adobe Fresco version 1.6, which is rolling out for iPad and Windows 10. First up is multicolor eyedrop, which Adobe says is revolutionary. Indeed, you can use the eyedrop tool to capture multiple colors, but you can also capture shapes and more. For example, if you use it on an object that looks like a 3D sphere, you can draw a 3D tubular shape. It can be used with different kinds of brushes too, so if you paint with watercolor, you'll see the bleed from the different colors.
Another new feature is called Capture Shapes, which was previously part of Adobe Draw. It lets you take drawings and turn them into shapes. As you'd expect, those shapes are vectors, so you can expand them to any size.
Vector Trim is exactly what it sounds like. You can easily trim with one swipe or erase an entire stroke with three swipes. Mixer brushes are coming as well, so now when you bring them over from Photoshop, you'll see them in the brushes menu.
That's not all though. The straight-edge now pins to the canvas, so you can zoom in or out and it will stay there. There are also general improvements, like better blending with Live Oil brushes, a new Live Watercolor brush, and more.