Google's Chrome browser for the desktop is expected to receive a bunch of new features in the next few releases. Various commits, experimental feature discoveries, and Canary flights provide a glimpse at some of the features such as a native dark mode that respects the operating system's settings, a 'Never-Slow Mode' for consistent performance, tab previews and more.
Now, the company has listed a couple of media-related features that will make it to the very next version of Chrome, version 73. They include support for hardware media keys, automatic picture-in-picture for installed PWAs, the ability to skip ads in picture-in-picture videos and more.
The support for media keys is a significant and welcome addition to Chrome since it makes controlling audio/video playback much easier. For example, if you use the web to stream music through a streaming service or through YouTube in the background, you will be able to use the play/pause/skip keys on the keyboard to control playback without having to hunt down the tab that is playing the music. Support for hardware media keys will be available with Chrome 73 on Chrome OS, MacOS and Windows, with support for Linux planned for later.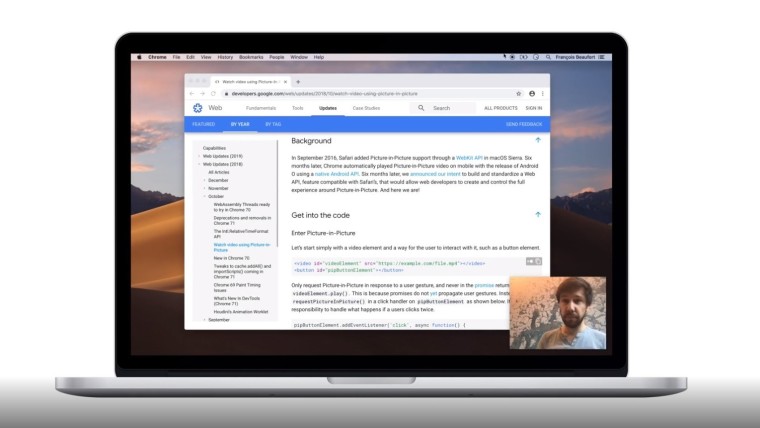 Automatic Picture-in-Picture works for PWAs that are installed on the system. Chrome 70 brought with it the ability to install PWAs on Windows 10, making the apps act more like native apps with support for Start Menu icons, native notifications through the Action Center and more. However, PWAs that used video could switch to picture-in-picture only through a user action. With Automatic Picture-in-Picture, the video elements in the app can enter and leave the picture-in-picture state automatically based on focus. An example would be video-conferencing apps that switch the video to picture-in-picture when a user navigates between different web apps or tabs in the browser. An app like Teams, which is also a PWA, could benefit greatly from this feature.
In addition to the Automatic Picture-in-Picture functionality, the ability to skip ads in videos using the picture-in-picture behavior too will be added with Chrome 73. In Version 73, PWAs will also be able to autoplay media with sound on the desktop. The permission to autoplay sound will depend on the pages defined by the developer as being part of the app, which will prevent random playback of audio.
Chrome 73 was promoted to the Beta channel just today, so the release to Stable channels should be just a few weeks away.
What do you think about these improvements? Let us know in the comments below!