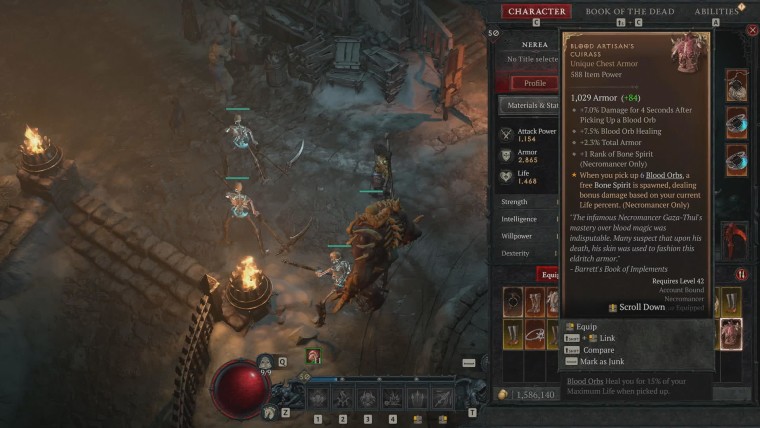 Blizzard Entertainment has been running the full version of its action-RPG sequel Diablo IV for a few days now for people who bought the Digital Deluxe and Ultimate Edition of the game. It's even issued some small server-side patches for the game.
Now, the developer has released the first major client-based patch for Diablo IV for all of its platforms. The changelog for the 1.0.2d (Build #42131) is quite extensive, so we won't reproduce it here. However, it does have a lot of balance changes for the game, particularly for its many player classes.
The patch notes include some reasons why Blizzard made the decision to make these balance adjustments:
1, While we want players to both feel and be truly powerful, some Class builds and synergies are outside of our bounds for what is reasonable for the health of the game, so we are reducing their effectiveness. As an example, we generally want to avoid creating situations where players can survive unreasonably high amounts of damage for long periods of time because it too greatly warps our vision for how combat should be in Diablo IV.

2.Some skills and builds are not as effective as we would like, so we're pushing out some buffs to increase their strength.

3. Paragon Glyphs are currently providing too much player power, so we're reducing their overall effectiveness.
In addition, Blizzard released a 1.0.2c (Build 42122) patch specifically for PC players:
Fixed an issue where players using high-speed NVMe SSDs would experience game freezes upon start-up.
Various issues that caused crashes have been fixed
The developer is still preparing for the huge number of expected players on Monday, June 5, which is when people who pre-ordered the Standard Edition of Diablo IV can finally play the game. On June 6, Microsoft will officially put the Xbox Series S Diablo IV bundle on sale for $559, again with pre-orders live right now.
As an Amazon Associate when you purchase through links on our site, we earn from qualifying purchases.