It seems like ancient history now, but there was a time before Pixel phones existed, and Pixel was Google's brand for its first-party Chromebooks. Two years ago, the company introduced the Pixelbook, a convertible laptop that ran Chrome OS. Last year, we got a tablet with an attachable keyboard, the Pixel Slate.
Today, Google introduced the Pixelbook Go, a clamshell laptop that weighs in at just 2.3 pounds. My biggest question now is what Google actually wants to make in a Chrome OS PC. After getting a convertible one year, a tablet the next year, and a clamshell the year after that, there's no clear direction. I didn't get a clear answer to this question though, but what I can say is that all three are still being sold.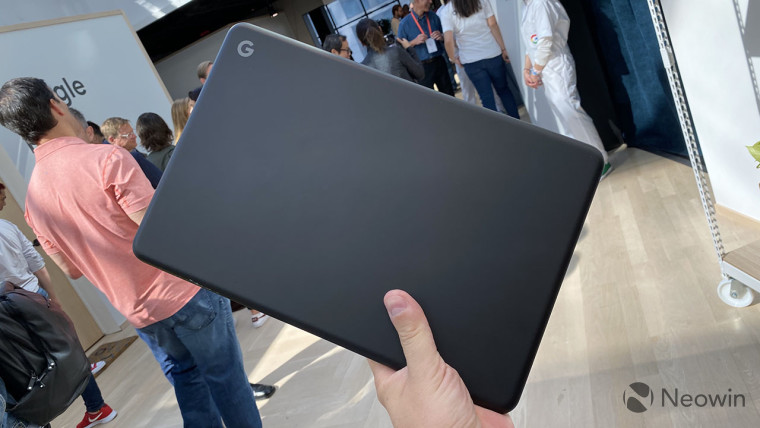 The Pixelbook Go also seems to have the same CPU options as the Pixel Slate, although Google doesn't get too specific about what those options are. They both only say eighth-generation Intel processors, with the option of a Core m3, Core i5, and Core i7. Presumably, the i5 and i7 models are 5W Y-series chips.
This PC is made out of magnesium alloy, as is typically the case with anything that's this light. And like other super-light laptops made out of magnesium, it feels plasticky. In fact, if you picked it up, you'd probably guess that it's made out of plastic.
Google went with a textured bottom panel, which is kind of interesting. It looks a bit weird, but it certainly provides a grip.
The keyboard is really nice though. It's actually very quiet, although it's possible that it felt that way because I was in a very loud room. The keypress depth is 1mm, but it feels comfortable despite how shallow it is. Aside from that, there's a glass trackpad that's fairly large, given the available real estate.
Google put speakers on each side of the keyboard. I couldn't get additional specs on the speakers, and Google's site only says, "Dual front-firing speakers for better surround sound". They sound good though, being loud enough in what I already described as a very loud room.
The screen is 13.3 inches, coming with a Full HD resolution, or 4K UHD if you get the $1,399 top-end model. It supports touch, but it does not support the pen that previous Pixel PCs have used. Of course, pen support doesn't make much sense with a clamshell form factor.
I was impressed with the Pixelbook Go, and I review a lot of laptops. I hope that I get to review this one as well, although Google didn't hand out review units at the event.