Razer announced its next-generation gaming smartphone today, the Razer Phone 2. The device is an improvement over last year's model in virtually every way, including the screen, the speakers, performance, and camera, and more.
Let's start with the screen, because that was one of the headlining features of last year's Razer Phone. Razer boasts that it has the only truly 120Hz touchscreen, and the Razer Phone 2 is the only device that's certified for both Netflix for HDR and Dolby Surround 5.1. It's pretty awesome.
The Razer Phone is on the left while the new one is on the right; the difference is clear. The colors are more vibrant, as it has a wider dynamic range.
Those are front-facing speakers that are tuned for Dolby Atmos. I spoke to Razer about this, because the trend in the rest of the market is to make bezels as narrow as possible, cutting out a notch for the camera. Razer is embracing the notch though, unwilling to make sacrifices to audio quality for a design trend.
Another thing that you won't want, especially when gaming, is false touches on the screen. You need a bit of bezel on the sides, as you don't want to accidentally touch something when you're not intending to.
The Razer Phone 2 is visually and audibly immersive, and it's a pleasure to use, but watching movies isn't the only reason for the display and audio quality. Surround sound is important because you might need to hear someone behind you in a shooting game. A high refresh rate on the display could save you valuable milliseconds in shooting that guy behind you.
The design has changed significantly from last year. Rather than a metal body with a green logo, it comes with a glass back and a Chroma RGB LED logo. You can set the Chroma logo to different colors or have it cycle, but it will also change colors for notifications.
You can't preset colors for notifications, as it's set by an app's default color. For example, Outlook will change the color to blue, Teams is purple, and Gmail is red.
The other advantage of a glass back is wireless charging.
Razer's wireless charger also has Chroma, and those lights will also work with your notifications in the same way.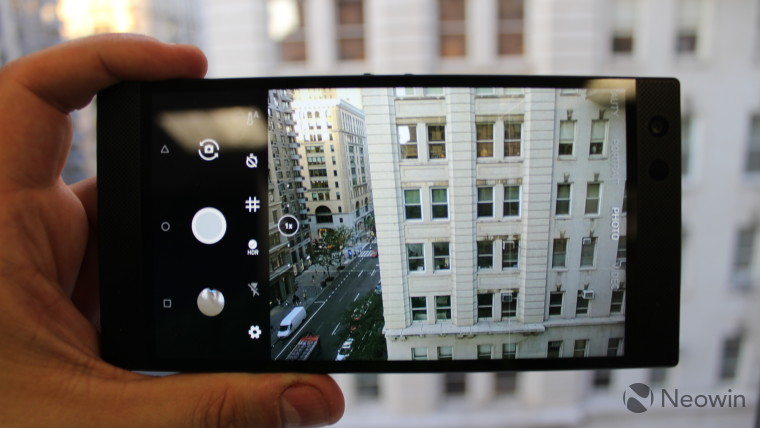 Of course, there are camera improvements as well. Razer told me that it understands that while this is a gaming phone, you're not just using it for gaming. It's still your personal smartphone, so the camera still matters. It has two 12MP sensors, one with a 2X zoom.
One camera feature that does help with game streaming is that the 8MP front camera now supports video capture at 1080p 60fps. This is a really rare feature, and the only other devices that I know of that capture any kind of 60fps video with the front camera are the iPhone Xs and Xs Max.
The Razer Phone 2 is awesome, and so far, I'd say it's one of the best phones of the year. Of course, I'll have to review it before I know for sure.
Before I wrap this up though, let's talk about the price of $799, which is $100 more than the original Razer Phone. This makes it one of the more inexpensive Snapdragon 845 devices on the market. On top of that, you get 8GB RAM and the immersive audio/video experience.