Last month, Microsoft finally unveiled the much-anticipated Windows 11 update. The new update comes with an updated UI, performance, and productivity improvements. Microsoft has also released the minimum system requirements for Windows 11 which includes Secure Boot and TPM 2.0 among other things, but the latter can be bypassed for now.
Windows 11 will look familiar to those who followed Windows 10X development closely before its untimely demise. When Microsoft ditched Windows 10X, the Redmond giant said that it plans to bring elements of Windows 10X to Windows 10. While we have already taken a look at the first Windows 11 Insider Build, this article will provide a deeper insight into top Windows 11 features.
Start Menu and Desktop
One of the most noticeable change for someone booting up Windows 11 for the first time will be the desktop. Microsoft has taken the start menu and taskbar directly from Windows 10X and the firm noted that the change was targeted at tablet and touch users.
Luckily, the Redmond giant is offering users an option to choose between a left or center aligned start menu which can been accessed from Settings > Personalization > Taskbar. However, do not celebrate too early as the company has taken away the ability to set it to the top or to the sides.
Moving on to the start menu which has also been copied from Windows 10X, live tiles are gone. For better or worse, Microsoft has ditched live tiles on Windows 11 and the start menu now consists of pinned apps as well as a recommendation section that suggests to you documents and files based on your usage history. With the release of the second Windows 11 build, Microsoft also added the search bar at the top of the start menu. Unfortunately, it is not independent and switches immediately to Windows Search but it is there in case you are interested in using it.
The company has also moved the app list and it is no longer visible on the start menu. Instead, you will need to click on the 'All apps' option to access the full list of installed apps. However, you can pin your favourite apps on the start menu and access them instantly, should you wish to do so.
Another big change is the action center which has been split into two parts- Quick settings and notification area. The notification area will show the latest notifications along with calendar while Quick settings will give users easy access to setting such as WiFi, Bluetooth, Brightness and more.
Above the Quick settings will sit media controls that will show up if you are playing video or audio. Media controls will support both first party apps like Edge and third-party apps like Spotify.
With Windows 11, Microsoft is also bringing back widgets, albeit not like the ones in Windows 7. Currently, widgets are just an improved version of News and Interests which debuted for Windows 10 back in January of 2021. The widgets menu will show users weather, traffic patterns, to-do list, calendar, latest news and more.
Widgets are not the only thing that is making a comeback. Microsoft is also including a new startup sound with Windows 11. The startup sound is something that many old Windows users can relate to and Microsoft has finally decided to include a brand new sound that is softer and a new soothing melody.
Lastly, you would also notice a system-wide UI change as Microsoft is now moving towards rounded corners and they are more pronounced across the system. The company has also updated the right-click menu bringing it in line with the new design with bigger buttons for touch devices and a rounded UI.
File Explorer
Microsoft has also updated File Explorer to bring it in line with the overall visual update. The new explorer ditches the top ribbon in favour of quick action buttons. Since, Microsoft is ditching the ribbon, the company has added a new drop-down option at the top to accommodate all the ribbon options.
Apart from that, explorer also received a brand new right-click menu as well as new quick action buttons at the top which is geared towards the touch users.
Lastly, Microsoft has also included new icons for Windows folders like Documents, Downloads and Music as well as the new drive icons.
General features and UI improvements
Apart from major UI changes, Microsoft has also introduced a system-wide round UI in Windows 11 and it shows up everywhere including menus, dialog boxes, pop-ups and buttons. Furthermore, Microsoft has also added new design elements including Mica and Acrylic.
Windows 11 is also bringing suite of animations. Most of these animations were tested on Windows 10 Insider builds and they make the system feel snappier and gives a smooth experience to the user.
Multitasking improvements
With Windows 11, Microsoft is focusing more on improving the multitasking experience. The company has introduced snap assist which will look familiar to PowerToys users. In essence, every time a user hovers on the maximize button, snap assist will give them pre-defined layouts to arrange multiple apps.
You can control/disable snap assist by navigating to Settings > System > Multitasking.
Microsoft will also allow users to set if they want Windows to remember the app arrangement on multiple monitor setups, so apps are automatically arranged when a user plugs-in a second monitor. You can navigate to Settings > System > Display and check "Remember window locations based on monitor connection" and "Minimize windows when a monitor is disconnected" under the 'Scale & layout' to enable the feature.
Furthermore, Microsoft will also group apps that are snapped together on the taskbar so instead of minimizing and maximizing one app at a time, users can minimize or maximize the group.
Lastly, Microsoft has also made some improvements to the Task View. The new update will show all the apps like it did before but now you can rename and move your virtual desktops to organize your work. Also, users can now hover over the task view button on taskbar to see all the virtual desktops and interact with them with ease.
Windows Settings
Microsoft has completely overhauled the Windows settings on Windows 11. The new settings app features a cleaner, more organized and touch friendly UI. Microsoft has arranged all the main menu options on the left side with sub-menu options taking up majority of the screen space. The new settings app also includes breadcrumbs so you can quickly jump between pages.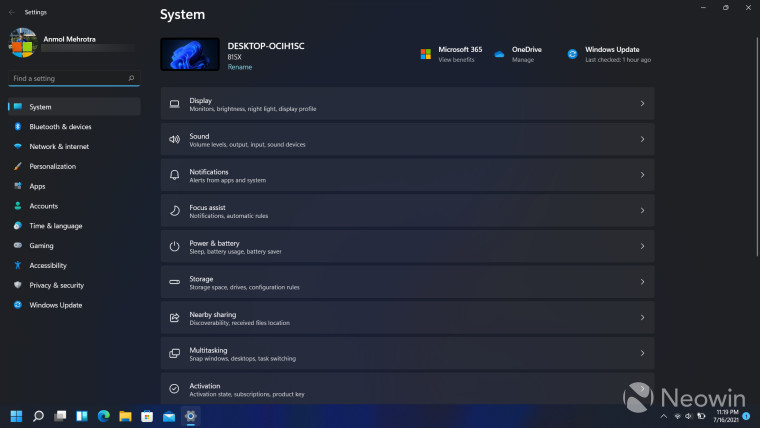 The new UI also includes updated options for different features and settings. Microsoft has also included a new battery page that gives more information and can be useful for laptop users.
The company has improved the way it shows related settings and has moved them at the bottom to accommodate more information.
With Windows 11, Microsoft is also introducing a couple of new gestures. The new gestures include swiping up with three fingers to open Task Manager and swiping down to go back to the desktop. The update will also bring the following new shortcuts:
Windows + A- Open quick settings
Windows + N- Open notifications
Windows + Z- Open snap layouts
Windows + H- Open voice typing
Shift + F10- Open the old right-click menu
Personalization
Microsoft has added some new personalization options to allow users to customize the look and feel of the new operating system. The new options include an improved dark mode, new system themes, themes for on-screen touch keyboard and more. Windows 11 users can navigate to Settings > Personalization > Themes to access six new themes to customize the system.
Furthermore, you can navigate to Settings > Personalization > Touch Keyboard to customize the on-screen touch keyboard. The new options include changing the keyboard size as well as 12 themes to change the look and feel of the keyboard.
Microsoft Store
With Windows 11, Microsoft is revamping the Microsoft Store with a new UI with nice rounded corners to go with the overall look and feel of the operating system. The new store also includes some UI changes like the search bar which has been moved to the center. Microsoft has also moved the categories to the left side of the app.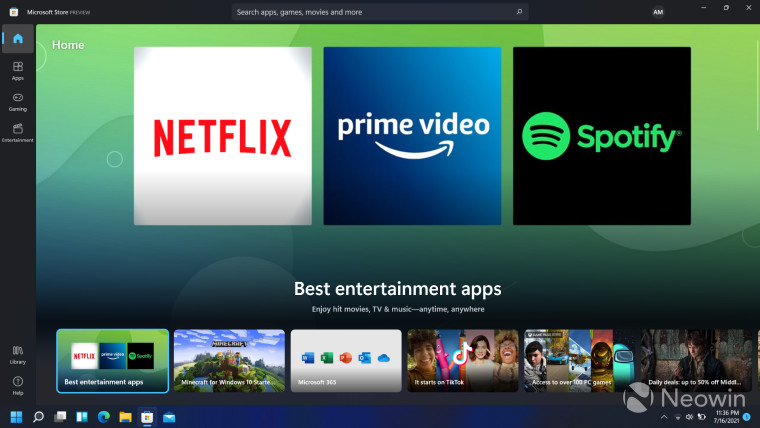 The new store will serve as a home to all kinds of apps including PWAs, Win32, Electron and more. Microsoft has also changed the layout of the app description page which looks a lot better and gives all the relevant information about the app.
Last but not least, Microsoft is partnering with Amazon to bring the Amazon app store to Windows 11. The new store is expected to debut in the coming months and will allow users to install and use Android app on Windows 11.
Setup and lock screen
The Windows installation UI is still the same as it has been since Windows 7, but Microsoft has completely overhauled the setup UI. The Windows 11 setup includes the same steps as Windows 10, but with nice round corners on an off-white background that will look familiar to anyone who has used MacOS.
Furthermore, Microsoft has improved the lock screen that looks a lot better with the new font and slight UI improvements. The most noticeable improvement here is the center alignment of the date and time.
Closing words
Microsoft's Windows 11 operating system is more than just an update as it introduces a brand-new modern UI that looks and feels much better when compared to Windows 10. Apart from the new UI, improvements made to Windows 11 will ensure that users get the best experience. Microsoft is expected to roll out Windows 11 to the existing Windows 10 users in 2022. However, Windows 10 users can try out the new operating system by joining the Windows Insider program.
For more information on the topic, you can check out our article on minimum system requirements as well as the list of CPUs that support Windows 11. Apart from the general requirements, Microsoft has also listed out specific feature requirements for Windows 11 including webcams, Bluetooth and Precision Touchpad on all upcoming laptops. Last month, Microsoft also updated the PC Health Check app to show why a device is not ineligible to receive the Windows 11 update. However, the company will allow some manufacturers to bypass the TPM 2.0 requirement and it is also allowing Windows Insiders with unsupported hardware to test Windows 11 Insider Builds. Several manufacturers have published a list of hardware that will be compatible with Windows 11.