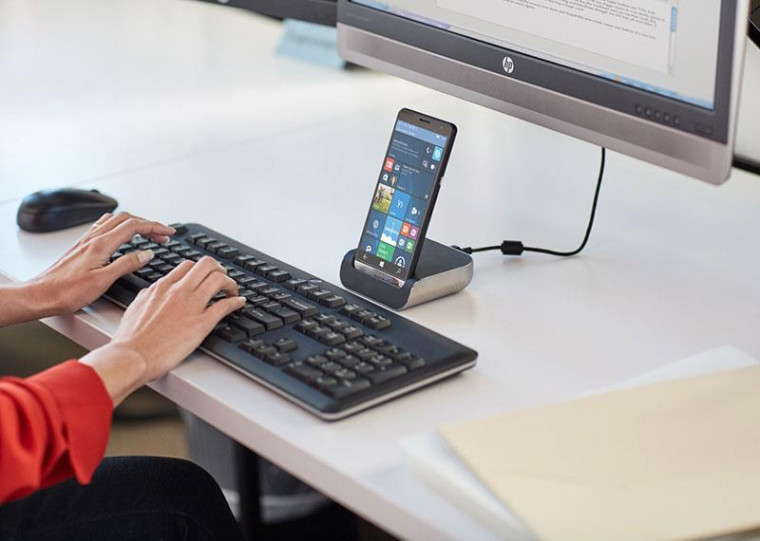 HP's new Windows 10 Mobile flagship is available to pre-order in the UK, priced at £706.80 including 20% value-added tax (VAT), or £589 excluding VAT. Many UK businesses - at which the Elite x3 is primarily aimed - will be eligible for the VAT-free price. The pre-order package includes the Desk Dock accessory, which supports the PC-like Continuum feature, allowing owners to use a mouse and keyboard with the device when it's connected to a larger display.
But you'll also be able to purchase the Elite x3 without a Desk Dock, or purchase the Dock separately, and there's also a range of official accessories for the high-end handset.
HP has priced the Elite x3 on its own at £683 in the UK (£569 exc. VAT), while the standalone Desk Dock will cost £131 (£109 exc. VAT). That makes the combined handset/dock bundle much more attractive - buying these two items separately would cost around £814 (£678 exc. VAT).
HP has also revealed the prices of several other official accessories for the Elite x3:
However, perhaps the most intriguing accessory for the Elite x3 isn't yet listed on HP's UK store. The Lap Dock is a notebook-style device that offers Continuum support on the go, allowing users to connect the phone to the device to use it like a laptop. But while there are numerous references to it on listings for the Elite x3 as an "optional" accessory, HP hasn't yet published any detailed information about it, nor has it revealed its price.
We also don't know exactly when the Elite x3 will begin shipping in the UK. HP.com's listing for the device/handset bundle still says it will be "delivered in 5-10 working days", but it's said that since August 11.
The Microsoft Store listing for the same bundle initially promised delivery by August 18, before that was pushed back to August 22. Now, pre-orders have been suspended there, and the device is listed as "out of stock".