HTC has found itself in a peculiar position. After releasing what was considered to be a fantastic Android device, the HTC One, it still finds itself lagging behind Samsung in terms of brand recognition and as well as market share. But with the HTC One (M8), the company is building on a solid foundation and with improved specs, a new camera setup and an all-metal exterior, HTC is playing to win.
The phone is priced competitively for the market where it hopes to reside. Coming in at $199 on a two-year contract or $599 contract free at Verizon, the price is inline with expectations.
But with Android phones coming out every week and Samsung still holding the crown with its Galaxy line of phones, HTC will need more than a great phone to increase brand recognition. Putting that aside, it's time to start with the basics and dig into HTC's latest offering.

HTC really did not hold much back when it comes to the M8, with a 5in Super LCD3 display, 32GB of storage, 2GB of RAM and a 2.3 Ghz quad-core Snapdragon 801 powering all the internals. On paper, this thing is a beast.
But that should be expected. HTC is touting this phone as a top tier device and we would expect nothing less than the best available from a company who wants to position this phone as a 'best-of-class' device.
Product Codes
HTC One (M8)
Display
5 inches
441 ppi
Processor
Snapdragon 801
Quad Core 2.3GHz
RAM
2GB
Storage
32GB
Connectivity

A/B/G/N/AC WiFi
Bluetooth 4.0
A-GPS, A-GLONASS
LTE and NFC

Camera
4 'Ultra Pixel' rear camera
5 MP front camera
Dual flash
Ports
Micro-USB
3.5 mm audio connector
Sensors

Depth Sensor
Magnetometer
Gyroscope
Light sensor
Proximity sensor

Battery
2600 mAh
Launch OS
Android 4.4
Launch Date
March, 2014
Size
Length: 5.76 inches
Width: 2.78 inches
Thickness: .37 inches
Price
$199 on-contract
$599 no-contract
Another aspect to consider with HTC and not something typically considered in a review is the warranty that HTC offers with the M8. For instance, if you drop your device and the screen breaks in the first 6 months, HTC will replace it. Further, HTC has publicly committed to keeping the device updated with the latest version of Android and won't let the device go stagnant for a period of two years.
It's a fantastic addition to the phone in terms of security for your new device and goes to show that HTC cares about the phone long after you make the purchase.
Metal, metal all over, and we love that HTC did not compromise the exterior of the device by including a plastic backplate. The curved sides and rounded metal make the device feel comfortable in your hand and the brushed metal backing provides a premium feel that makes you wish every phone was made like this. Seriously, HTC did a great job with the material selections here and our only gripe is that the phone is quite slippery to hold.
The buttons along the side are tucked neatly into the metal chassis and there is a power button up top. One small quibble is that the power button at the top is not the easiest button to engage as it sits recessed into the shell of the phone.
The dual sensors (camera and depth sensor) outback are centered vertically at the top of the device and the dual flash setup sits next to the imaging sensor.
One odd design choice is that HTC opted to use virtual navigation buttons rather than a dedicated area next to the HTC logo (like on this device's predecessor, the M7) for navigation. By forcing onscreen buttons, you lose a bit of screen real estate and it makes the bottom chin of the device feel unnecessarily large.
Another thing to consider before buying the M8 is that it is a large device. Yes, Android phones are frequently pushing 5in displays but that doesn't mean it's a great size for all consumers. I consider myself to have larger hands and reaching all corners of the phone, with one hand, is a challenge.
Even carrying the phone in your pocket shows the true size of the device but if you are already carrying a larger Android or Windows Phone device, this won't be anything new for you.
The 5in display on the new HTC One is fantastic to look at and offers up a wide viewing angle. The 1080P panel has excellent color reproduction and we did not observe much in the way of color bleeding either.
Interaction with the screen is accurate and responsive. We had no issues of the device detecting our inputs and gestures worked exactly as you would expect from a modern smartphone.
Screen close up, 100% crop, shows no color bleed.
Off-angle viewing is inline with our expectations and trumps that of the Nokia Lumia Icon that we recently reviewed. The colors do tend to drop out on a vertical tilt a bit faster than a horizontal tilt but it's really not much of an issue here.
The large display is a pleasure to use and once you get used to the larger size, you will love the 1080P even more but we should make it known that it is a large display and may not be for everyone.
The M8 comes with HTC's latest version of Sense, or as the company calls it: Sixth Sense, as it is the sixth iteration of their custom spin on Android. With the updated Sense comes an improved Blinkfeed as well, which is HTC's take on a curated feed of social and media content. I've personally never been a big fan of apps like Flipboard or Blinkfeed but for those of you who like to use machine-sorted content, HTC's Blinkfeed will likely appease your needs.
One of the software tweaks that we really do like on the M8 is that if you tap the screen when it is off, it will wake-up the device. It's a simple little trick, and while we have seen it on other platforms, is a nice touch for the M8.
HTC actually went far beyond the double tap to unlock with a feature they call 'Motion Launch' that, depending on how you swipe the device or pick it up, will engage several different launch scenarios. For example, if you swipe up, it will take you to the home screen or swiping left can take you to Blinkfeed.
It's a good feature and one we can see HTC building upon but we would prefer to have custom gesture support to launch our preferred apps rather than those defined by HTC. Also, Motion Launch is quite sensitive too and we accidently engaged it a few times when setting the device down or picking it up to go outside.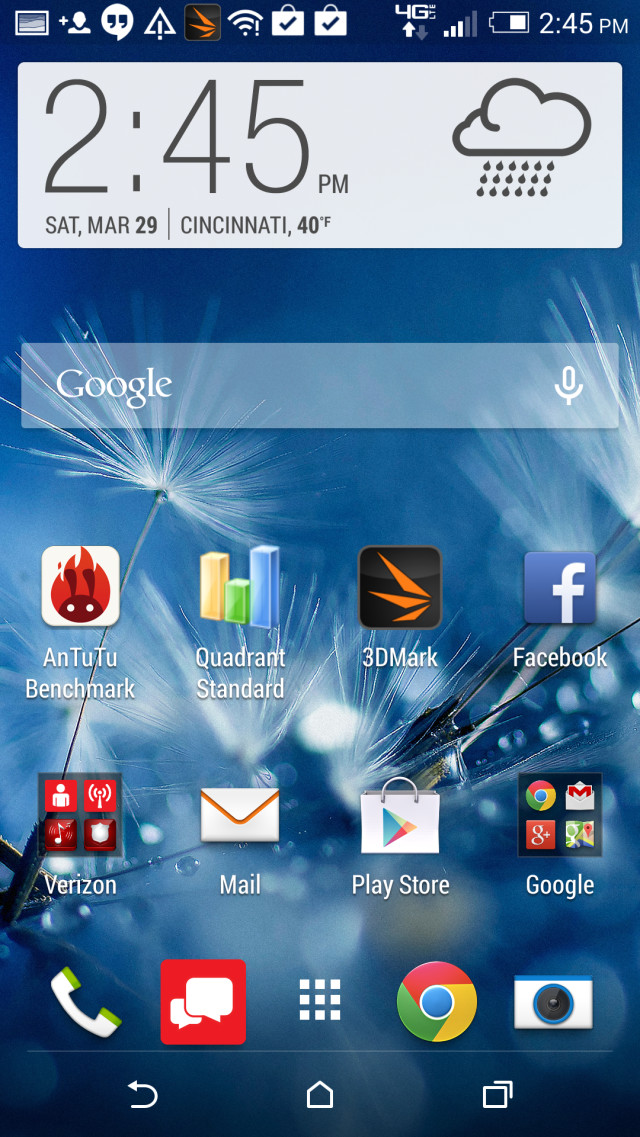 As we noted earlier, Kit Kat on the M8 makes use of transparent navigation bars and menus which makes the screen feel larger but at the same time, the navigation keys take up screen real-estate and would likely be better served if they were placed on the large bottom bezel.
There are also a couple new 'do not disturb' features that allow you to set presets for when the phone will present notifications. The presets are quite handy and a nice touch from the simple all-or-nothing DND approach on some devices.
Finally, there is an 'extreme battery saving' mode that, as the name implies, allows you to preserve the life of the battery of your device. The mode turns off all background processes and uses a very basic launcher which means your smartphone becomes a lot less smart. But, when you need to preserve that last bit of juice in the battery before you are able to recharge, it's a feature that you will come to love when the time is right.
HTC has made a lot of fuss about its Ultrapixel technology and its new depth sensor as well. If you haven't already, you can check out our camera shootout between the Lumia Icon and the One M8.
The Ultrapixel approach is an alternative to Nokia's PureView, where HTC takes a large sensor and combines it with big pixels. The lens on the main shooter is a 28mm f/2.0 which helps bring in more light and in theory, should help with low-light photography.
Click to enlarge | More photo samples here
From the M7 to the M8, HTC did not change the image sensor in any way and in fact, took away optical image stabilization. This was likely a cost cutting move to keep the M8's margins at a health level for the company so they didn't have to raise the MSRP.
Image quality is quite good, not Nokia level good, but for a smartphone, you will be quite pleased with the capabilities of the main shooter. Autofocus was fast, shutter speed was fantastic and the manual controls for tweaking images allowed for fine-tuning.
But the real improvements here are what HTC calls the 'Duo Camera'. While it is called a duo camera, it's actually a depth sensor that allows the camera to determine the distance between objects in a photograph.
One of the things that you can do post capture is change the focus of an image, which HTC calls Ufocus. Because of the depth sensor, the camera sensor is able to tell which items are in the foreground and background and you can tweak them as desired.
It's an easy way to create tilt-shift style photos or even crop and copy photo elements as well. And honestly, at first, I thought the entire thing was a marketing move and a feature that I would likely avoid and stick to the basics, but after seeing all the capabilities of the application and how easy they are to use, I was actually quite impressed.
The Duo Camera requires you to be in a different mode to have access to all the features which is a bummer. The logic behind this is that to be able to create all the desired effects, the phone needs to snap several images of the same scene.
The downfall of this is that you either have to make the choice of quick shooting to capture the moment or the creative settings to have fun post-shot. We would love to see, and highly expect, that HTC will one day find a way to merge these two settings and remove this barrier.
We give praise to HTC for trying new avenues in the camera department and while there is still room for improvement here, it's good to see the company not sticking with the status-quo and offering up features that help separate the phone from the others on the retail shelves.
For image quality, most of the time the results easily met our expectations but occasionally, we would find some odd noise, even at low ISO settings, in the photos. For most users, you will have no issues with the overall image quality but for those of you who expect perfection, the inconsistent image quality can be a bit annoying.
With a Snapdragon 801 under the hood running at 2.3Ghz, you would expect great performance and that's exactly what you get here. When paired with the Adreno 330 GPU running at 578Mhz, the end user experience is fantastic.
Even when performing heavy tasks such as photo manipulation, the phone ran as if it was laughing at our feeble attempt to slow it down. Going further, the phone does not heat up, which is a marked improvement over the M7 that could get warm under load.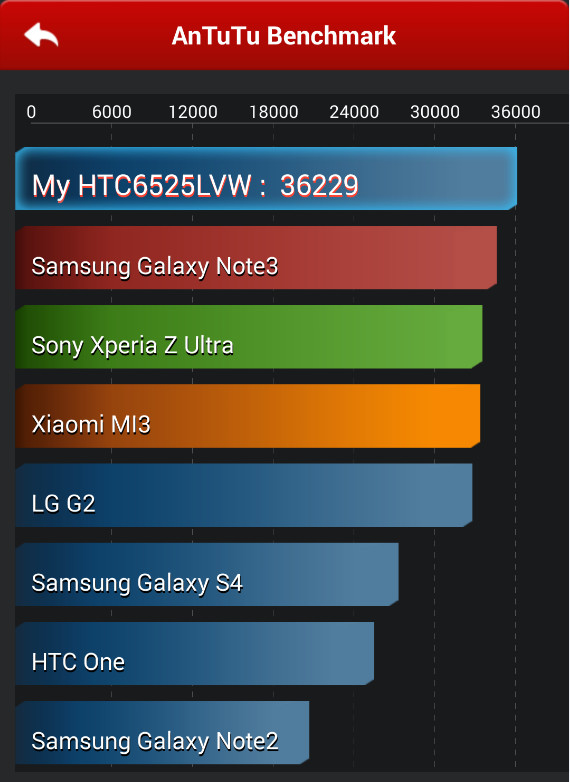 It's hard to find any faults here and you should expect a smooth performance with any version of Android that is on the horizon during the supported lifecycle of this device.
With a phone that has a screen size of 5 inches and a 2.3 Ghz quad-core processor running under the hood, you'd expect to see a weak spot in the battery life of the device. Fortunately, HTC upped the battery size by 300 mAh than the M7 which goes a long way in making sure the device lasts an entire day.
In our 'daily-use' test where I swapped my phone for the One M8, over 4 days, I had no problem with the device lasting into the evening hours without having to hit the charger. On average, I was using the device off and on for a period of 12 hrs and by the time I went to bed, there would still be around 15% juice left in the tank.
I consider myself to be a heavy user of the device with an obsessive amount of Twitter and email usage, so for me, lasting the entire day is a huge bonus.
Unlike the M7, the M8 does not come with 'Beats Audio'. HTC does include what it calls 'boom sound' speakers which are crazy loud for a smartphone. The speakers likely get a nice boost from the metal enclosure and they don't sound all that bad.
Yes, they are still tiny speakers inside a tiny enclosure but for a cell phone, they get the job done. Sure, we would still recommend a pair of earbuds as nobody on the train wants to hear your crappy music besides you but if you are at home and watching a few shows on your device, the speakers are an acceptable alternative.
Call quality was on par with our expectations and presented no issues here. We could clearly hear the conversation and the other end reported no issues hearing our side of the conversation. To no surprise, the speakerphone works quite well too.
What HTC has done with the M8 is taken a good device - the M7 - and made it bigger, faster and stronger. The improved bits under the hood of the device provide for a great user experience and the larger display offers up a great viewing capability, if you can get accustomed to the size.
The camera, while the duo features are great, still fall short of the other devices on the market but for most users, will not present an issue. It's not that image quality is off the mark, it's that it is inconsistent with other devices we have tested.
Where the new One shines through is the performance, battery life and its fantastic design. HTC did a great job of choosing quality materials and building a phone that feels exceptionally robust in your hand and frankly, is probably the best Android smartphone on the market, even topping the Galaxy S5.
While the device is a bit slippery in your hand, we have no doubt that if you go and buy an HTC One (M8), it will put a huge smile on your face and keep you happy for a very long time.
Pros
Quality Materials Display Performance Battery Life
Cons
Ultra Pixels Bezel Navigation Slippery in hand