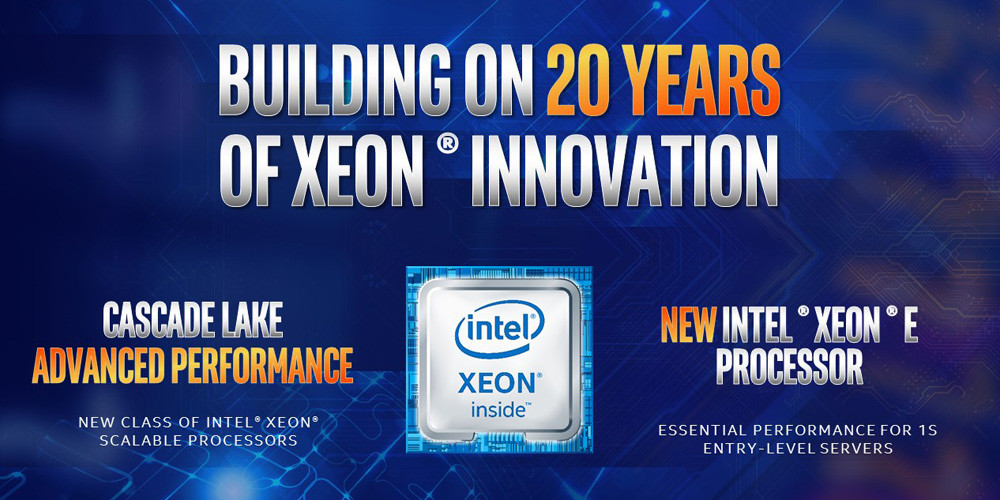 Intel has announced two new processors lineups; Cascade Lake for advanced performance, and the Intel Xeon E-2100 processor family for entry-level servers. Cascade Lake is due for release in the first half of next year, while the Intel Xeon E-2100 is being made available from today. The firm re-iterated that these products build on 20 years worth of history of Intel Xeon "platform leadership" and give customers more options to better fit their needs.
Lisa Spelman, Intel vice president and general manager of Intel Xeon products and data center marketing had this to say about the new products:
"We remain highly focused on delivering a wide range of workload-optimized solutions that best meet our customers' system requirements. The addition of Cascade Lake advanced performance CPUs and Xeon E-2100 processors to our Intel Xeon processor lineup once again demonstrates our commitment to delivering performance-optimized solutions to a wide range of customers."
Cascade Lake is a Scalable processor aimed at high-performance computing, artificial intelligence, and infrastructure-as-a-service workloads. It includes up to 48 cores per CPU and 12 DDR4 memory channels per socket, according to the firm. In the Linpack benchmark test, its performance was 1.21 times that of the Intel Xeon Scalable 8180 processor and 3.4 times that of the AMD EPYC 7601.
As for the Intel Xeon E-2100, these processors are aimed at small- to medium-sized businesses and cloud service providers. They deliver hardware-based security and manageability features which provide additional security for data and applications. Intel said the processor family is capable of supporting workloads suitable for entry-level servers, for example, businesses will be able to run "the latest file-sharing, storage and backup, virtualization, and employee productivity solutions" with the hardware.
As was mentioned earlier, the Intel Xeon E-2100 is available today, those interested can get it directly from Intel or through leading distributors.