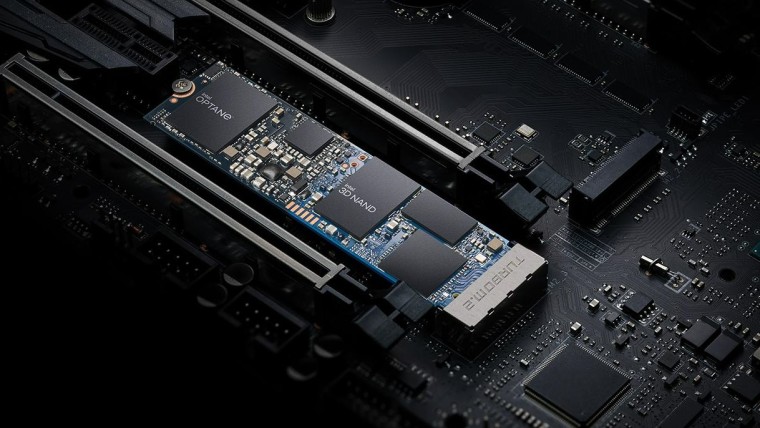 Intel has announced the latest iteration of its Optane Memory sticks for laptops, the Optane Memory H20 with Solid State Storage. If the name doesn't give it away, it's exactly what it sounds like - a storage drive that combines Intel's Optane Memory technology with a traditional QLC SSD, offering higher capacities and speeds in a more compact form factor.
Optane Memory is a proprietary Intel technology that's designed to improve performance in applications, specifically when running them from slower storage devices, and it sits somewhere between RAM and traditional storage in terms of speed. However, Optane Memory sticks are typically sold in an M.2 form factor by themselves, and they only come in small sizes such as 16GB or 32GB, meaning you'll almost always need two M.2 slots on your machine.
The Optane Memory H20 with Solid State Storage includes both the Optane Memory chip and NAND flash on a single M.2 2280 card, meaning you get both the benefits of Optane and the higher capacity of a typical SSD while only using one M.2 slot.
It comes with 32GB of Intel Optane Memory and either 512GB or 1TB of QLC SSD 3D NAND storage, and it promises read and write speeds up to 3,300MB/s and 2,100MB/s, respectively. It's still using the older PCIe 3.0 interface, so its maximum speeds aren't quite as high as they could be, but that's not to say they're slow either. They also promise latency of just 6.75µs on average for reads, and 12µs for writes. As for durability, Intel touts 1.6 million hours of mean time between failures, and up to 185TB written for the 512GB SSD model and 370TB written for the 1TB version.
If you're hoping to buy one of these, you can't, at least not directly. Intel will be making these available to OEMs to use in laptops, all-in-ones, and mini PCs starting June 20. This makes sense since those are the devices where saving space is usually more important to achieve thinner or lighter designs.