Intel is now officially collaborating with Waymo and helping it go further with its automated car project.
Waymo is a subsidiary of Alphabet - Google's parent company -, and the collaboration with Intel currently manifests itself in the Chrysler Pacifica hybrid minivan that the former has been testing for a few years. The Waymo vehicle already uses a number of components from Intel; Intel provides processing hardware for the vehicle such as Xeon processors, Arria FPGA (Field programmable gate array) chips - designed to be programmed by the customer post manufacturing-, and XM modems. All of these are crucial to the vehicle being able to communicate with and understand the world around it.
As much as Intel might be helping with Waymo's automated vehicles, the company is apparently also working on its own automated vehicles. The CEO of Intel, Brian Krzanich, wrote a post about the future that he envisions for driverless technology, highlighting that he thinks his grandchildren might not ever drive their cars, but also that this technology would save thousands of lives by avoiding car crashes that are caused by human error. The executive hopes that the collaboration between Intel and Waymo might produce what is called level 4 and 5 autonomy of the vehicles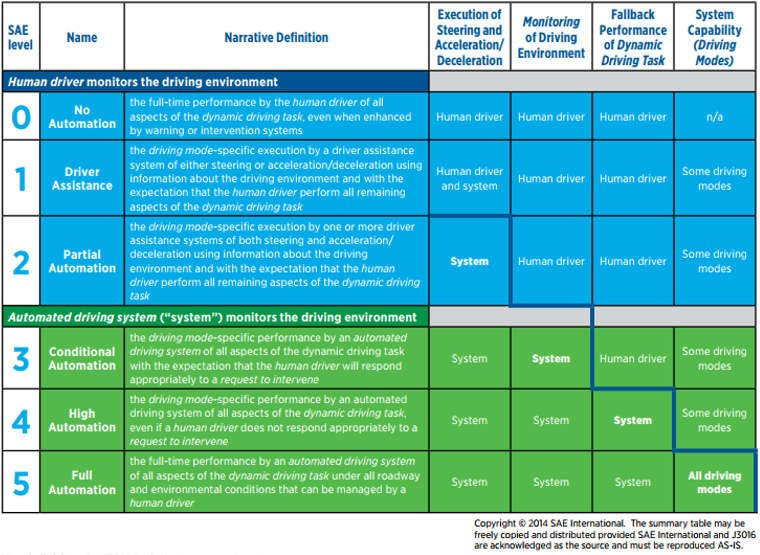 As can be seen from this automation taxonomy table, level 5 automation is where there might not even need to be a driver's position in the car, very similar to what Apple was contemplating with its Project Titan.
The changes that automated driving might have on transport and the world that the CEO has described appear to be already on the way, for instance, the deal struck between ride-hailing service Lyft and Waymo, means that it might soon be possible to order a taxi, with no driver in it.
There are almost weekly developments in the world of automated transport and lots of interest being shown by large tech companies, which makes it very easy to consider the conclusion that it is only a matter of time until these products become widespread and change the world.
Source: Intel via IB Times | Image via SAE International