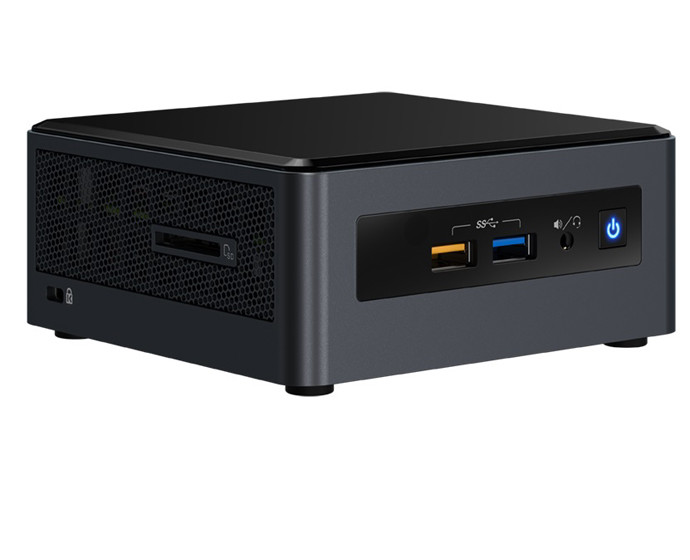 Enthusiasts might be familiar with Intel's Next Unit of Computing (NUC) kits and mini-PCs. These little guys shrink full-size desktop towers to much smaller packages (usually at the cost of a GPU slot). NUC kits take the form of a small case that comes with a motherboard, an attached CPU and a decent amount of I/O and no pre-installed operating system, leaving the user to fill up the RAM and storage slots themselves.
These computers generally have a healthy update cycle, with certain models making the headlines in recent times, and in keeping with this trend, Intel has announced a new round of its NUC systems, all of which now come with 8th-gen Intel Core processors.
The five new NUC kits (NUC8i7BEH, NUC8i5BEH, NUC8i5BEK, NUC8i3BEH, NUC8i3BEK) come with 8th-gen Coffee Lake-U based i7, i5 and i3 processors, with integrated Intel Iris graphics.
NUC mini-PCs, on the other hand, are slightly different from the aforementioned kits, primarily because they come with pre-configured RAM and internal storage, along with a pre-installed OS. With that said, Intel's two new mini-PC models (NUC8i3CYSM, NUC8i3CYSN) are powered by the 8th-gen Cannon Lake-U based i3-8121U line of processors, come with either 4 or 8GB of RAM and 1TB of internal storage, along with a copy of Windows 10 Home.
The two also come with Intel's Wireless-AC 9560 adapter for 802.11ac WiFi and Bluetooth 5 support, along with two HDMI 2.0a ports and four Type-A USB3.0 ports. The mini-PCs are also said to be the first NUCs with support for discrete graphics via 2GB, GDDR5 Radeon 540 card.
The new NUCs will be made available for an as yet unknown price to purchase worldwide in September.