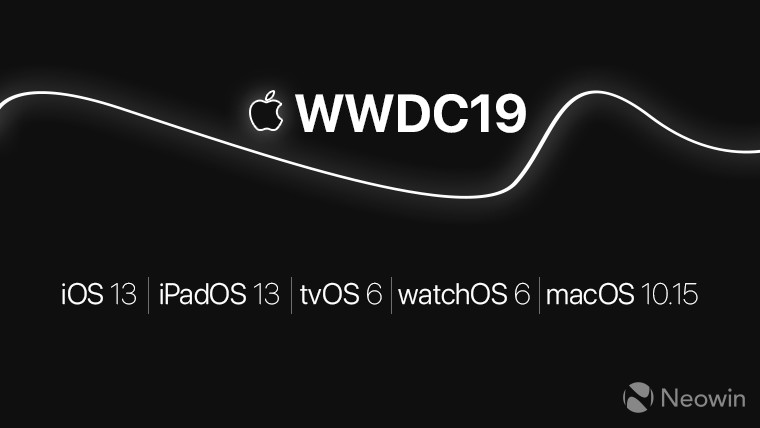 Apple held its WWDC 2019 keynote today, where it announced all of its next major OS updates. That includes iOS 13, a rebranded version of iOS for iPads called iPadOS 13, watchOS 6, tvOS 13, and macOS 10.15 Catalina. As usual, the company released the first developer betas after the keynote.
First of all, these are early developer betas that come with their own warnings. They will not be stable. Apple even added the following note to its iOS and iPadOS betas.
Important Note for Thrill Seekers: If you're interested in living on the edge and trying out the great new features in iOS 13, we strongly advise waiting for the many bug fixes and refinements coming to the public beta later this month.
Got that and still ready to move forward? Read on.
iOS 13 and iPadOS 13
For iOS 13 and iPadOS 13, Apple doesn't seem to be offering configuration profiles this time around. This is probably because people tend to pass these profiles around to install the beta software on their device. Naturally, you're supposed to have a paid Apple Developer account to do this, so only offering restore images seems like a way to tighten down on that.
Here's how you can install it:
Make sure that your iPhone, iPad, or iPod touch is on the list of supported devices
Use the instructions below to install the macOS 10.15 beta
Back up your device to iCloud
Back up your device to iTunes
Go to Apple Developer -> Develop -> Downloads
Download the restore image that corresponds to your device
Connect your iPhone, iPad, or iPod to your PC via Lightning or USB Type-C
In Finder, choose 'Restore iPhone', or whichever corresponds to your device, while holding the Option key on your Mac. You can also use 'Check for updates' if you don't want to do a factory reset.
Select the file you downloaded and it will install
In the OOBE, select the iCloud backup you made to restore your content
Update: This page has been updated to reflect that you must be on the macOS 10.15 beta to install iOS 13.
macOS 10.15 Catalina
Installing a macOS beta is super easy. Just go to Apple Developer -> Develop -> Downloads, and download the configuration file. Run it, and you'll receive the OTA update as you normally would.
watchOS 6
watchOS betas are another area where warnings are necessary. There's a reason why it's the only OS that Apple doesn't offer a public beta for. It's because there's no way to roll back without taking your Apple Watch to an Apple Store. If you're OK with that, the process is pretty simple.
Install the iOS 13 beta using the steps above, on the iPhone that's connected to the Apple Watch
From the iPhone that's connected to the Watch, go to Apple Developer -> Develop -> Downloads, and download the configuration profile for the watchOS 6 beta
A dialog box will appear asking if you want to install the profile on your iPhone or your Watch; choose the latter
Update your Apple Watch as you normally would through the Watch app
tvOS 13
tvOS betas are usually pretty stable, mainly because there usually isn't much that's new. There's a bit more this year though, with multi-user account support and support for gaming controllers. Apple TV beta software installation is a bit more tricky, since there's no browser to download the configuration profile. You'll need a Mac for this one.
Go to Apple Developer -> Develop -> Downloads, and download the configuration profile for tvOS 13
Make sure your Mac and Apple TV are on the same network, and powered on
Launch Xcode on your Mac
Choose Window -> Devices and Simulators
Choose Devices
On the Apple TV, go to Settings -> Remotes and Devices -> Remote App and Deices
Back in Xcode, your Apple TV should show up under Discovered
Enter the verification code from your Apple TV
Launch Apple Configurator on your Mac
Click Add -> Profiles, and select the configuration profile that you downloaded
Update your Apple TV OTA as you normally would
Note that if you have issues making the network connection, you can always just plug the Apple TV into your Mac with the USB Type-C connection. If neither of this works, Apple does make recovery images available for the fourth-generation Apple TV, although not the Apple TV 4K.
It's also worth noting that Apple will have public betas available for everything except watchOS in July, so you might want to hold off for that.