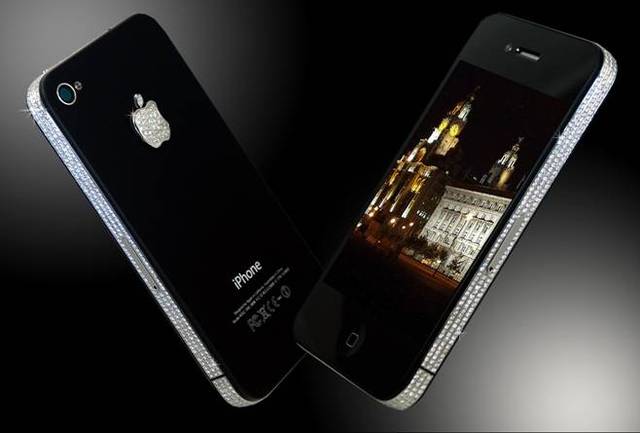 Stuart Hughes, or for those who don't know him is a UK-based jeweler who over the past few years has become known for creating special editions of smartphones, with huge changes to the phones exterior. He replaces the exterior of the phone with extremely precious and expensive materials such as diamonds.
The software of the phones are the exact same, but the exterior undergoes a huge transformation.
Well, Stuart has worked his magic again, except this time with a 32 GB iPhone 4 named the iPhone 4 Diamond Queen Edition, which has now become the most expensive handset available.
The entire phone's surrounding frame is loaded with more than 8.5cts of individually placed flawless diamonds, and if that isn't enough "bling" also comes with a solid platinum and diamond Apple logo on its back. You even get a handmade wallet which is made from Ostrich foot – because Ostrich foot is a material you see every day. The wallet has the functionality to hold up to four credit cards despite having a very slim design.
If you're looking at buying the new edition it'll set you back RRP £18,995 ($29,677) although if the price tag seems a little steep, know that you'll be the owner of a limited edition iPhone since only 50 have been made.
Stuart seems to like Apple products, as he has worked his magic on the iPad which he named "iPad supreme edition", and was made from solid gold with a retail price tag of £129,995 ($202,805).
Image credit: Stuart Hughes