Microsoft has been struggling to reach a state of convergence between tablet and desktop ever since Windows 8 and the original Surface. If we're using Windows 11 as a barometer of their progress, they'll likely never get there. Windows and desktop Linux on x86 touch screen devices have always been lacking in one way or another, but this novel swipe gesture from Marco Martin aims to change that.
Starting in KDE Plasma 5.25, users with touch screen devices will be able to enter their tasks and virtual desktops overview by simply swiping down from the top edge, but with a special twist. The scale of the windows directly follows the path of your finger. The result is every bit as fluid as you might imagine. While you can achieve the same result in Windows 11 with a simple three-finger swipe up, this implementation looks great and performs great too.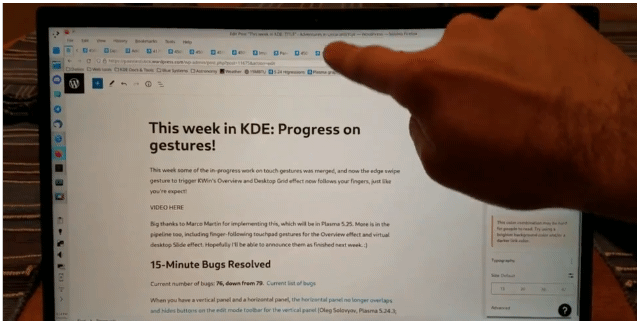 Kwin has never been a slouch at rendering neat effects. When Compiz and Beryl hit the scene way back in the mid 2000s wowing us with wobbly, exploding windows, KDE followed suit and those features never went away like in other GTK based desktops. It ships with a huge collection of effects that can be tweaked in every way imaginable.
Source: Pointiest Stick