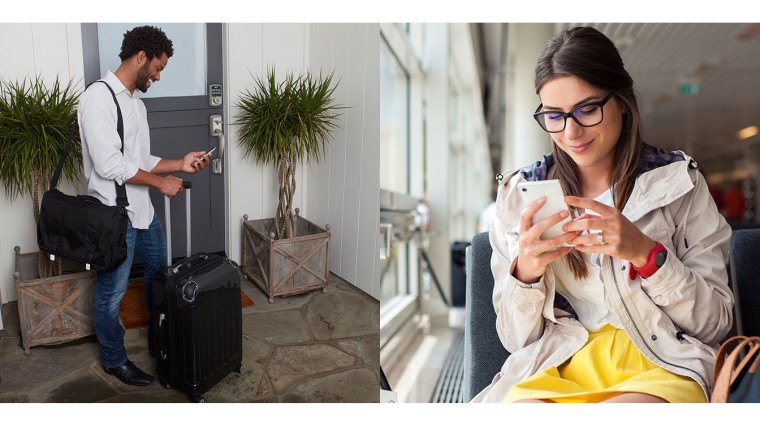 Halo and Aura are Kwikset's latest additions to a wide range of electronic locks offered by the company, launched at this year's CES. The lock manufacturer also announced a revamped version of Premis, a previous model that is compatible with Apple HomeKit.
Halo is the high-end model, it is WiFi-enabled, which is a first for Kwikset, and comes in two variants, one with a manual keypad and one with a touch screen. Aura, on the other hand, is the more basic version as it solely uses Bluetooth. Both models are managed through the Kwikset app, which lets users remotely lock and unlock their door with a smartphone.
Halo is the first smart lock that is enabled with WiFi to be put into production by Kwikset, offering six different colors to choose from, three of which are darker shades while the rest are lighter ones. Using it is pretty simple as the deadbolt straightaway connects to a WiFi router rather than requiring a hub. Users can monitor the status of the lock, get notified every time the bolt is unlocked or locked, or even generate up to 250 access codes for guests or family members.
The smart bolt also features Kwikset's "SmartKey Security" which offers security against lock picking, lock bumping and torque attacks. The touchscreen version will have an additional security feature called SecureScreen, which requests the user to enter any two numbers prior to inputting the password, in order to prevent discovery of the access code by fingerprint marks left on the screen.
Kwikset's official website claims that the product is "designed for integration", without any further information regarding the statement. Perhaps this means that the company plans to enable the device to link up with Apple HomeKit, just like Premis, or with Google's Assistant, or Amazon's Alexa. The smart bolt will be available with a choice of touchscreen or a keypad. Customers can expect to pay $229 for the touchscreen variant of Halo, and $199 for the keypad version.
Aura is Kwikset's second new smart lock to make its debut at CES 2019. It can be managed through the Kwikset app while connected via Bluetooth. Although this model cannot be monitored on a smartphone always in real-time, the device records event logs capturing all user activity, which can be accessed later through Bluetooth. It is also protected by SmartScreen Security, and has the ability to create 250 user codes.
Ali Atash, Senior Product Marketing Manager of Kwikset, commented on the upcoming smart lock:
"Aura is a straightforward smart lock solution for customers. With both user code and traditional key access, as well as easy programming and simple management capabilities without platform complexities, Aura will appeal to people looking to add style and convenience to their lives at an affordable price."​
Unlike Halo, Aura is only available with a keypad and comes in two colors, Satin Nickel and Venetian Bronze, one dark and one light. It does, however, provide customers with a cheaper alternative with a price tag of $150. All three new smart locks are scheduled to start selling sometime this year, coupled with the release of a new version of the Kwikset app.
Source: Kwikset (PR Newswire), (1), (2) via Digital Trends
Neowin is at CES to bring you all the coverage from the show floor, click here for other articles.