Microsoft is testing a new sidebar for web apps that could appear in the stable version of the Edge browser. The latest Canary build of the Chromium-based web browser has the feature. It is not enabled by default, which means it is still quite experimental.
Microsoft Edge has a section called "Experiments", where it allows testers to access and activate features that might not be fully ready yet. Microsoft has added a flag for the "Web App Sidebar". It is off by default, but the feature can be easily enabled for evaluation.
The description confirms the new feature is being developed for all the major iterations of Microsoft Edge. In other words, Mac, Windows, and Linux users, who prefer to use Microsoft Edge, could receive the new Web App Sidebar in the near future.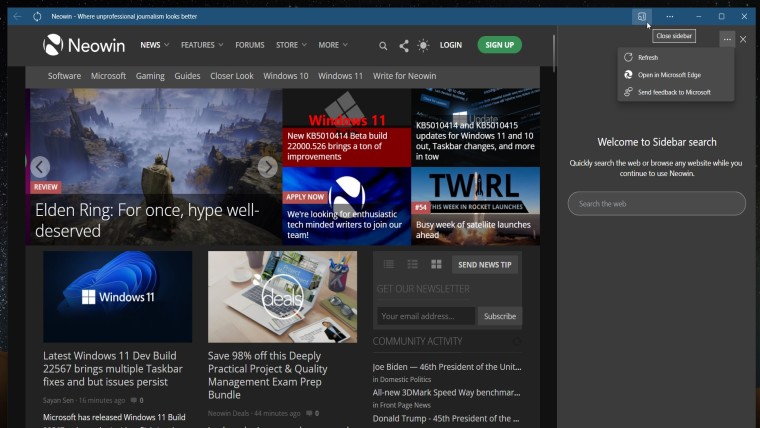 In its current iteration, the Sidebar appears to offer quick access to the Search function. As Reddit user Leopeva64-2 discovered, typing text into the Sidebar's search grabs relevant web links. Incidentally, the feature does mention its primary function is to offer search results. Just like in Bing and Google Search, the Sidebar search function also supports auto-generated suggestions based on the text entered.
As the feature is geared towards Web Apps, it is quite likely Microsoft could add more functions in the future. But the current iteration essentially mimics Bing. It offers users three tabs: All, Images, and Videos. There could be more options such as News, Shopping, and so on, hidden in the "Options" menu.