When the LG G4 made its debut during the summer, I thought it was one of the best smartphones I had used to date. It wasn't without its flaws of course, but it definitely offered excellent specifications coupled with an amazing camera, but lacked style and finesse.
Fast forward to October and LG returns with what is effectively a beefed up version of its previous flagship, the V10. Not only did LG improve the specifications of the device, but it also enhanced the look, feel and materials, while increasing the screen size and adding two unique features.
I've been using the V10 over the past few months and I can honestly say that this phone is much better than the G4. And while it's easy to trump a predecessor, does the V10 have what it takes to become king of the hill?
Specifications
LG V10
Display
5.7-inch 2560x1440 Quad HD
1.2-inch
Processor
Qualcomm Snapdragon 808
RAM
4GB
Storage
32GB with microSD expansion
Connectivity
Wi-Fi 802.11 a/b/g/n/ac
Bluetooth v4.1
GPS with A-GPS / GLONASS
Camera
Rear: 16 MP, f/1.8, laser autofocus, OIS, LED flash
Front: Dual 5 MP , f/2.2
4K video ( 2160p@30fps, 1080p@30fps, 720p@120fps, HDR
Ports
microUSB
Battery
3,000mAh removable
Launch OS
Android 5.1
Launch Date
October 2015
Size & Weight
6.28 in x 3.13 x 0.34 in
6.77 ounces
Price
$599.99 USD
Design / Display
For quite some time, LG has offered high-end specifications and accommodated most of the "wants" of users. However, where they failed to execute was putting those things into a well crafted package. This is where the V10 shines compared to its predecessors, as LG has finally crafted a smartphone that combines all the "wants" from a user and delivers them in an elegant package.
The craftsmanship of the V10 is apparent the moment you get it into your hands, with a nice heft to the device (6.77 ounces), that gives the owner a sense of reassurance. The front of the device is dominated by the 5.7-inch Quad-HD display that looks great in all conditions, with excellent viewing angles and accurate color reproduction. LG states that the display is made from two layers of glass that helps protect it from damage in case of direct impact. Fortunately, I have not had to test the durability of the screen during my time with the V10.
The LCD is flanked by a stainless steel frame that is generally cold to the touch, but offers a nice contrasting accent to the predominantly black device. The top and bottom of the display continue the all black motif, where the upper portion houses the earpiece, ambient and proximity sensor, while the generous bottom chin is graced with the barely noticeable LG logo.
Around back, the V10 offers what LG is calling 'Dura Skin', a durable silicone skin that is soft to the touch, but capable of resisting scratches. The diamond pattern also provides users with added grip, with the raised pattern providing an added layer of cushioning, just in case the phone is accidentally dropped. The rear also houses the 16MP camera, LED flash, laser autofocus, volume rocker and power button that is also a fingerprint reader. For most, the volume rocker will take a bit of getting used to, and although LG remains insistent on this rear setup, it is not as natural or functional as a phone with a volume rocker on the side. As for the fingerprint sensor, it works reasonably well, but is not as accurate as something you'd find on the iPhone, but is easily on par with the one found on the Samsung S6 edge plus.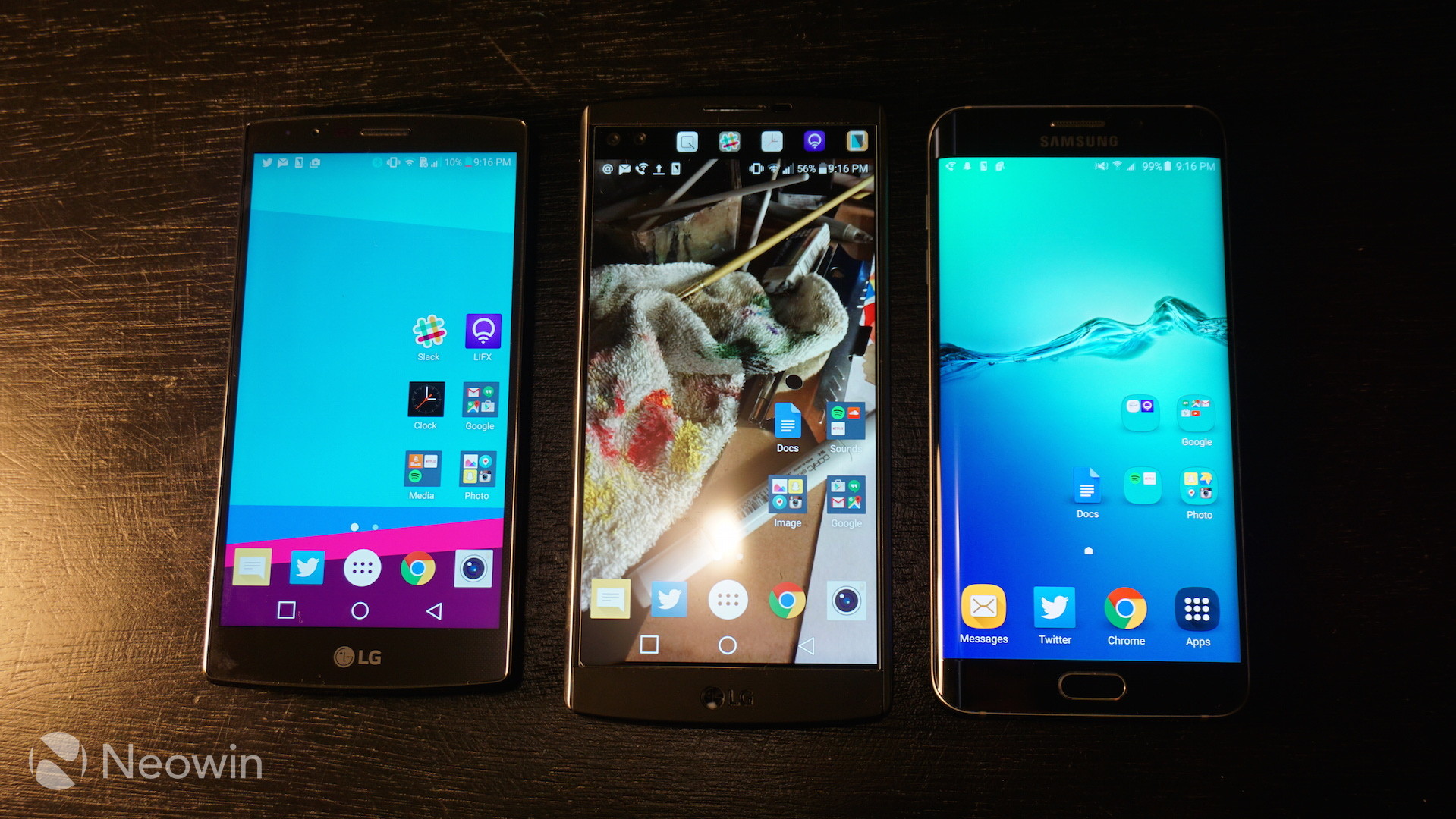 Let's be frank - the LG V10 is a large device. In fact, it is almost the same size as the G Flex, which is probably one of the largest devices I have reviewed to date. But, for some reason (maybe I've grown accustomed to larger phones), I like the size of the V10. It has been my daily device over the past couple of months and it feels good in hand and when in pocket. However, I will throw in a dose of reality here, as several colleagues and friends have given me the "stink eye" when I say I love the size of the device. Let it be known, I am in the minority when it comes to accepting the size of the V10.
2nd Display
When the V10 was announced in October, many scoffed at the idea of a second display and dismissed it as a gimmick. Honestly, I felt the same way using it for a week, but after using it for more than a month or so, things started to click. When the screen is turned on, you gain access to features like media controls, contact shortcuts, recently used apps and app shortcuts. When the screen is off, your options for the second display become much more limited, only granting you access to notification icons, media controls and toggles (sound profiles, Wi-Fi, Flashlight, camera).
While it isn't a game changer by any means, it does help perform some tasks a bit quicker and more efficiently. For those that are unfamiliar, when tasked with switching to and from an application on Android, you'd normally have to utilize the 'Recent Apps' icon or the equivalent capacitive button. When activated, your most recent apps will appear on screen (in the form of cards or in a carousel) and allow the user to peruse the open apps on the device. While this has and continues to work fairly well, having a second screen allows the user to maintain a persistent list of the five most recently accessed apps. By having these app icons always in view, it makes it much easier to switch apps, and in time become more efficient. Perhaps the only caveat to this is the fact that you are limited to only the five most recent apps, as opposed to a virtually unlimited amount of apps in the "Recent Apps" list.
Another nifty feature of the secondary screen is its ability to function as a media controller. It doesn't possess the most advanced feature set, but it can still give you access to skip, rewind, play and pause - which should be enough for most. If you need to access more, you can simply tap the associated media player icon (Spotify, Music Player, etc) and it will pull up the app for the full experience. During my use, the feature was a lifesaver, saving me from switching from app to app just to skip a track.
As for the shortcuts, I found it useful to pin apps that I use often enough, but might not want taking precious real estate on my home screen. For me this became the Notes app, clock settings, Slack, LIFX, and a screen adjustment tool. Naturally, you can choose what you want pinned, and depending on your needs, you may find quick access via the second screen either useful or useless. As for myself, I found it useful and a clever way to avoid adding clutter to the home screen.
When it comes to utilizing the second display, most will find it either a hit or a miss. And much like anything new, the capabilities of the second display are not fully fleshed out and are hindered by its lack of customizability / flexibility. As for the physical, the display does have some light bleeding issues, where the illumination from the top will bleed into the top of the main display. The secondary display also suffers from not being able to be fully controlled (brightness) and it becomes difficult to see notifications at times.
With that said - if this feature wasn't available, would I miss it? Yes! But, would I be able to easily forget about it after a week? This is also a resounding, yes! Let's not forget that this is LG's first attempt at utilizing a second screen and it is loads better than Samsung's offering on the S6 edge, edge+ and Note edge. But, until LG can make the secondary display more compelling, it will be labeled as a gimmick by most.
Software
The software on Android handsets has quickly become a focal point for many manufacturers, but not for the reasons you would assume. While many manufacturers choose to put their own spin on Android with additional features, skins and more, the real concern for some, is when the handset will be updated to the latest version of Android.
Although the LG V10 was announced and released in October, LG opted to not offer Android Marshmallow out of the gate, but instead opted with version 5.1. While there is nothing wrong with this, I think it would've given LG a bit more of an edge compared to its competitors - that released their equivalent handsets months prior.
Like many manufacturers, LG offers a skinned experience of Android, that offers a wide range of customization options for consumers. While most of the options can be appreciated, I can easily understand how someone would feel overwhelmed when diving into the settings.
While a majority of users will never deep dive into all of the different features of the phone, those that do, will find little things here and there that could be useful in day-to-day use. One of those is LG's "Smart Settings" that allows users to control the behavior of the Bluetooth, Wi-Fi and Sound Profiles, depending on the phone's location. Another excellent addition is the ability to customize shortcuts in the notification bar with up to 16 different shortcuts. Needless to say, you'll eventually find a configuration that is optimal for your daily use.
As a whole, beginners will most likely be overwhelmed, but with LG trying to throw everything in, it's almost impossible to try and organize the sheer volume of options in a clear and concise manner. Luckily, the additions and skin don't hamper the performance of the device and using the menu system and accessing various areas of the device make for a smooth experience. Naturally, there will be purists who demand companies stick as close to stock Android as possible and while LG is far from a stock experience, I think the experience is acceptable and should be ok for most.
Performance
LG was one of the first to offer Qualcomm's top-tier processor for 2015, the Snapdragon 810, in its G Flex 2. While we would generally see most companies follow suit with the same chipset, things were a bit different this year, with many speculating about changes due to rumors that Qualcomm's latest processor suffered from overheating issues. While Qualcomm still denies the problem, despite losing one of its large customers, it became quite clear that LG also did not find the processor suitable, as they opted with the Snapdragon 808 for their next handset, the G4.
In continuing the trend, the V10 also offers the same Snapdragon 808 processor, but also bumps the RAM to 4GB. While it might not be the highest tier combo available, the combination is plenty quick, offering a lightning fast experience. During my time with the unit, I can honestly never recall a moment where the V10 would stutter or stall. A majority of my use can be chalked up to Twitter, Internet browsing via Google Chrome, emails, photos, videos and the occasional gaming. It's safe to say that the Qualcomm 808 paired with 4GB of RAM, definitely packs enough punch to get most, if not everyone through their day. Another plus that I forgot to mention earlier is that the device rarely gets hot and only warm to the touch during use. The majority of the heat experienced was when the unit was charging via the Quick Charge adapter.
Per usual, I have included the raw numbers from a handful of benchmarking tools. As you can surmise, the specifications of the device make this one of the more powerful handsets currently on the market. Naturally, this could easily all change towards the end of the month with new handsets on the horizon and expecting to make their debuts at Mobile World Congress.
Sound / DAC
While I usually don't focus too much on the sound quality of smartphones, the V10 is one of the first handsets in a long while that offers a DAC (digital to analog converter). According to a press release, the V10 offers a SABRE 9018 DAC and SABRE 9602 headphone amplifier. So what does this all mean?
It means that for those that crave better audio quality, will finally be able to enjoy their tunes in a different way on the V10. I am not an audiophile (I also don't own an amazing set of headphones / speakers), but by enabling the 'Hi-Fi DAC' option, I was able to hear little subtleties in the music. This ranged from better clarity in instruments, to noticing other instruments that might have previously been muffled. Personally, I think it is a wonderful and differentiating option to have on a smartphone and while I didn't take full advantage of it, I'm sure there are many other who can appreciate the DAC feature on the V10.
Camera
The V10 offers one of the most superb cameras that I have used to date. The camera is spot on during the day or in well lit areas, with the ability to focus quickly and accurately with assistance from the laser focusing system. The colors and saturation are accurate for the majority of times, with only rare instances where the auto mode does not capture a scene or subject accurately. If you are looking to get your creative juices flowing, the V10 does offer a manual mode that can better optimize a scene.
The front-facing also offers a similar experience, but gives users the choice of shooting with a standard or wide angle setup. Naturally, it will depend on your environment and what you intend to capture, but as intended the wide angle was able to capture more of the scene and give the front-facing a bit more depth.
As for night time or images shot in dimly lit areas, the V10 performs reasonably well, still offering impressive shots when in auto mode. Sometimes there is a bit more focus "hunting" that occurs, depending on the lighting situation, but this is not unusual and does not occur at a level that would be deemed irritating.
Where the V10 differentiates itself from the pack, is in its ability to manual adjust settings during video shoots. A majority of high end devices for 2015, had the ability to shoot 4K video, optical image stabilization and so forth. But, LG has been one of the few that offers creators the ability to adjust things like mic levels, input, apply wind noise filter, white balance, ISO, shutter speed and more.
Many might not take advantage of these features, but it is an interesting feature set to have, and does come in handy if you have the ability to set up your shot. While I didn't deep dive and try producing epic content, I was able to appreciate the ability to crank up the ISO when shooting something at night, or apply the wind filter when shooting during a high wind scenario.
Naturally, these features wont supplement the abilities of post editing software, but it's an interesting first step and should add a bit more versatility for a good many (YouTubers, and suchlike) that are starting to embrace photo and video on mobile at a more serious level. While this might not be the end game, LG has started something very interesting that could eventually blossom into a more robust offering in a iteration or two.
Battery Life
Battery life has always been a pain point when it comes to Android handsets. Luckily, I'm happy to report that the V10 performs well and can easily last most users a full day. If you tend to use more battery intensive apps like Snapchat and Facebook, you should still be okay, but most likely will need to charge if you are going to go beyond an 16-18 hour day. If you need to eek out a bit more power from the 3,000mAh battery, you can squeeze a day and half when utilizing the "battery saver" option.
Luckily, if you happen to be in a pinch, you'll be able to utilize the Quick Charge feature and charge from 0- 60 % in roughly thirty minutes. This is a godsend when it comes to charging, as knowing I had this crutch, I never really felt worried when it came to battery life. If I went to bed with 30%, I would let it ride because I knew that if I plugged in first thing I would be able to easily get to 60-70% before finishing my morning rituals and heading out the door. In the event of a worst case scenario, since the battery is removable, you can always buy a spare and have it handy.
Conclusion
LG has without a doubt built themselves a handset that can stand toe-to-toe with most of the flagships introduced in 2015. While it might not offer 2015's "top-of-the-line" Snapdragon 810 processor, the overall experience and build quality is wonderful. If LG can continue this momentum in 2016 and refocus their efforts behind the V10 line, they could become the next major manufacturer to finally break out from under the thumb of Samsung.
In reality, the fight is much tougher than building something that hits all the right points, and while it will be difficult to dethrone the "king", if LG continues to make the right moves, it will undoubtedly slowly gain a steady fanbase and could eventually become the next big thing. To its credit, I have seen more V10s in the past few months in the wild compared to any other LG previously released. Before, it was a surprise because of the rarity, now it's no surprise, due to LG's clarity.
I'd like to extend a big 'Thank You' to the folks at T-Mobile who supplied the LG V10 for this review. If you are interested in purchasing this device, you can pick it up from T-Mobile. You can also check out more at LG's official product page.
Pros
excellent build / materials great display good battery life great camera fun features (DAC, 2nd display, dual camera)
Cons
2nd display (light bleed) 2nd display (better flexibility) size (will be big for most)