LG's Wing is one of the more unique devices that we've seen in 2020. We've seen plenty of smartphones with folding screens from Samsung, Huawei, and Motorola, and those can come as devices that fold out into tablets or fold into flip phones. We've seen a more traditional dual-screen "book" phone from Microsoft, and LG has offered us many dual screen experiences with its Dual Screen accessories.
The LG Wing is unlike all of those. Dubbed the first 5G swivel phone, the screen swirls around to sit in a T shape, which you can use for a variety of things. Whether it's practical or not, well, you'll have to judge for yourself after reading.
But what's really cool here is that LG is trying new things. It's from the company's Explorer program, and unlike most devices that feel like a concept, you can actually buy this one, and it's available from major carriers like T-Mobile, AT&T, and Verizon.
Specs
CPU
Qualcomm Snapdragon 765G 5G Mobile Platform with Snapdragon X52 5G Modem-RF System
GPU
Adreno 620
Body
169.5x74.5x10.9mm (6.67x2.93x0.43in), 260g (9.17oz)
Display
Main: 6.8 inches, 20.5:9, 2460x1080, 395ppi, P-OLED
Secondary: 3.9 inches, 1.15:1, 1240x1080, 419ppi, G-OLED
Camera
64MP f/1.8 + 13MP f/1.9 ultra-wide + 12MP f/2.2 Ultra Wide Big Pixel, Front 32MP f/1.9
Video capture
4K - 60fps, Front - 4K - 30fps, 1080p - 60fps
RAM
8GB
Storage
256GB
Battery
4,000mAh
Color
Aurora Gray
OS
Android 10
Price
$999.99

Day one
Design
At first glance, the LG Wing looks like a boring old Aurora Gray phone, Aurora Gray appearing to be a particularly metallic shade of black. For a gray/black, it looks quite nice, but I digress. While it looks like a regular phone, it does look extra thick at 10.9mm, and if you picked it up, you'd find it to be fairly heavy at 260g.
Here's the fundamental issue with the design of the phone. This is exactly how you'll be using it most of the time. The unique swivel-style dual screen certainly lets you do a lot of fun things, but for everyday, practical use cases, you'll just be using it like a traditional phone.
At the same time, it's nice that you can use it as a traditional phone. LG has offered dual-screen experiences for a while, and you'd either have to pull the phone out of a big and bulky case for that to work, or you'd have to fold the screen back. That's actually why LG used a Dual Screen accessory instead of a dual-screen phone. It can be awkward to always have to fold it back, like you have to work Microsoft's Surface Duo.
The LG Wing has a three-lens camera in the top-left, opting for the usual rectangle with rounded corners. It's more flat with the lenses sticking out, going for more of an Apple style.
If you look at the device from the bottom, you'll see the usual USB Type-C port for charging, but also, you'll notice just how small the panel for the main display is. The base is probably the thickness of a regular smartphone, and then you have that slim panel on top of it.
It actually feels quite good to open too, and it catches eyes. I often think about the old days in 2010-ish when people would notice a phone you're using and ask about it. You know, back when Android users lost sleep over people confusing their phone for an iPhone. If you use an LG Wing, people will definitely ask you about your phone; they'll notice when you flip open that screen.
On the right side, there's a volume rocker and a power button. There's no nonsense Google Assistant devices like we've seen from other LG devices. Also missing for the first time in a premium LG handset is the 3.5mm audio jack. It's a bummer, since LG used one of the best headphone jacks around, offering a 32-bit Hi-Fi Quad DAC.
Dual display
The LG Wing has a 6.8-inch 20.5:9 FHD main display, and that can be opened to reveal a 3.9-inch 1.15:1 FHD display. Both screens are OLED. They do have different pixel densities though, which is interesting to me because LG always made sure to use the exact same screens with its Dual Screen accessories, right down to having a notch with no front camera. This is something different.
So here's the obvious question: what exactly can you do with it?
Once you open the screen, you'll see a carousel of five apps (or any apps that support dual screens) including Asphalt 9, Gallery, Camera, YouTube, and Google Maps. There are also a few shortcuts on the secondary screen that will open two apps at once, such as one that opens Maps and YouTube Music. This can be useful while driving or something, where you can see both what's playing and where you're going.
In YouTube, you can use that secondary screen for media controls. While playing a video, you'll see a little pop-up that you can click for that to work. It's the same with all of LG's stuff. You have to activate the experience.
In the Gallery app, you can have an image or video open on the main screen have an image carousel on the secondary screen. As you can see, it works in different orientations.
If you're playing Asphalt 9, you can get to some game settings through the secondary screen, which I didn't find to be too useful. In the Camera app, you get gimbal mode.
I do have one big complaint about the screen though, which is that there's only a fingerprint sensor in the main display. If you wake the phone by opening the screen, you'll find that you have to awkwardly reach around to unlock it with your fingerprint. This is one device where I'd rather see a fingerprint sensor on the back.
Camera
The LG Wing has three camera lenses on the rear, with a 64MP main lens and two ultra-wide sensors. There's also a pop-up front-facing camera. But the highlight of this device is Gimbal Mode, a feature made possible by the unique form factor.
Gimbal Mode lets you record video at 720p 30fps or 1080p 30fps, and it has the features that you're used to from an actual gimbal. You can move the lens around, lock onto a subject, and so on. and of course, you get additional stabilization by having a base to hang onto.
If you're a fan of recording video with your phone, this is pretty awesome. And if you use a gimbal, I don't have to tell you how nice it is to not have to carry around the extra hardware, and not have to set it up when you want to record.
As for the regular camera, it's fine. LG makes a solid camera as usual, and it has an excellent night mode. Night mode lets you choose how light you want an image to be, which probably gives the user a little more control than is necessary, but it gets the job done.
My only real problem with the camera is that sometimes it just takes too long to focus, and if you don't want for it to click into place, you might end up with a blurry image. This is especially true at night, and that's especially upsetting because LG used to be really good at focusing at night.
Other than that, the camera is solid. The colors are true to life, and there are some fun portrait modes in there. The night mode does a great job as well.
Performance and battery life
The LG Wing packs a Snapdragon 765G chipset and 8GB RAM. The Verizon model that LG sent me comes with 256GB of storage, although apparently you can also get it with 128GB. In general usage, the performance is great. No issues there, just like with all Snapdragon 765G devices that I've used. I truly believe that for most people, the Snapdragon 865 offers way more than they need.
My only issue with performance, albeit it's a minor one, is that the UI can be slow and clunky. When you flip open the screen, the animation when the main screen turns to the carousel UI and the secondary screen lights up frankly isn't pleasant. It feels like it should be smoother, prettier, and much faster. It's not crazy slow or anything, like you're waiting for the UI to load; you'll just notice that it feels like it should do better.
Battery life is quite good though with the 4,000mAh battery. I never had a problem getting through the day. This is a Verizon 5G phone though, which means that it supports mmWave 5G, something that does use more battery life. Fortunately, mmWave 5G is useless, only working outdoors and in line-of-sight with a base station, and it's only available in very select cities.
This is also the first phone I've used on Verizon's sub6 nationwide 5G network. This does not use extra battery in any meaningful way, and I was able to get speeds of over 100Mbps. I don't know what Verizon 4G LTE is like in my neighborhood because I don't use the carrier.
For benchmarks, I used Geekbench 5, AnTuTu, and GFXBench. First up is Geekbench 5, which tests the CPU.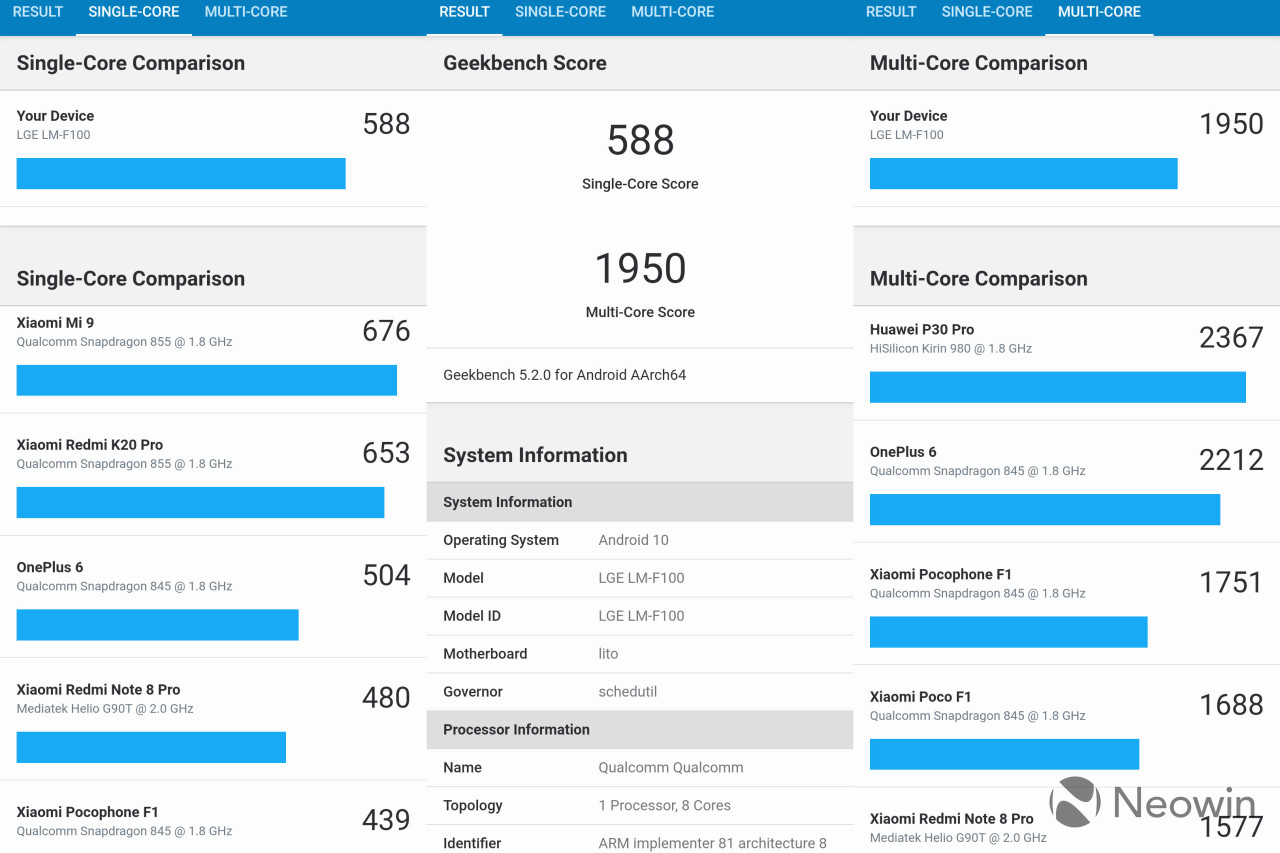 As you can see, it's somewhere between a Snapdragon 845 and 855. To be honest, it's the end of the year and there are no more surprises to be had from benchmarks. This year's Snapdragon chipsets have been in tons of devices by now, and we've tested them all. Next up is AnTuTu, which has an all-in-one test.
Again, there's really no surprise. I'm only posting the benchmarks because I did run them, and it's part of the review. Finally, GFXBench tests the GPU:
Conclusion
Here's what all of this adds up to. Go check out the phone yourself in your local Best Buy or something. Hold it, see what it can do, and see if the compromises are worth it. For sure, this is a heavy and bulky device.
It's also super cool. If you're the type of geek that loves it when friends ask about what device you're using just so you can tell them about it, you'd love the LG Wing. This is something that's unlike what most people have seen.
It's not for everyone, of course, but it does some cool stuff. Gimbal Mode is awesome for video recording, although it's a shame that it's limited to 1080p 30fps. And there are some practical uses for the dual screen. Hopefully, LG gets more apps to support it.
For $999, it's definitely unique, and it's a solid device. But you should definitely go play with one before you buy it. To check it out on LG's website, you can find it here.