It was only a couple of days ago that we highlighted the fact that Google's monthly breakdown of Android OS distribution hadn't been updated for two months. In fact, later the same day, Google finally released its latest figures, which show that Lollipop is now on almost a fifth of active Android devices.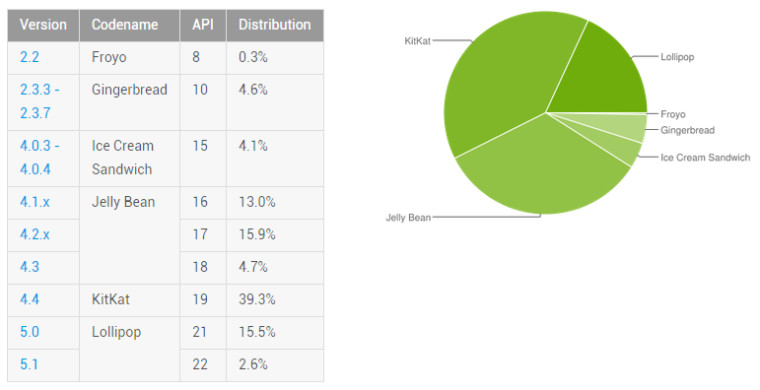 By the beginning of June, Android 5.x Lollipop had reached just 12.4% of devices, almost eight months after the 5.0 update was first announced. Data compiled during the week up to August 3, and published on Google's Developers site shows that Android 5.0 is now on 15.5% of devices, with 5.1 on 2.6%, giving a combined total of 18.1% - a considerable improvement over the last couple of months.
All Android versions from 2.3 Gingerbread to 4.3 Jelly Bean saw a fall in active devices as Lollipop adoption increased, with two exceptions: Android 2.2 Froyo stood still at 0.3%, while 4.4 KitKat increased very slightly from 39.2% to 39.3% - a consequence, perhaps, of large volumes of devices still being sold with this version on board.
Almost a year after Lollipop was first announced, Android 5.x still hasn't reached 20% of active devices - and yet another version of the OS is on the horizon. Known as the Android 'M' release, it will launch sometime this quarter.
Source: Google Developers via Android Central