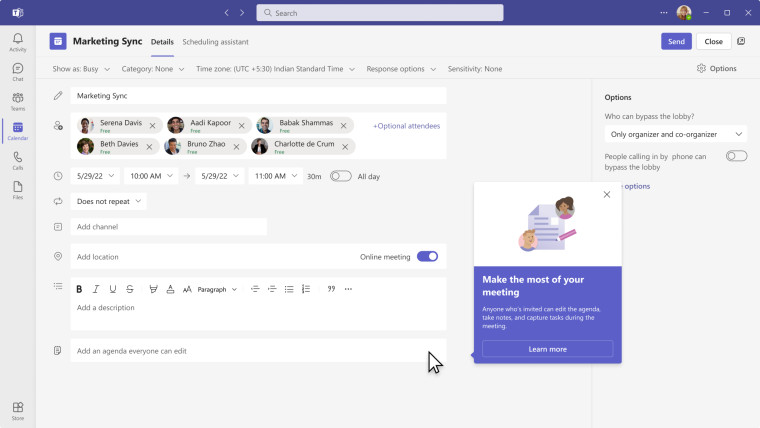 Members of the Microsoft 365 Insiders program can now check out a new and potentially useful feature in Microsoft Teams Meetings. The new feature, dubbed "Collaborative notes Loop", will allow team members in meetings to work together on writing notes and other content during a session.
Microsoft's blog post explains:
Loop components allow you to collaborate right inside a chat message in Microsoft Teams. Using the Collaborative notes Loop component, you can collaborate with others and keep everyone updated as notes as synchronized across all devices. Also note tasks assigned using Collaborative notes are automatically synchronized with To Do and Planner, providing an efficient way to manage tasks and streamline workflows.
Insiders who schedule a meeting in Teams can now click on the Add an agenda everyone can edit option at the bottom to start the collaborative note feature. All notes that are made during the meeting can also be saved to your OneNote app.
After the meeting is over, users can go check out any notes and follow-up tasks that were made during the session. Also, any notes or tasks that have been assigned to users can be checked in the Planner and To Do apps by clicking on the Assigned to me option.
You need to be a member of the Teams Public Preview to access new Insider releases in Windows, macOS, or web Teams clients.
There are a number of known issues and limitations with this Insider release:
Known issues

External and guest participants can't access meeting notes before or during the meeting.
Planner sends email notifications when tasks are due.
If you @mention a user while editing Collaborative notes on Microsoft 365, you'll need to give access to users using the Share and notify
You might see an error message:

If you join a meeting with over 100 attendees.
If you are an attendee of over 300 meetings that include tasks.

Follow-up tasks won't synchronize with Planner if they are added or modified using Microsoft 365. To synchronize tasks, open the Collaborative notes from the Teams Calendar.
Participants who were not sent an invite to the meeting may not see the Collaborative notes in their meeting. To grant them access, share the link to the notes.
Use Teams Calendar or Microsoft 365 to edit agenda or notes for meetings that will take place in the future or happened in the past.

Known limitations

Teams doesn't support channel meetings, ad hoc Meet Now meetings, and 1:1 calls.
The capabilities described above are not currently supported in the Teams mobile app.
When you join a meeting using a web browser, the in-meeting experience is not currently available.
If the meeting owner is using a mailbox stored on an on-premise Exchange server, Collaborative notes can't be added to the meeting at the time of scheduling. To add Collaborative notes, the meeting owner will need to first send the meeting invite, and then later add Collaborate notes.
Also, Microsoft mentions that the previous Teams meeting notes solution is no longer available on this Insider release. People who have taken notes with this older feature can still download them locally.