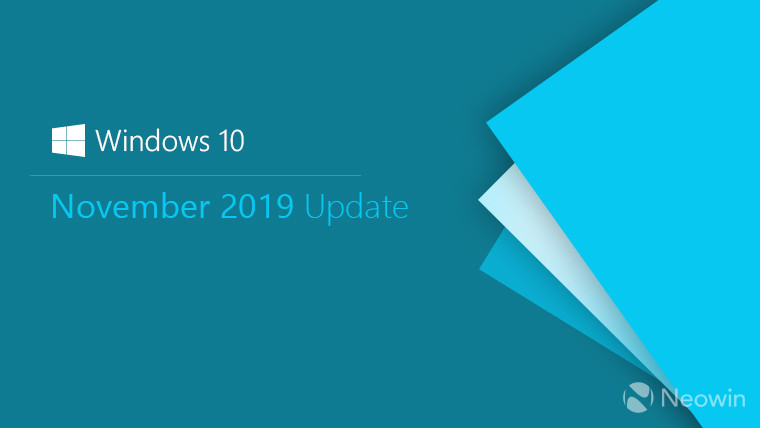 In an evening blog post penned by the Windows Insider Program team's Brandon LeBlanc, Microsoft announced that it's prepping the Windows 10 November 2019 Update for release. Aside from being the first time that the company has publicly mentioned the (fairly obvious) name of the update that's otherwise known as version 1909, the blog post confirmed that build 18363.418 is likely to be the one that ships to non-Insiders.
For those that don't know, the Fast ring has been testing 20H1 previews for some time now; that's the update that's going to ship in the spring. Naturally, today's news means that the Slow ring - which has been testing out version 1909 - will soon be moved to 20H1. In other words, if you want to stick with the Windows 10 November 2019 Update, you'll want to move to the Release Preview ring.
One thing that's somewhat refreshing about tonight's blog post is the level of transparency being provided, something that hasn't been offered before. Microsoft has never confirmed that a build is likely the "final build", or even said that it's expected to be the one that goes out to non-Insiders.
Being that this type of transparency is something that we're not used to, it's absolutely worth noting that the build number that goes out to production might be different. That's why Windows Insider testing, or more specifically the Release Preview ring, exists. If there are any last-minute show-stoppers that Microsoft finds before the release date, it could release a new build.
Also, the November 2019 Update will have the same build revision number as the May 2019 Update, so you'd move from build 18362.418 to build 18363.418. Both versions get the same cumulative updates, but there's an additional enablement package that gets added to make it version 1909 and enable new features.
Microsoft didn't say when the Windows 10 November 2019 Update will be released, but it should be soon. And if you're on the Slow ring and you don't want to move to 20H1, you'll want to switch to the Release Preview ring.
Update: An anonymous tip given to Neowin has advised that the "November Update is ready to be installed if they wish by Microsoft employees and will roll out in a phased to all employees from October 17 through mid-November".