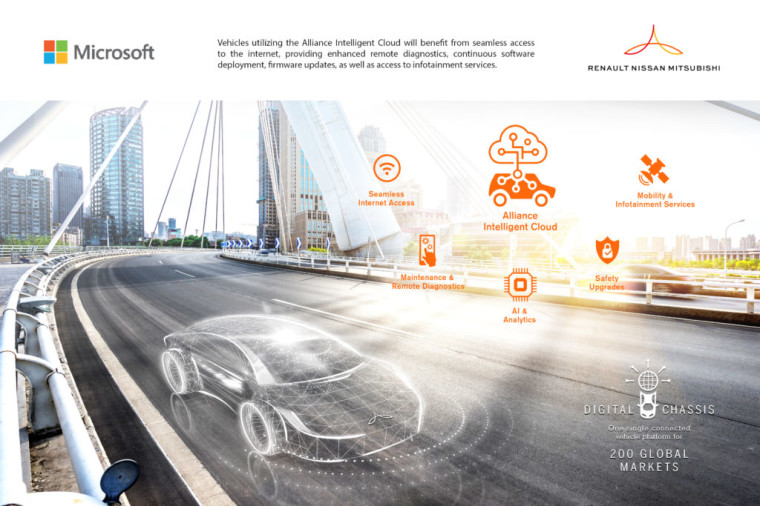 A couple of weeks ago, Microsoft launched the first datacenters in Africa to deliver cloud services across the continent. Today, the tech giant has announced that its Azure cloud services will be used to power a new platform, the Alliance Intelligent Cloud, built by the Renault-Nissan-Mitsubishi Alliance.
The program will enable the automobile manufacturers to provide connected services in vehicles by managing and analyzing vehicle data. This platform will be launched in almost all of the 200 markets in which the companies operate. Azure will be used to power these services, offering cloud, AI, and IoT technologies. As the new platform is highly scalable, it will be catering both current and future connected car features, making use of a multitude of legacy connected vehicle solutions. Some of the aforementioned features are connected navigation, connected assistance, proactive monitoring, over-the-air software updates, and more.
Jean-Philippe Courtois, EVP and President of Global Sales, Marketing and Operations at Microsoft, believes that today's production release of the new platform will help offer "a new generation of connected services powered by Microsoft Azure". Kal Mos, Global Vice President of Alliance Connected Vehicles at Renault-Nissan-Mitsubishi, commented on the Alliance's parternship with Microsoft, noting:
"Today we are deploying a vehicle connectivity platform that will transform the digital experience for customers of Renault, Nissan, and Mitsubishi. Through our collaboration with Microsoft, we are introducing the most powerful and far-reaching connected vehicle platform. Leveraging the size and scale of the Alliance, we have built an intelligent cloud platform that sets the pace for our industry."
Initially, only the new 2019 Renault Clio and select Nissan Leaf models sold in Japan and Europe will be utilizing the technology. Vehicles which are making use of the new platform will be able to gain timely access to firmware updates, along with the provision of infotainment services and more. Interestingly, these vehicles are also the first widely available models to be powered by Microsoft's Connected Vehicle Platform.
Microsoft believes that the Alliance Intelligent Cloud will prove to be compatible with future smart cities' infrastructure, while also becoming the sole point of contact for third parties aiming to connect with Alliance vehicles.