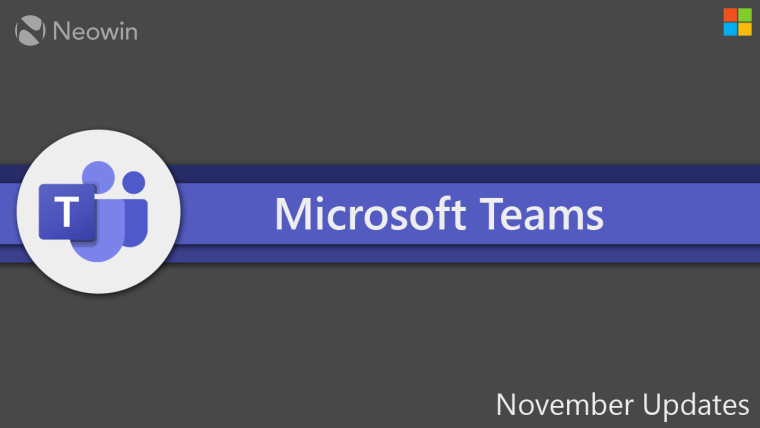 As is the case every month, Microsoft has detailed the improvements and additions made to Teams in the month of November. The list includes enhancements to the meetings experiences, chat features, addition for developers, new devices, and much more.
First up are the enhancements to meetings. The firm is adding AI-based background noise suppression – something that was announced back in March – that lets users filter out unwanted noises during a call. Users can also choose how aggressive they want the feature to be. As for video calls, there are new Together mode scenes for users to choose from.
Additionally, the firm is also bringing back full-screen mode for meetings on Windows that hides the title bar and taskbar, maximizing the viewing area. The Redmond firm is also detailing the new polls feature in Teams thanks to integration with Forms. Users can now create polls and share them with users during the meeting or later.
As for mobile devices, users can now directly start meetings within channels or the calendar using the Meet Now icon. The iOS version of the app is getting a new meeting layout with features such as presenter mode, the option to see the spotlighted feed along with the presented screen, and more.
Next up are improvements to calling, with the addition of the ability to merge VoIP and PSTN calls into one-to-one or group calls right from the call controls. The collaboration service is also adding the ability to keep calls active even in the event of an outage, thanks to a new Survivable Branch Appliance (SBA) available to certified Session Border Controllers (SBC) vendors.
Moving on to chat and collaboration improvements, users can now pin messages to a channel's information pane to highlight them. Users can also easily create polls, surveys, or checklists in channels through new app templates that can be set up by Teams admins. There is also the ability now to set a presence status for a preset duration. Lastly, the Android version of the app is receiving on-demand translation in chats.
On the development side of things, the new Power App for Teams is now generally available, bringing the ability for users to create custom apps and bots with very little code. The Power Automate app and Power Virtual Agents for Teams are also generally available, letting users create automated workflows using a bunch of available templates and chatbots, respectively. The firm is also adding support for native authentication through Single Sign-on (SSO) for bots.
The new Teams apps for meetings are also now generally available, with 20 new apps available in the Teams app store in addition to the already available ones such as Forms. Lastly, there's a new Teams App Development challenge that developers can participate in to win prizes by developing a "new and innovative Teams App", details of which are provided here.
In the hardware sphere, the company is detailing the new displays, phones, and peripherals built for Teams. There are also new features for Teams Rooms on Android, including support for dual displays for simultaneous video and whiteboard feeds, 3x3 and Together mode gallery views, and auto-answer functions for meetings. Teams on Surface Hub devices is getting support for Together mode and the 7x7 grid view allowing for 49 simultaneous participants in a call.
There are a few new features for Education and Government customers, which are listed in the blog post here. The firm is also adding shift schedule assistance for first-line workers, helping managers plan and schedule shifts for workers easily.