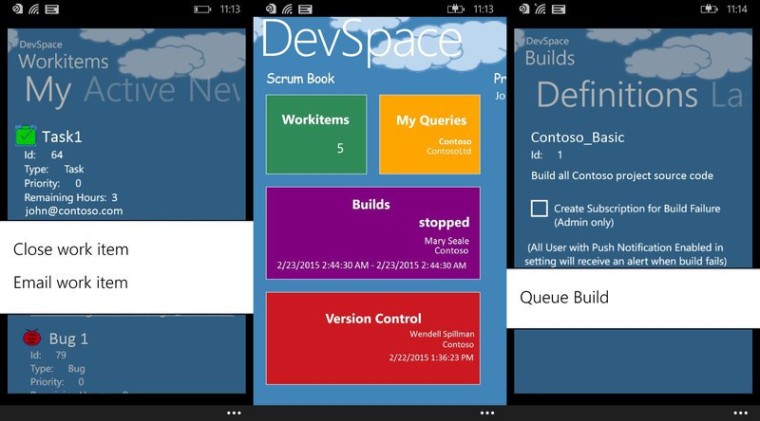 Over the last 5 years, Microsoft Garage has been encouraging its developers to create new experiences for users in their spare time with the motto "Do epic sh*t!". Today, the company has released a variety of cross-platform apps for both Android and Windows Phone.
The new apps are available for free and can be downloaded in a few selected countries only as these apps are largely experimental. These include:
DevSpace: Created for Windows Phone by Microsoft developers, Milind Solage and Soniya Khoja, this app allows software developers and engineers who are working on projects in Visual Studio Online to check in on parts of the project using their mobile instead of powering up laptops or PCs. It uses OAUTH and two-step verification process to ensure that you can securely access your work. Solage says:
Soniya and I both work on this outside of office hours, but it's because we're both passionate about this idea. It's a good way to learn new technologies, as well as convert ideas into actual projects.
The application took five months to build which is no small feat considering that it is fully functional and provides fast access to work items and queries, has push notifications and allows you check on build status using secondary tiles and a pinned tile on the start screen. Remarkably, the app also responds to voice commands thanks to Cortana integration.
The free app can be found in the store here.
Your Weather: Your Weather is yet another Windows Phone lock screen app from Microsoft Garage. Available in China, it mainly focuses on providing the weather conditions for various cities in the country. Jacky Hsu, principle program manager in Asia Research and Development for Microsoft says:
We worked closely with Microsoft Research Asia and government (China Meteorological Administration) on this app. Air quality is a hot topic in China, and MSR Asia has a team that focuses on this issue. We decided to work with them to bring their algorithms using Azure Machine Learning to the China market.
The app appears to be quite beautiful, it integrates with the lock screen pretty well, artistically making the use of Chinese paintings as backgrounds. Combined with live tiles, users of the app don't even need to open the app to get the information they need.
The app is available to download from the Windows Phone Store here.
Join Conference: This is a Windows Phone app that uses Cortana's voice recognition functionality to easily make conference calls; essentially saving a lot of time. Bret Johnson, a senior architect who came up with the concept for the app explained how the app worked stating that:
Under the covers, though, the app parses through your meeting invite text in the calendar. From that it can see what kind of conference system it is, what the meeting ID and PIN codes are, and if you're the meeting leader. Then it figures out the best way to connect to the meeting, either launching another app (like Lync or GoToMeeting) or dialing the right access phone number and ID/PIN touch tones to join.
?The app can be downloaded from the Windows Phone Store here.
SquadWatch: This Windows Phone app allows you to track the current activity of your friends in your locality. The store description of the app states:
SquadWatch shows you the people you care most about. For your family & trusted friends, it lets you have awareness of where they are at and what they are doing in real time. Then it lets you communicate with them or visit them in person, with ease.
The free app can be found in the Windows Phone Store here.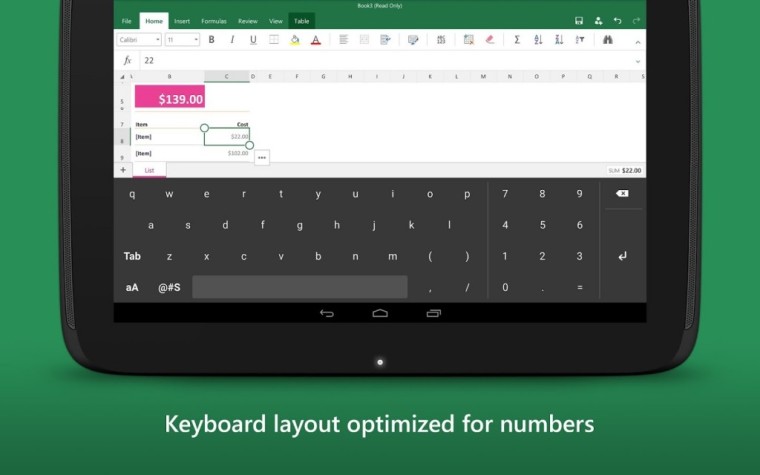 Keyboard for Excel: This app allows Android users to efficiently use Microsoft Excel through a new layout for the keyboard. The key features of the app include:
Keyboard layout optimized for numbers
Excel operators prioritized in the keyboard layout
10-key number layout for fast number entry
Tab key for quick navigation across columns
The free application can be downloaded from Google Play here.
You can learn more about the Garage's previous, current and ongoing projects by visiting the Microsoft Garage Portal here.
Source: Microsoft Garage