OneDrive is a popular cloud storage option, not only because of its competitive pricing, but also because it comes bundled with various Microsoft 365 subscriptions. That said, there is always room for improvement when it comes to software development, and Microsoft is looking to focus on exactly that with its OneDrive service.
A recent addition to the Microsoft 365 Roadmap includes Feature ID 117426. This item indicates that Microsoft is working on a more unified OneDrive for web "Shared" experience. What this means is that the Shared folder in the navigation pane on the left will show files and folders that have been shared with you across Microsoft 365 apps. This material may include files shared over email, Teams chat, and meetings.
There will also be an activity column to show you the updates across all your shared files. Furthermore, in order to simplify the UX a bit, the company will also be offering new filtering pills so you can zero in on the files that you need. This updated experience is expected to hit general availability next month.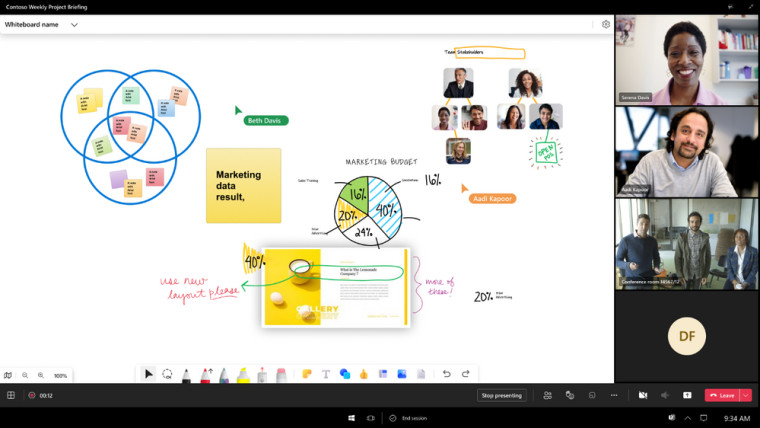 OneDrive isn't the only Microsoft utility getting updates. In fact, the firm has also updated the Microsoft 365 Roadmap to reveal some upcoming features for Whiteboard. They are listed below:
Start new whiteboards with templates (August 2023): This feature will bring templates front and center when creating a new whiteboard. When starting a whiteboard, users will be able to choose from a selection of templates or explore all templates to pre-populate a new whiteboard. Users can also start from suggested templates from a blank whiteboard.

Connectors [Line Anchoring] (August 2023): This feature will provide the ability to create more effective flowcharts and diagrams. It will allow you to anchor lines between different shapes, and easily create new shapes and lines off of existing ones.

Voting (July 2023): This feature will bring a more formalized voting function to Whiteboard. This can be used in order to gather feedback from participants to come to conclusions during various activities. This will have the ability to be anonymous or not.

Existing Azure Board Migration (July 2023): This feature will migrate boards that exist in your tenant's Azure storage to OneDrive for Business storage. More information will follow as we near release.

Import ADO/Jira work items (July 2023): Import ADO/Jira work items onto whiteboards to collectively brainstorm and ideate with your colleagues. (Note: The initial release will only provide support for work/school accounts & will allow importing existing work items but neither updating them nor creating new ones).

Create Loop tables and task lists (July 2023): Insert new Loop tables and task lists directly into whiteboards and copy/paste them across other Microsoft 365 hosts to coauthor content with others in real-time.
---
Are you looking forward to the new OneDrive for the web Shared experience? Do any upcoming Whiteboard capabilities pique your interest? Let us know in the comments section below!
Editor's Note: The article was updated after publication to indicate that the OneDrive changes apply only to the "Shared" folder.