In mid-February, Microsoft announced the Lumia 650 to little fanfare. It was done through a press release, making many speculate as to whether even Microsoft was confident in their latest lower mid-tier device, as they would only have had to wait another week until Mobile World Congress, the conference that Microsoft had announced the Lumia 640 and 640 XL at one year before.
After all, we had all heard the rumors. The device would ship with Qualcomm's lowest end chipset and even more disturbing was that it would be the last Lumia of 2016, possibly the last Lumia ever.
While the events that preceded the launch set us up for low expectations, that's not what I based my expectations on. There are various factors in which to judge a budget phone by, the obvious being value for the price.
So how do we decide the value for the price without knowing the priorities of each individual reader? There are two ways: one is that we compare it to other phones on the market in the same price range and the other is to compare the device with its predecessors.
I've done both of these things extensively, comparing the Lumia 650 to the Lumia 550, 640, 830, and the third generation Moto G.
Day one
I really wanted to review the Lumia 650. In fact, I couldn't even wait through the weekend for Lumia US to send me one. I took a five hour round trip to Manhattan to pick it up myself.
When I got home, I unboxed the phone and frankly, I was amazed with what I saw and felt.
There's something about a thin and light phone that I really appreciate. It could be because I've reviewed so many phones that are so heavy and bulky, banging against my legs and bruising my knees while being carried in my cargo pants (when one carries four or more phones at a time, one wears cargo pants).
Nevertheless, a thin and light phone makes the device very comfortable to hold and to carry. One would argue that there are sacrifices to be made for thinness, such as a larger battery. Personally, I prefer comfort over such a large battery.
To say the least, I was very impressed with the device coming out of the box. Whatever doubts I had before were now gone.
Specs
| | |
| --- | --- |
| CPU | 1.3 GHz quad core Snapdragon 212 |
| GPU | Adreno 304 |
| Display | 5", 720p, 297 ppi, OLED |
| Body | 142 x 70.9 x 6.9 mm, 122 g |
| Camera | 8 MP, Front 5 MP |
| Video | 720p - 30 fps, Front 720p - 30 fps |
| Aperture | f/2.2, Front f/2.2 |
| Sensor size | 1/4" |
| Other camera features | LED flash, Rich Capture, Autofocus |
| Storage | 16 GB, expandable to 200 GB |
| RAM | 1 GB |
| Battery | 2000 mAh |
| Price | $199 |
Snapdragon 212
Let's get this out of the way right now. There's no getting around the fact that Snapdragon 2xx is Qualcomm's lowest end line of chipsets and the fact that the Lumia 650's predecessor, the Lumia 640, used Snapdragon 400, part of Qualcomm's lower mid tier line.
While many have referred to it as a downgrade, it's really not. The Snapdragon 210/212 was upgraded to essentially take the Snapdragon 400's place, while the Snapdragon 410 got a significant bump in architecture.
| 200 | 210 | 210v2/212 | 400 |
| --- | --- | --- | --- |
| 1.2 GHz quad core ARM Cortex-A7 | 1.1 GHz quad core ARM Cortex-A7 | 1.3 GHz quad core ARM Cortex-A7 | 1.2 GHz quad core ARM Cortex-A7 |
| Adreno 302 | Adreno 304 | Adreno 304 | Adreno 305 |
| No LTE support | LTE support | LTE support | LTE support |
| 720p video capture | 720p video capture | 720p video capture | 1080p video capture |
* - Note that these chipsets come in different models. The specs quoted are for the ones that have been used in Lumias.
We saw the Snapdragon 210 chipset in the Lumia 550 and it provides a very poor experience. I've had the same experiences in other devices that I've used with the Snapdragon 210.
Because of this, I was a bit skeptical of the Snapdragon 212 in the Lumia 650 (I think we all were). I was surprised to find that it's much better than the Snapdragon 210 and in many cases, better than the Snapdragon 400.
The Snapdragon 210 added support for LTE, a better GPU, and 1080p video playback. Since Snapdragon 200 and 400 were so similar in clock speed and architecture, the additions in the Snapdragon 210 should have put it on par with the Snapdragon 400.
It didn't and it wasn't. As mentioned, the Snapdragon 210 has provided me with a poor experience in every device that I've used with it.
That brings us to Snapdragon 212, also known as Snapdragon 210v2. As far as specs and features go, the Snapdragon 212 is identical to the Snapdragon 210 in every way except for clock speed, which now comes in at 1.3 GHz per core.
The difference between the two chipsets is far more than just 0.2 GHz of clock speed per core. We'll talk more about that in benchmarks.
Body and display
This is going to be the section of the review where the Lumia 650 really shines. Let's face the facts. Having a good looking phone is important, and this one is stunning.
One of my favorite things about the design of the handset is that it's not a recycled old Nokia design. As beautiful as those designs were, we do tend to see them over and over in new phones and I really enjoy seeing something that's different.
It's certainly not the first Lumia with a metal frame; however, when you look at devices such as the Lumia 830 and 930, you'll see that they have sharper corners than the 650 does, among other variations.
The device is also super thin and light, coming in at just 6.9 mm thick and 122 grams. To put that in perspective, it's the same width as an iPhone 6 and 7 grams lighter.
Then we have the display, which is remarkable. It provides the vibrant colors and deep blacks that you would expect from an OLED panel; however, unlike the Lumia 930 and Icon, it does provide Glance, a feature that Windows phone users like myself know and love.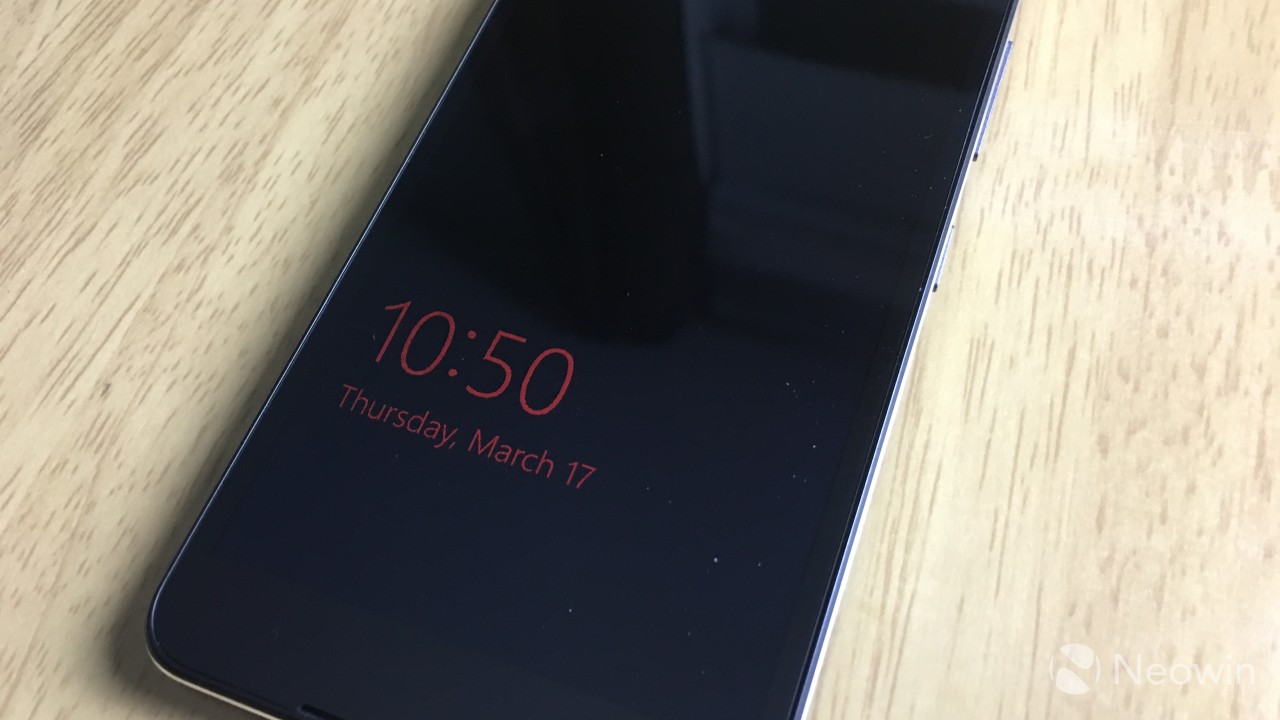 Rear camera
The Lumia 650 sports an 8 MP rear camera with a 1/4" sensor and f/2.2 aperture. It's not Pureview - meaning that it doesn't have optical image stabilization (OIS) or a physical camera button - and it doesn't use the Carl Zeiss lens that we've seen in higher end devices.
In fact, the sensor itself seems to be the same as we've seen in the Lumia 540 and 640. As with the Lumia 640, the device does support Rich Capture. No, Rich Capture was not named after me (although one time successfully convinced someone that it is).
Rich Capture is a huge boon to anyone that likes to take pictures with their phone, or in other words, everyone. It allows the user to adjust exposure after the image is taken.
For example, when you take a picture with the flash, the subject is very bright and the background is very dark. On the other hand, if you take the same picture without the flash, the entire image is just too dim. Rich Capture allows the user to choose between the image with the flash, without, or anywhere in between.
There is a problem with the way that Rich Capture is implemented on the Lumia 650. As with all Windows 10 Mobile devices, the user can only set Rich Capture to auto or off. The user cannot explicitly turn Rich Capture on. Windows Phone 8.1 devices, even after being upgraded to Windows 10 Mobile, do have that option.
The one downside to the rear camera, and the one downgrade from the device's predecessor, is that it records 720p video instead of 1080p video, despite the fact that the Snapdragon 212 supports it.
As we can see, the device has a pretty nice shooter on it. It's not going to win any awards, but its colors are accurate and it's decent in low light.
Front camera
The front camera is another area where this device shines. The Lumia 650 packs a 5 MP front shooter, also with an f/2.2 aperture. Like the rear camera, it only records 720p video.
To be clear, the resolution necessary for 1080p would be 2.07 MP at a 16:9 aspect ratio. 720p is about 0.9 MP. Of course, the Lumia 640 only recorded 720p video in the front as well, due to the 0.9 MP front camera.
One feature that I would have liked to have seen in the front camera is a flash. Using the screen to light up as a flash is a feature that we've been seeing for some time from firms such as LG, Motorola, and more recently, Apple and Samsung.
Not only does the front camera take great pictures, but it's also pretty decent in nighttime settings. It also has a wider field of view than the other Lumias that I've compared it with.
Battery life
When it comes down to a phone that's as thin and light as this one is, a big concern for many is going to be the battery. After all, few modern phones have batteries that are smaller than 2000 mAh. Well, except Apple's iPhone, but those seem to do well, right?
Unfortunately, Windows 10 Mobile simply doesn't manage power as well as iOS or Android do. I would love nothing more than to say that's not the case, but it is.
It comes down to power usage when the device is asleep. An iOS, Android Marshmallow, or Android N device uses almost none. The best example I can give is that if I leave the Lumia 650 powered on for a few days without using it, it will be dead. With an iOS or Android Marshmallow device, it will still have the majority of its battery life remaining.
Other than that, the battery life is OK, which means just that. It's not great, probably not even good, but it's not bad either. It's OK.
This is an issue with all Windows phones, especially those that run Windows 10 Mobile, as well as those with Glance. If you don't charge your device overnight, you start off the day with less battery life than you need to get through it.
Sure, most of us charge our device at night, but should we really have to? If you charge it overnight and you use your phone moderately, you're in good shape to get through the day.
Finally, I'll leave you with a battery test from WP Bench. I can tell you that the time that it represents is a score that's better than most Windows phones that I've tested with the app, despite what seems to be a fairly low score.
Benchmarks
I'll start with my normal disclaimer about benchmarks. I'm not a fan of them, as they rarely provide any insight into real world usage; however, I provide them because people want to see them.
First up is AmTuTu Benchmark. There's two versions of the app in the Store. The old beta from years ago is OK for comparing Windows phones, but the score is not comparable to the Android and iOS versions of the app. The other app is the new UWP app from AnTuTu. While it is in beta, those scores should be comparable to Android and iOS.
The scores that we're seeing here are pretty high, considering the chipset. It outperforms Lumias that use the Snapdragon 400, so that's a really good sign.
This is what I mean when I say that there's much more of a difference between Snapdragon 210 and 212 than 0.2 GHz. The Lumia 650 scored over 12,000 on the first AnTuTu test, while the Lumia 550 scored under 10,000. A Snapdragon 200 device would score just over 11,000. I can't prove it, but I truly believe that there was something wrong with the Snapdragon 210 that caused Qualcomm to develop the 212.
Next up is GFXBench. While this app is renowned for benchmarking GPUs, it is also an older app. Since it's still on GFXBench 3, it's not comparable to Android and iOS, which has version 4 available.
Final thoughts
Specs. I am so sick of that word. Since picking up the Lumia 650, I've published an unboxing and first impressions, second impressions, and three comparisons. When looking at the comments, it was as if no one had even read the words I had written. Everyone was complaining about the specs.
Let's be clear about something here. Specs don't matter. This is why Apple never tells anyone how much RAM is in iOS devices. Rather than complaining about 1 GB of RAM in the iPhone 6, Apple would rather users judge it based on its performance, which was pretty darn good.
Last year, I reviewed so many disappointing flagship phones that used a Snapdragon 808 chipset, but since it was powering a 1440p display, the device was underpowered. Because of that, there were other devices with a Snapdragon 617 that powered a 1080p display that actually performed better.
I'll say it again: specs don't matter. When you pick up a device, use it, and it feels fast or slow, that's what matters. I was extremely impressed with the performance of this device.
Conclusion
I recently finished reviewing the Microsoft Lumia 550. Due to some mix-ups, I wasn't able to obtain a review unit and ended up buying it.
Boy, do I regret wasting $139 on that phone. In that review, I gave it a score of 3.5.
I bring that up because I was able to obtain a review unit of the Lumia 650, but when Lumia US asks for their handset back, I'm going to buy one. That's how much I enjoy the Lumia 650. I want it to be a permanent part of my Lumia collection.
Sure, the Lumia 650 is no Lumia 950, but it punches well above its weight. While many have complained about the price tag, the only mainstream device in its class that competes with it is the Moto G, and even then there are trade-offs from each side.
Rather than tell you whether or not you should by this phone, I'm going to reiterate what I'm going to do. I'm going to shell out $199 of my own money for this device. As the saying goes: "put up or shut up". I'm putting up, so if that doesn't tell you how much I believe in this device, I don't know what will.
Update: A previous version of this review said that Snapdragon 210 and 212 supported 1080p video capture and playback, but it has been updated to show that the chipsets only support 1080p playback.
Pros
Stunning design OLED display Front camera Decent rear camera Snappy performance Super thin and light
Cons
Branded as a business phone Records 720p video Mediocre battery life