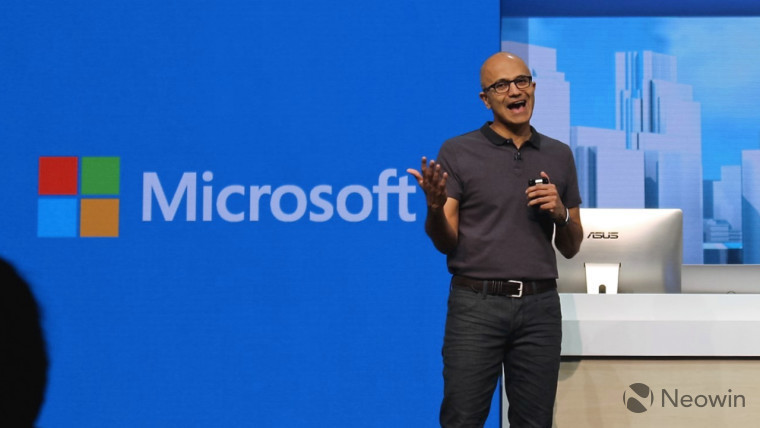 Microsoft released its earnings report for the first quarter of its 2019 fiscal year today. The firm brought in $29.1 billion in revenue, a 19% increase over the same quarter last year which saw $24.54 billion. That can be broken up into $9.8 billion in Productivity and Business Processes, $8.6 billion in Intelligent Cloud, and $10.7 billion in More Personal Computing.
Operating income was $10 billion, showing 29% growth (28% in constant currency), and net income is $8.8 billion, which is 34% growth (32% CC). Diluted earnings per share comes out to $1.14, a 36% increase (33% CC).
Productivity and Business Processes grew by 19% (18% CC) over the same quarter last year, which is mainly driven by Office 365 and LinkedIn, which is now included in the category. Gross margin dollars grew by 18% (17% CC), operating income grew by 29% (27% CC), and operating expenses grew by 7% (8% CC) because of investments in LinkedIn, cloud engineering, and commercial sales capacity.
There are now 155 million commercial Office 365 monthly active users, and 32.5 million consumer subscribers. Office commercial products and cloud services increased by 17% (16% CC)m which can be broken up into a 12% decrease (13% CC) in on-premises offerings, and a 36% (35% CC) increase in Office 365 commercial revenue. Office consumer products and cloud services grew by 16% (17% CC).
LinkedIn grew by 33% (34% CC), showing "strong momentum across all lines of business", and LinkedIn sessions grew by 34%. Dynamics 365 grew by 51% (49% CC), while Dynamics as a whole grew by 20% (20% CC).
Next up is the Intelligent Cloud, which showed a 24% (24% CC) growth in revenue, due to server products and cloud services, which had revenue growth of 28% (28% CC). Gross margin dollars increased by 28% (27% CC), operating expenses grew by 19% (20% CC) due to investments in cloud and AI engineering, and operating income grew 37% (35% CC).
Azure was once again the big growth magnet, up 76% (76% CC), while server products grew 10% (9% CC). Enterprise Mobility now has over 88 million seats, showing growth of 59%. Enterprise Services revenue grew by 6% (6% CC).
Finally, More Personal Computing covers everything else, including Surface, Windows, gaming, and so on. More Personal Computing grew by 15% (15% CC). Growth margin dollars grew 10% (10% CC), operating expenses decreased 1% (1% CC), and operating income grew 23% (23% CC).
Windows OEM revenue grew by 3% (3% CC), and that's all from Pro, which had increased revenue of 8% (8% CC). Windows OEM non-Pro revenue declined by 5% (5% CC), while Windows commercial products and cloud services revenue grew 12% (12% CC).
Surface revenue grew by 14% (14% CC). As you'll recall, this quarter last year was the first full quarter when the fifth-generation Surface Pro and the Surface Laptop were available, replacing the somewhat stale Surface Pro 4.
There was once again quite a bit of growth from gaming. Revenue increased by 44% (45% CC), while Xbox software and services revenue increased by 36% (36% CC) due to third-party games. Perhaps most impressive is that Xbox hardware grew by an incredible 94% (96% CC). because of a low year last year. Again, it's worthwhile to compare this quarter to last year's hardware releases, as the Xbox One X arrived last November. Xbox Live users also grew by 8% to 57 million, and that includes on Xbox One, Windows 10, iOS, Android, and any other platform that it's available on.
Finally, search advertising revenue grew by 17% (17% CC), and that doesn't include traffic acquisition costs.