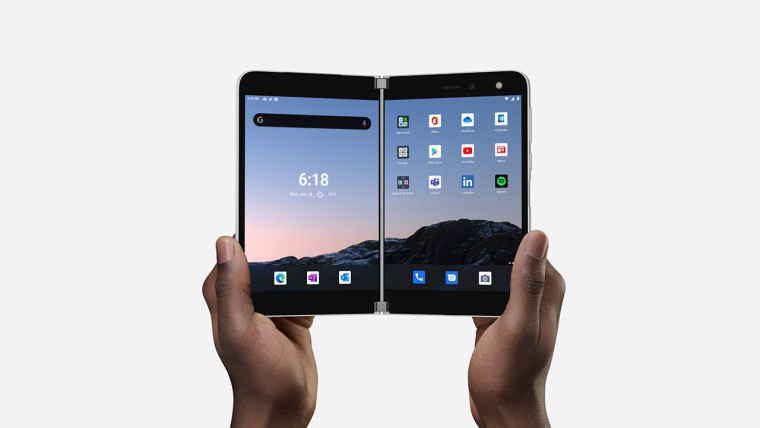 Back in December, Microsoft announced that after four months on the U.S. market, it was finally going to bring its Surface Duo handset to other markets in early 2021. Now, pricing and availability is here, and the dual-screen device is coming to the UK, France, Germany, and Canada on February 18. To be clear, those were the four markets that were announced in December, so if you're in another region in Europe, it's unclear when you'll be able to get your hands on this.
In France and Germany, the price of the 128GB model is €1,549, while it's going to be £1,349 in the UK. For comparison, the Surface Duo starts at $1,399 here in the United States, although it's currently on sale for as low as $949. The 256GB model costs $100 more, and that's it's a similar model for other countries; for example, it's €1,649 in France and Germany.
The Surface Duo was originally announced back in October 2019, heralding Microsoft's return to the smartphone business. The company doesn't often actually call it a phone, but it was introduced to the world in a promo video where the device was revealed by it ringing from inside of a bag, and yes, the user answering a phone call. It wasn't supposed to arrive until holiday season 2020, and it was going to arrive alongside the Surface Neo.
But things changed. The Surface Neo was delayed, as was the Windows 10X operating system, and Surface Duo shipped early.
It comes with a Qualcomm Snapdragon 855, which was the company's flagship chipset two generations ago now, and as has been widely criticized, it's a 4G phone. It also comes with an 11MP f/2.0 camera and 6GB of RAM. As for the two displays, which is really the selling point, it has dual 5.6-inch 1800x1350 screens, which are 4:3. They combine for an 8.1-inch 2700x1800 display, and of course, the device has Surface Pen support.
You can check out the Surface Duo on the UK Microsoft Store here, for France here, Germany here, and Canada here.