One of the NSA's meeting rooms could have looked like this.
Leaked documents suggest the NSA could have a replica facility of the iconic Bridge of the Starship Enterprise from Star Trek.  
A Foreign Policy investigation into NSA director Keith Alexander has exposed his former Fort Belvoir facility, which had a war room designed to mimic the Bridge of the Starship Enterprise from Star Trek.
During a tour of the facility, Alexander allegedly showed his colleagues the Information Dominance Centre, custom built by a Hollywood set designer to replicate the iconic sci-fi setting. The area reportedly came complete with "chrome panels, computer stations, a huge TV monitor on the forward wall", and even doors that made a "whoosh" sound when they open and closed.        
His colleagues, made up of high ranking lawmakers and important officials, were allegedly impressed by the scene and took turns sitting in the "captain's chair", while Alexander passionately "showed off his data tools on the big screen".
"Everybody wanted to sit in the chair at least once to pretend he was Jean-Luc Picard," says a retired officer in charge of VIP visits.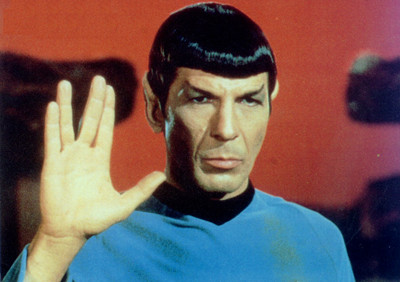 "Live long and prosper". If only the same could be said about NSA's policies.
The report also reveals an unusual side to Alexander, and his fondness of corny jokes and puns. The director, who has held the top position since 2005, also loves to play golf, pool and Bejeweled Blitz, where he often scores over 1 million points. Next time you are overcome with fear that the NSA might be monitoring you, one can be somewhat reassured as it may have been done within the confines of a truly memorable setting.
Source: Foreign Policy | Images: Astronaut, Wikia