Synology has long made top-notch network attached storage (NAS) devices that are rated very highly. From using them for simple storage, to setting up a private cloud to share photos and documents, to using them for a security NVR, to using them as a means to cut the cord, Synology devices are extremely versatile.
In 2016, Synology entered the network market with the release of the RT1900ac. They followed that up with the RT2600ac. Today they've released the RT6600ax, and we're going to take a look at it in detail to find out if it's a device you should consider adding to your home network.
Hardware
Looking at the specs, the RT6600ax delivers. It sports a quad-core 1.8 GHz Qualcomm Cypress IPQ6018 processor, 1GB of DDR3 RAM, just over 1GB of system storage, and a separate partition that's nearly 2GB in size for installing apps, such as SafeAccess, which I'll discuss later. While some extra memory might've been nice, I never ran into any issues with three separate networks/VLANs created.
The RT6600ax also has Tri-band WiFi (2.4 + 5 + 5 Ghz) with six separate antennas that supports 802.11 a/n/ac/ax, as well as 802.11k/v/r roaming. The device supports a wide range of standard wireless encryption protocols as well.
CPU
Qualcomm Cypress IPQ6018, quad-core, 1.8Ghz
Memory
DDR3 1GB
Antenna
2T2R + 4T4R omnidirectional high-gain dipole (2.4 GHz/5 GHz)
Ethernet
1xGigabit WAN, 1x2.5GbE configurable WAN/LAN, 3xGigabit LAN
Wireless

IEEE 802.11 a/n/ac/ax simultaneous tri-band and 802.11k/v/r roaming support

Max Data Rate
2.4 GHz: Up to 600 Mbps; 5 GHz-1: Up to 4800 Mbps; 5 GHz-2: Up to 1200 Mbps
Encryption
PA/WPA2-Personal, WPA/WPA2-Enterprise, WPA2/WPA3-Personal, WPA3-Personal/Enterprise, Wi-Fi Enhanced Open (OWE), Wi-Fi Protected Setup (WPS) 2.0
Size (H x W x D)

175 mm x 320 mm x 200 mm (antennas in upright position)

6.9 inches x 12.6 inches x 7.9 inches (antennas in upright position)

Price
$299
The router has five Ethernet ports on the back, one to connect to your ISP (the WAN), and four to connect to your internal network. Optionally, you can configure redundancy by using the single 2.5 GbE port to connect to the WAN as well, but this wasn't something I was able to review because I only have a single Internet feed.
There's also a single USB 3.2 Gen 1 (Type A) port on the device, but since this is a router, not a storage device, I don't recommend using it.
The RT6600ax also included an Ethernet cable and a power supply with a standard barrel connector.
Initial Setup
The Synology NAS devices all have one thing in common: They're simple to setup. The RT6600ax is just as straight forward, and was even easier to install than the RT1900ac was.
After connecting the RT6600ax to my cable modem and powering it on, I went over to my laptop and looked for the default Synology SSID and connected to it with the default password of "synology". At that point, I was prompted to create the administrator account. Unlike previous versions of the router, a username of "admin" is no longer allowed, which is welcome as it helps reduce the chance of a brute-force attack if you expose the administration port to the Internet.
The next step is to create the default wireless network and the password to connect to it. You then decide if you want the RT6600ax to act as a router or a basic access point. I'm not sure why you'd buy the device and use it as an AP, but I'll never complain about options.
Finally, you decide if you want Synology Router Manager (SRM) to be available on the Internet. I highly recommend you disable this functionality to avoid potential security issues in the future, but it's your choice.
The last setup screen asks you to choose your Internet connection. Auto IP will probably work for most people, although there is a link for "Special Requirements from ISP" that you might have to play with. I had to clone the MAC address of my previous router to get access to the Internet, although I suspect Comcast has a portal that would let me reset it as well.
The router will then setup configuration in the background and when it's done, you'll be presented with a "Congratulations!" screen that will let you add Wi-Fi points or start managing the router, the latter of which will drop you into the SRM user interface.
Note that you can also setup the device using the DS Router mobile app. Unfortunately, the old version of the app doesn't work with SRM 1.3, and the new version of the app wasn't available when I did the initial setup, so I wasn't able to try it out. Luckily, the process through the web worked flawlessly. The new version is now available on the Apple and Google app stores, so you can choose how to do the initial setup.
SRM Tools
The RT6600ax runs the operating system called "Synology Router Management," or SRM, version 1.3. Anyone who has previously used a Synology device will be at home with SRM, because the entire look and feel is exactly like DSM, only with a networking focus instead of a storage focus. Currently, SRM 1.3 is only available on the RT6600ax, but is expected to be available on the MR2200ac and the RT2600ac later this year.
You'll find that, by default, you have the following apps installed on your desktop: Network Center, Wi-Fi Connect, Safe Access, Control Panel, Package Center, and SRM Help.
Network Center
Network Center is where you'll go to do things like configure port forwarding, define your local network segments (including VLANs - more on that later!), control the traffic on your LAN, and setup general network services like SMB, FTP, and SSH (services that, for most users, should be disabled).
Creating a new network is a simple matter of clicking "Create" in the "Local Network" section and then following the wizard. On the first page, you give the network a name, an IP and subnet mask, and a VLAN ID. Next, decide which physical Ethernet ports the VLAN will be tagged to. Following that, decide if you want to assign an SSID to the network or make it only available via a wired connection, and then you're done.
When extending the network to a Ubiquiti switch, things were a little more confusing. I configured two ports on the switch to connect to VLAN 10, connected Port 3 of the RT6600ax to one of the two Ubiquiti ports, and then connected the Antsle to the second Ubiquiti port. For some reason, I wasn't able to communicate with the Pi. After some troubleshooting, I physically moved the connection from Port 3 to Port 4, and everything worked. It's still not clear to me why Port 3 would be labeled Untagged but it's possible I'm simply misunderstanding something, so I've reached out to Synology for comment.
Network Center is also where you can do fancy filtering, like setting up one-way firewall rules. This could be helpful if, for example, you want a separate network for your IP cameras, but don't want them to be able to communicate to the Internet or to any devices on your network other than Surveillance Station. The basic steps are straight forward - block traffic between the two networks, and then setup rules for specific IP/port combinations.
Wi-Fi Connect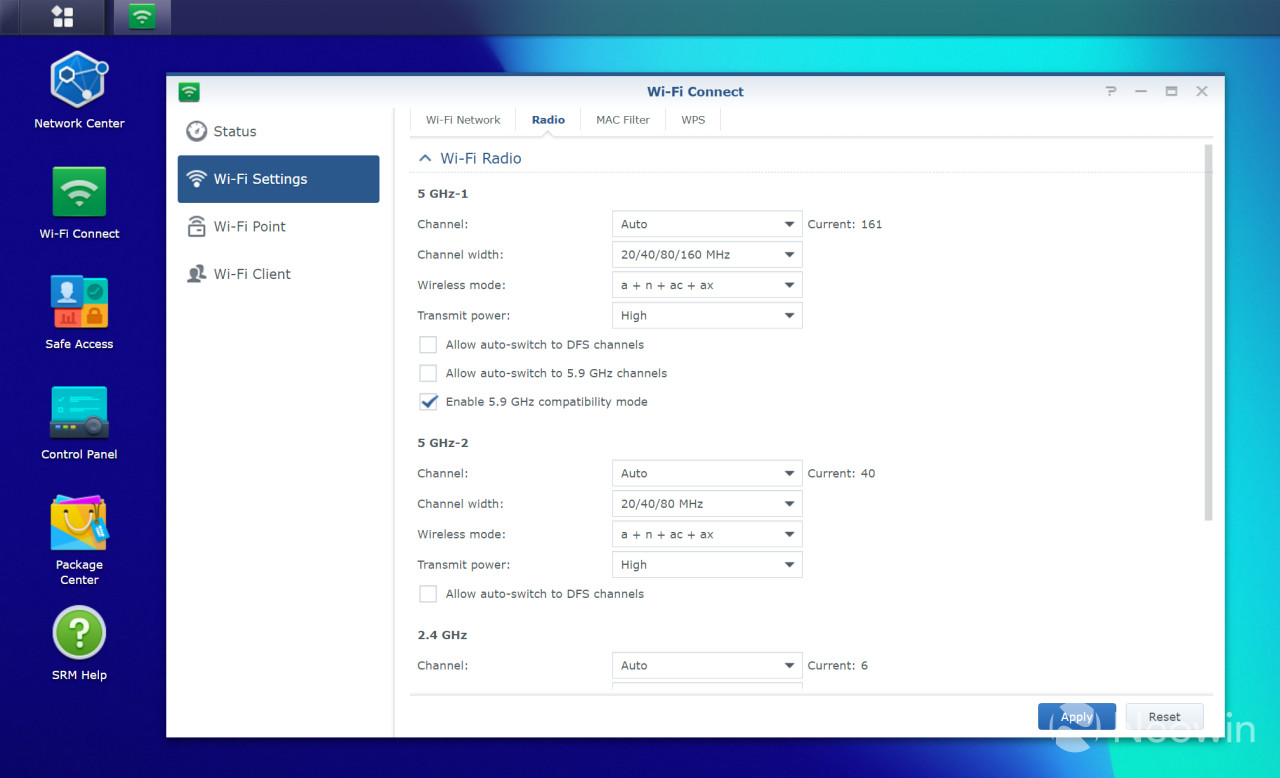 Wi-Fi Connect is where you setup everything Wi-Fi related (clever name, no?). You can create new Wi-Fi networks with new SSIDs here, merge them with pre-existing networks (VLANs), configure the radio settings. I didn't get a chance to dig into the wireless features of the RT6600ax much, aside from noting that I could access it two stories up from the router.
Safe Access
If you have kids, and want to filter their Internet usage, Safe Access is a great, easy to use tool to do that. With Safe Access, you can create different profiles of devices and assign different restrictions to them, including where on the Internet they can go and at what times. For example, I have a profile called "Xbox Devices" that only allows access between 7:00am and 8:30pm, and that blocks access to certain websites. I also have a separate group for my Amazon Echo devices that has no specific filtering in place, but lets me turn them all off with the click of a button if needed.
When the filter catches something, SRM can be configured to send a push notification to your phone if you have the DS Router app installed. Unfortunately, the level of detail provided in the app is lacking as it doesn't tell you what device was making the illegal request, although that level of information is available through the desktop web interface.
Control Panel
Here is where you'll find much of the same functionality as you would find in a Synology NAS device. That said, the old adage of "just because you CAN do something doesn't mean you SHOULD do something" rings true. While you have the ability to insert a USB drive or mount a network drive for storage, to enable SMB or Bonjour, or to enable FTP or SSH access to the router, under most circumstances, you should just leave this alone. The only reason you really need to check the control panel is to ensure you're running the latest version of SRM. It's very important to make sure you install new versions to avoid vulnerabilities that could compromise your network.
Package Center
This is where you can download packages made specifically for the SRM operating system. During the review, I kept receiving the message, "Synology server is busy. Please try again later." I suspect that once the RT6600ax is officially released, the packages will show up here. That said, I suspect you'll have very few options - a VPN, a Radius server, a VPN server - and you only want to install the things you absolutely need here because the RT6600ax should be your router, not a server.
SRM Help
As the name implies, this is Synology's online help center. In addition to being able to browse through various topics, it has a helpful search feature. It also adds additional help fields for any applications you install later, all in the Table of Contents on the left.
Mobile App
Synology provides a functional mobile app to Apple and Android users. Called "DS Router," the app is great for managing day-to-day usage of the router, but it's not a replacement for managing the RT6600ax via a web browser. Unfortunately, if you attempt to access the router via a mobile web browser, you're instead redirected to the application. This means you need a desktop in order to completely run the router.
The biggest missing feature from the application is network setup. You won't be able to create separate VLANs from the app, nor will you be able to reconfigure existing ones. While this isn't something I would recommend doing on a mobile device anyway, it's still a little weird that it isn't an option.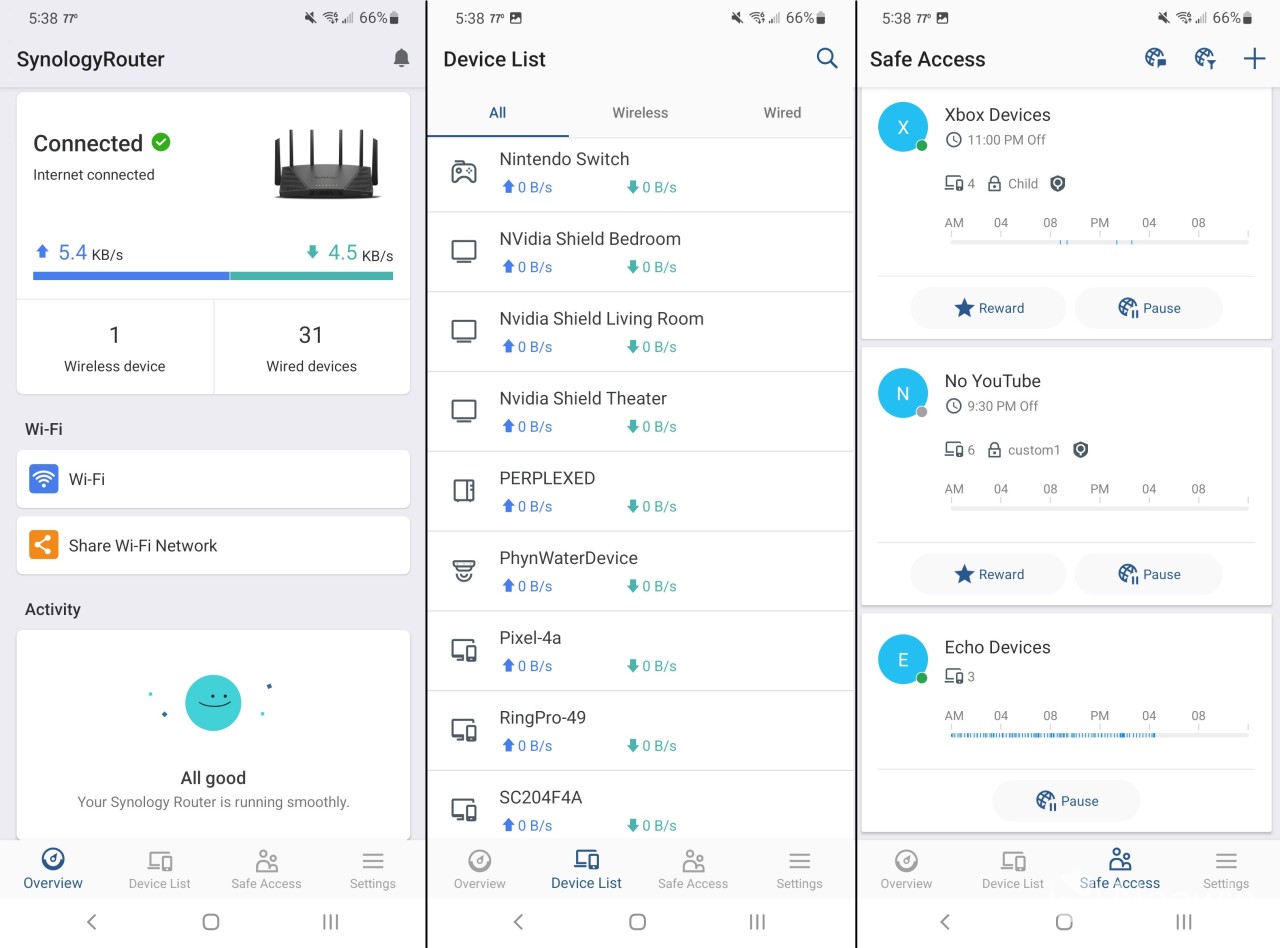 What you are able to control is everything related to Safe Access. You can create new access groups, whether they're based on specific VLANs or simply an adhoc group of hosts (like my aforementioned Amazon Echo and Xbox groups). You can also create and modify web filter rules to determine what gets blocked - whether it's specific URLs, or general categories like gambling or chat. These features are great if you have kids. In addition to being able to modify settings on the fly if they find a site they need to access, you can also block access to the Internet or extend their access with a click of a button.
The mobile app, while not complete, does provide a lot of value.
Performance
Overall, performance of the router is very good. As our homes become more connected, the number of devices that connect to the Internet keeps going up. When I reviewed the RT1900ac, I had a whopping 14 devices connected to the router. Today, six years later, I've nearly tripled that number. I've never noticed any performance issues and using SpeedTest never showed any signs of slowing down, regardless of how many connections were being made.
Wi-Fi connectivity is also good, although I did not test it very thoroughly. I normally use a couple of Ubiquiti access points for my wireless connectivity, but I played around with the built-in Synology Wi-Fi and it worked much better than expected. The RT6600ax was installed in a networking closet in my basement, and I was able to use my Samsung Galaxy S20 Ultra on the 2nd floor and still get a good connection, with SpeedTest results of a bit over 70Mbps. While I'm able to get a full 100Mbps when connecting to the Ubiquiti wireless, keep in mind that access point is only a few feet away from me and is hardwired directly to the network so it's really not a fair comparison. You can also add Synology access points to get what I would assume would be comparable performance, but I didn't get a chance to test that.
Conclusion
As someone who is very familiar with Synology NAS devices, I came away very impressed with the RT6600ax. The router is easy to setup and manage, and while I didn't have a chance to test the Wi-Fi very thoroughly, initial impressions were very strong. It also plays well with other network gear which is a positive. The addition of VLANs, along with isolation and One-way firewall rules makes it that much easier to secure your network from the proliferation of Internet of Things (IoT) devices.
The only real downside I saw was forcing users to go through the DS Router app to the exclusion of using a mobile browser. While I agree that the app experience is better, why is Synology artificially limiting functionality via a browser, especially when that expanded functionality is available via a desktop browser?
Other than that minor issue, the Synology RT6600ax router is a great hardware device that's easier to manage and use than other routers I've used, while still remaining extremely powerful and flexible.
As an Amazon Associate, Neowin may earn commission from qualifying purchases.
Pros
VLANs Good app 2.5 GbE port Easy management Safe Access
Cons
App missing features VLAN Tagging unclear