It's no secret that the price of cable and satellite is increasing every year, forcing many people to wonder if it makes sense to keep paying the likes of DirecTV and Comcast for the service. In the past, the convenience factor alone may have been worth it, but nowadays there are many easy-to-use software packages that, paired with an antenna, can be a worthwhile replacement for the monthly bills, and while some shows can't be seen for free, you can still pair it with a subscription service or two to fill in the gaps. Today I'll take a look at one such solution: A Synology NAS device, running Plex, and connected to a SiliconDust HDHomeRun Connect Quatro.
Synology
If you want to cut the cord and control your own media, the first thing you'll need is a server. Everything I discuss can be done on practically any hardware, but for my money, I want something that has low power usage (it'll be running 24x7), is easy to setup, and works with minimal input from me. The Synology DS1019+ is a great choice as it has five drive bays and hardware transcoding, but if you don't care about transcoding, the DS1618+ might be a better option due to its six drive bays. Alternatively, you can use a PC as well. Although it will cost more in terms of electricity requirements, and also requires more care and feeding from a maintenance perspective, there's no question that it's more powerful, something that's important if you're going to be sharing your media with many people at the same time. For this deep dive, I used the Synology DS1019+.
Plex
There are multiple software packages that do similar work from a cord-cutting perspective, but Plex is arguably the most popular, with Kodi not far behind.
Installation of Plex is as simple as downloading it from the Package Center, with the caveat that you won't be at the most recent version. Once it's installed though, Plex conveniently provides a link to download the most recent version and informs you when a new version is released, making upgrades very straight forward.
After installing the package, either through Package Manager or manually, you can connect to your new Plex server. Doing so opens up a new web browser (or tab) connecting to (the default set) port 32400, and you're greeted with an introduction page, then asked to create or login to your account.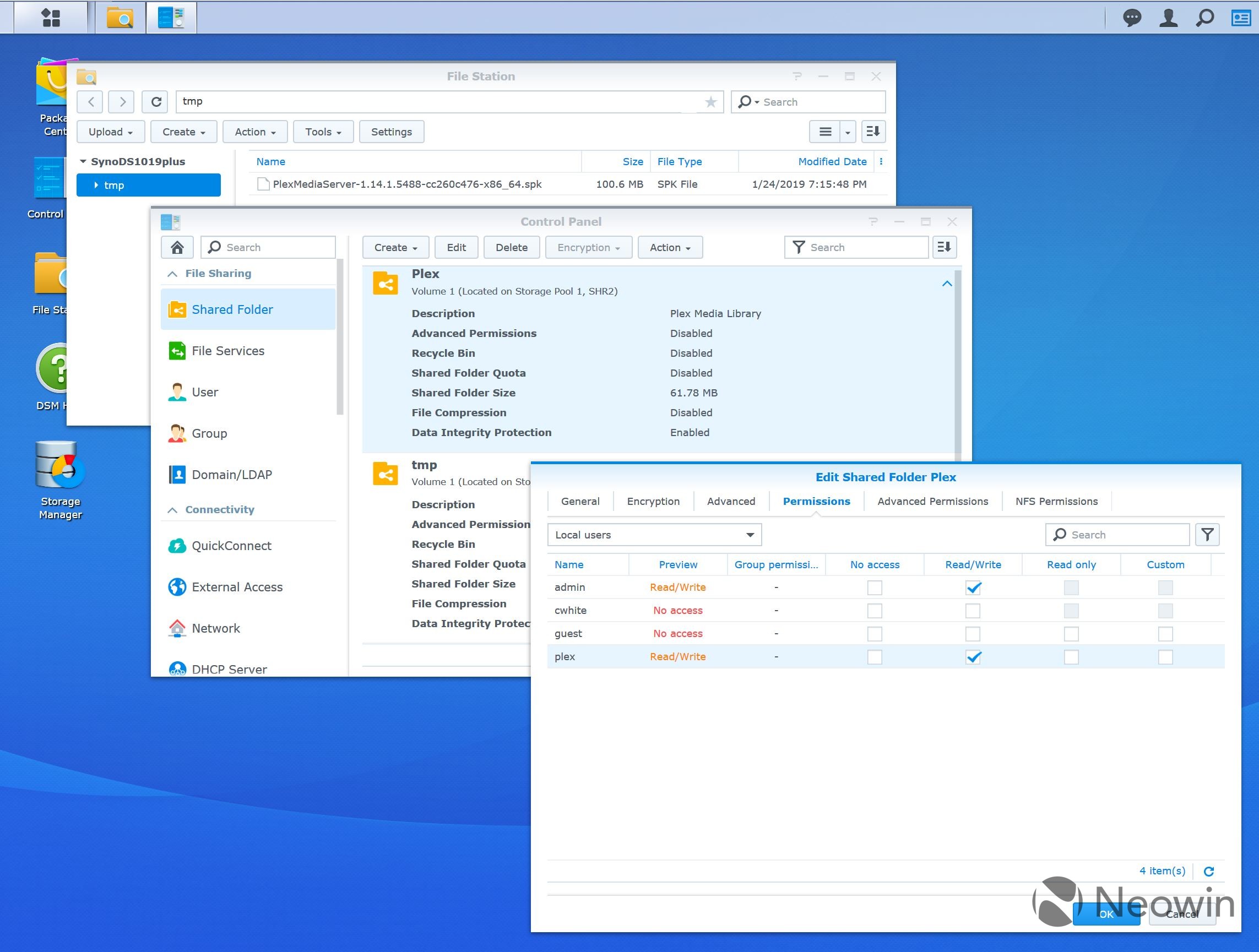 The first issue I ran into, and it appears to be a common piece of confusion because there were many articles about it online, was "where do I go to upload video files to Plex?" I was able to see a volume labeled Plex within the control panel, but couldn't find any shared folders to be able to mount on my Windows host so that I could copy files across. It turns out that, by default, nobody has access to view the volume. So make sure you go in and edit the shared folder permissions to open up permissions to the proper users. You'll have to do this change with every update, so make sure to document it!
Plex organizes media by what it calls "Libraries." Each library can have different permissions, and you can have any number of libraries that you want. A common configuration is to have one for movies, one for TV shows, and one for home videos. When setting up your libraries, it's important to note that you can share them with other users, so if you have things you don't want them to see, create a separate library that isn't shared.
In my testing, I created a few different libraries to help organize my content. In addition to the standard "Movies," "TV Shows," and "Home Videos," I also created a playlist called "4k UHD Movies" to put my UHD rips, and "Concerts" to put the Blu-ray videos of actual concerts and music videos.
When creating a library, you select what folder on the server will house the data, and then you can tweak the settings for the library to meet your needs. There are many features, allowing you to choose where you get information such as cast, ratings, and plot summaries. This is also where you select which agent will be used to identify the content. For personal movies, select "Personal Media," but for movies, you have your choice of Plex Movie or The Movie Database. I didn't notice much of a difference between the two, and Plex recommends not using it.
When importing movies, you'll invariably find issues in either detection or, more likely, naming. For example, when importing the movie 12 Monkeys, Plex decided to name it Twelve Monkeys. Luckily, the software anticipated these types of issues so allows you to change either the sort title or the actual name.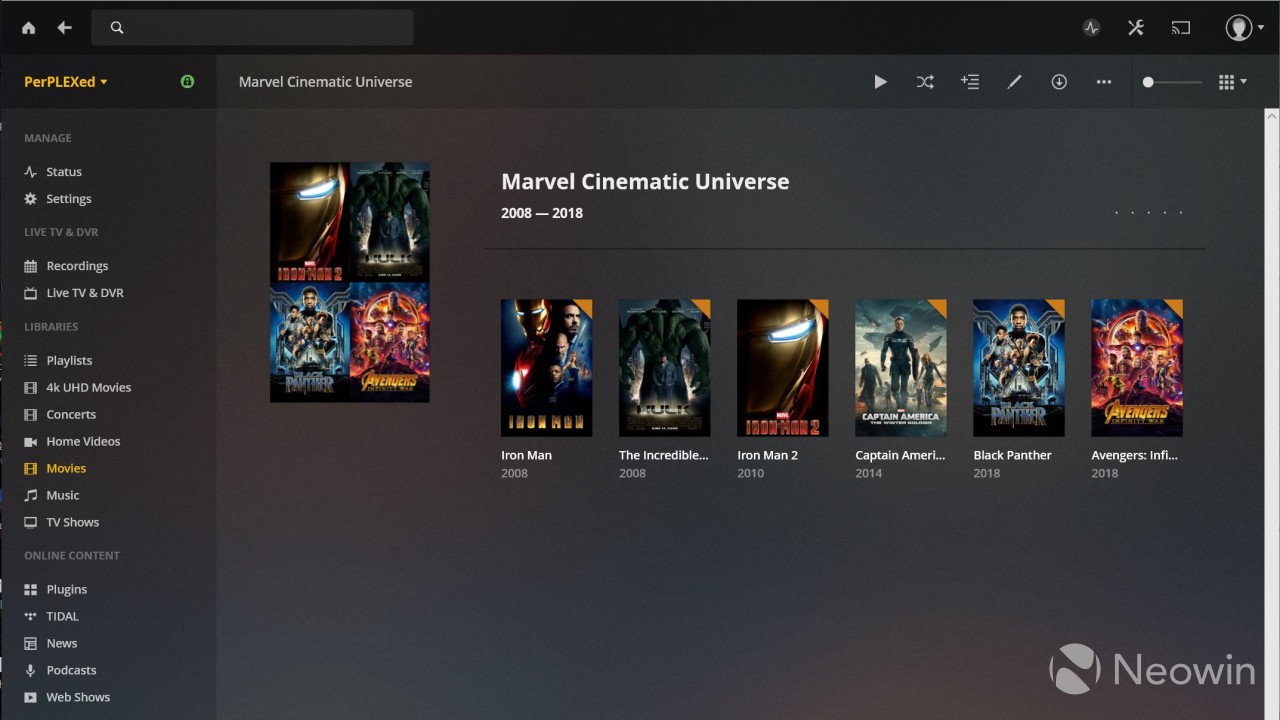 There's also the concept of Collections, allowing you to group together similar movies to make them easier to find. For example, I created a Collection called "Marvel Cinematic Universe" so that I could label all of the movies. Plex automatically creates a conglomerate movie poster consisting of the posters of four of the films in the collection. By default, it orders them by release date, but you can change that to alphabetical order instead if you prefer.
Plex does more than just manage your own media, as it has links to online video content, organized into News and Web Shows. In News, you're able to customize what topics you want to see across ten different categories from Arts & Entertainment to World News. While you won't be able to watch talking heads from CNN, MSNBC, or Fox News, you will be able to see informational videos from the likes of the Associated Press, Reuters, and The Guardian, as well as other lesser-known feeds.
In the Web Shows section, there's a lot to choose from, and it is a nice way to curate a lot of online content into a single pane of glass. If you're into podcasts, Plex has you covered as well, allowing you to browse various offerings and even download them onto your mobile device for offline listening.
Plex also supports libraries specific to music and photos. Finally, if you love music but don't want to manage your own collection, Plex integrates directly into the TIDAL service, and you can try a 30-day demo to see how much you like it. Since these features aren't related to cutting the cord, they're left to a future article.
SiliconDust's HDHomeRun Quatro
Until now, all I've shown was that Plex makes a great media streamer, but while that's a good foundation, it doesn't allow people to cut the cord. That's where the HDHomeRun series by SiliconDust comes in. The device is a little larger than a deck of cards and receives a signal from an antenna or CableCard, then saves the resulting data to a storage device.
The company has several models to choose from. Three of the models (the Duo, Quatro, and Extend) are able to receive over-the-air (OTA) signals from an antenna, while two of the models (Prime and Prime 6) use CableCard, allowing you to replace your cable TV set-top box. There are no solutions for DirecTV or Dish Network.
For my deep dive, I tested the Quatro ($120), which allows you to record up to four shows at the same time. The Duo ($100) and Extend ($180), on the other hand, have two tuners. The Extend also has built-in hardware transcoding, but since we're saving to the Synology NAS, it's not really necessary.
One thing to note is that although these devices allow you to stream, you'll need to purchase a Plex Pass subscription ($5/mo, $40/year, or $120/lifetime) if you want to integrate it with Plex. If you don't care about DVR functionality, you can use the HDHomeRun on its own, but Plex really opens up the ease of use.
Setting up the HDHomeRun Quatro is as easy as connecting an antenna via an F-connector (standard barrel connector), connecting the device to your network via Ethernet, and then connecting the power adapter. After this is done, log in to Plex and it should be automatically detected and ready to integrate.
From here, just following a simple configuration wizard. After selecting the device and clicking next, Plex scans for what channels it can see. Here was my first surprise: Not only did I receive the local ABC, NBC, CBS, and Fox channels, I also received the subchannels, something I don't have with DirecTV. These channels broadcast a lot of older movies and shows and tapped into my nostalgia of 80s TV sitcoms.
After confirming the channels that are available, you're asked to enter your zip code so that Plex can download a guide to know what shows are being aired at what time. You're also able to deselect any channels that you're not interested in, although I don't see any benefit to putting blinders on in this case.
That's all there is to it! Plex takes you to a guide that looks similar to cable and satellite providers, allowing you to see exactly what shows are on what channels and at what time. If you see something interesting, you can click on it to get more information, to watch live, or to record the episode for future view.
If you want to bypass Plex, you can always download the HDHomeRun app and watch live TV from anywhere in the world.
Plex DVR
Aside from easy access, one of the big selling points to streaming services like Hulu and Netflix are the fact that they're commercial free. I had this functionality built into my VCR in the late 90s, but the networks and studios have constantly sued DVR manufacturers that try to include this feature.
For now, at least, this functionality is included in Plex DVR. If you look under the DVR Settings, you'll see an option to "Remove Commercials." Instead of just skipping them, Plex will actually analyze the recording and cut the commercials out of your recordings. Not only is this a great time saver, it also reduces the size of the files on your NAS device, so is a good feature to use. In my testing, it seemed to work great on the major networks, but not quite as good on the aforementioned subchannels. On the bright side, the feature seems to err on the side of caution, as I never lost more than a couple of seconds of a show, although the risk is there.
In addition to removing commercials, there are other features you can enable. You can choose whether you want to only record HD, in which case Plex will skip all non-HD content. There's also the option to automatically replace any SD items in your library with an HD version, as well as whether you want to allow partial recordings in case weather impacts your antenna signal. Finally, there's the option to start recording a certain number of minutes before and after the program is scheduled to run.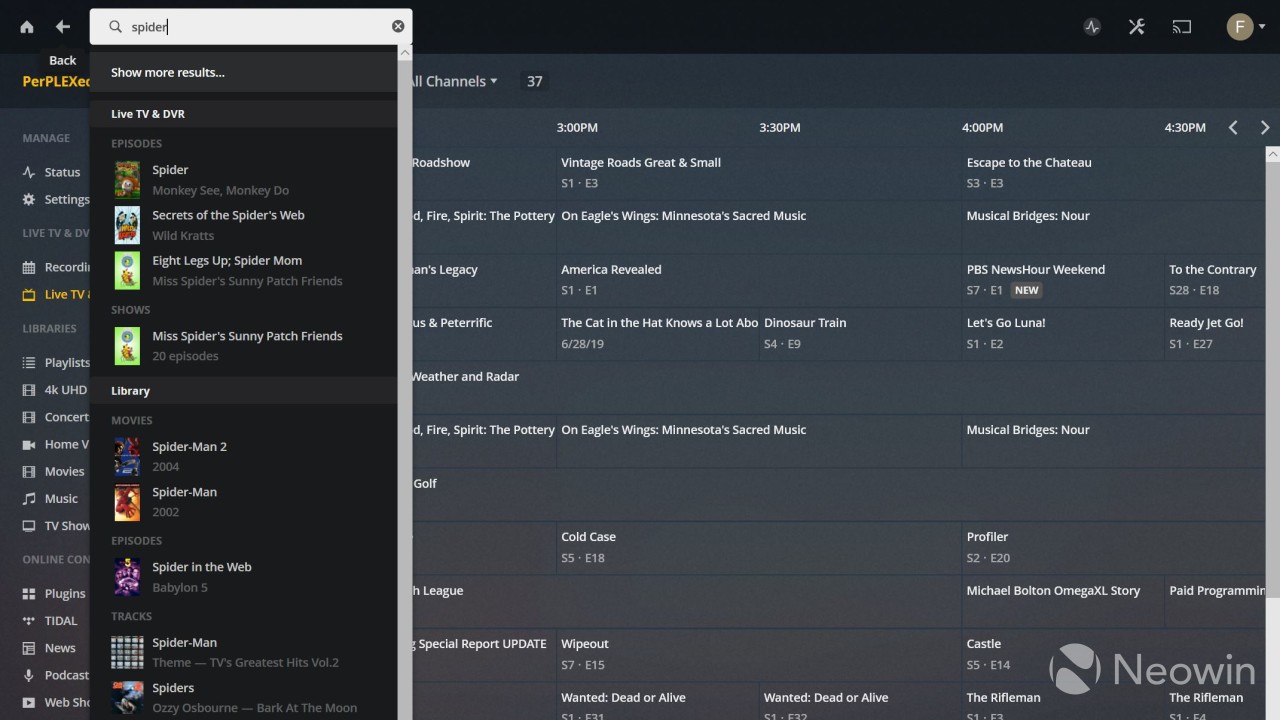 While not strictly related to just the Plex DVR feature, the search feature in the interface is extremely useful for finding content to record. Instead of having to try to find the content on the guide, simply type it into the search window, and you're presented with content, whether it's an upcoming episode or series you'd like to record, an episode already recorded on your Synology NAS device, or music and movies you may already have stored. The search box also looks at online content from TIDAL, as well as podcasts and Web Shows that match the term, and the results are broken down based on where the content is located; "Live TV & DVR" means it's not on your device but can be recorded, whereas things in your "Library" are available to consume immediately. Finally, you can also search for actors or musicians by name and see the same type of results: A search for "Fillion" will bring up the TV shows Castle, The Rookie, and Firefly, as well as the movies Monster University, Serenity, and Blast from the Past.
A typical one hour TV show in standard definition takes just over 1Gb of storage, while a show in HD will take nearly 5Gb of storage (with commercials removed), if using the standard settings. If you're worried about storage space, you can configure Plex DVR to automatically delete a show either one day or one week after watching it, but since I'm hesistant to automatically delete content, I'd personally leave it off and just do it manually.
How do I watch it?
So now that you have your SiliconDust HDHomeRun saving shows to your Synology NAS device, how do you actually watch the shows? The answer is simple: The same way you'd watch anything on your Plex server. Plex has apps for practically any platform, from mobile devices, to gaming consoles, to Roku and Amazon Fire TV, and even Oculus VR. The Nvidia Shield is supposed to make a good Plex client as well. Some of these platforms have a fee associated, but if you have Plex Pass (which you need to use the DVR functionality anyway), they're all free. This makes watching as easy as using your cable box.
You can also share your content with friends and family. Doing so is as simple as sending an invitation and selecting which libraries you want to share. Once the person accepts the invitation, they'll have full access to stream to their own devices.
Conclusion
While I didn't cancel my DirecTV subscription, I did use the combination of Plex and HDHomeRun for a couple of months, and found very little to complain about. I never missed a recording, the picture quality was just as good as my satellite, and it was easy enough for my wife and daughter to use. Being able to watch TV from anywhere, like my daughter's dance lessons, was a great way to pass the time, and recording old 80's sitcoms that I enjoyed as a kid was the cherry on top.
This process also made me analyze our TV watching behaviors. One thing that surprised me was the fact that most of the shows we watch are actually on local TV. There are some, like AMC's The Walking Dead, that aren't, but it seems that much of this content can be replaced with a few streaming services that will still end up being cheaper than our current monthly bill, so it is something we'll have to explore as a family.
If you're looking for a way to cut the cord, the combination of Plex and HDHomeRun sitting on a NAS device like the DS1019+ is a great way to meet your goal. Instead of paying over $100/month on cable or satellite, you can pay $240 for a lifetime Plex Pass subscription and an HDHomeRun Quatro, install Plex on an existing NAS device or a server and have access to all of the local channels, including those you may not have known were even available.
If you don't care about cutting the cord, but instead want a flexible interface that lets you watch your cable (but not satellite) programming anywhere in the world and also provides far more storage than your cable company provides, the HDHomeRun Prime and Prime 6 options sound like they will fit the bill, although I haven't had a chance to test them.
Do you have any cord-cutting recommendations? Share them with us in the comments!